Everything Clicks as Reading Stuns Hartford 11-2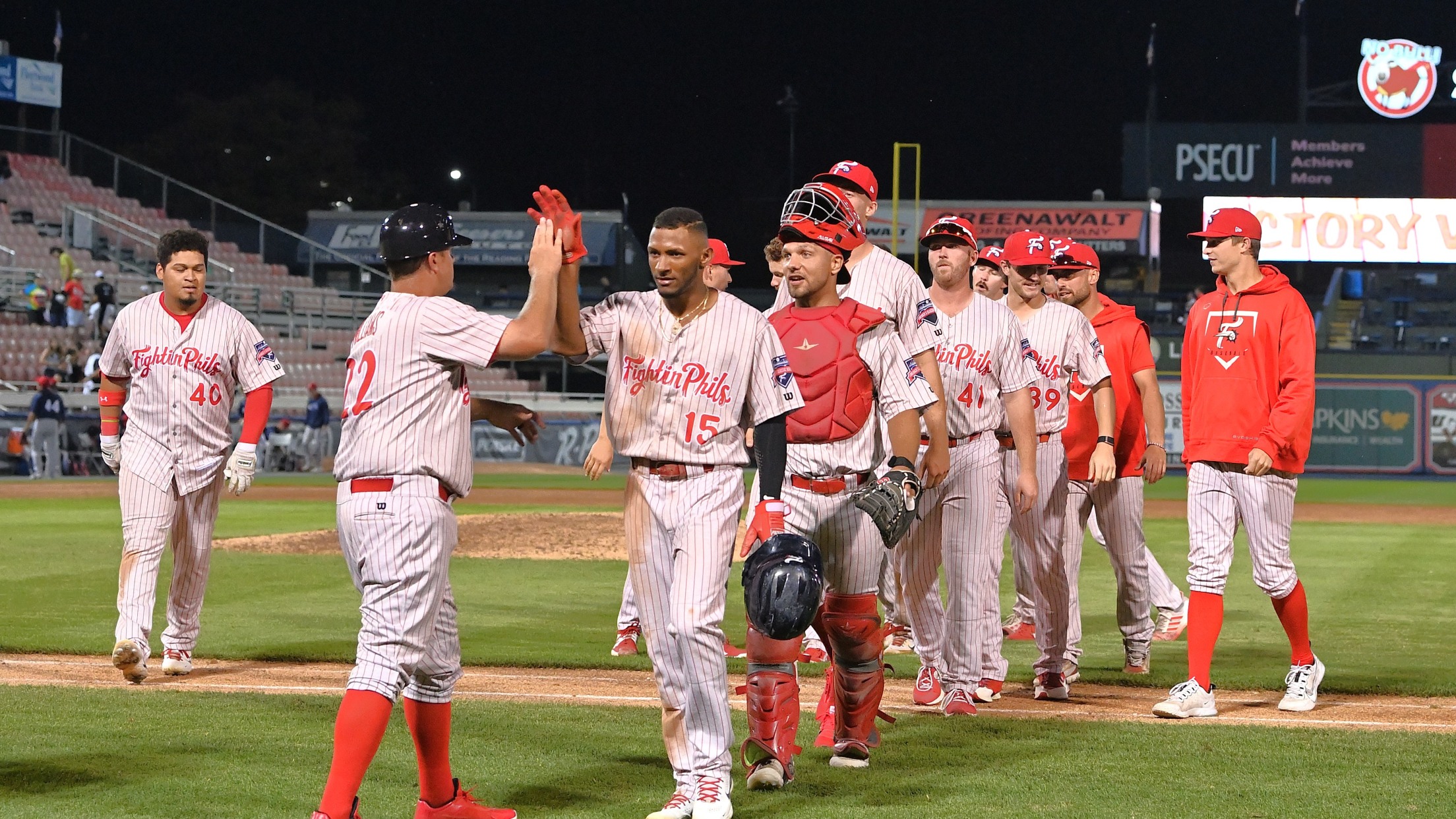 BOX SCORE | REA 11, HFD 2 The Reading Fightin Phils smoked the Hartford Yard Goats 11-2 on Friday night. Every player in the starting nine recorded a hit, while Johan Rojas, Carlos De La Cruz, and Ethan Wilson each had two. Aldrem Corredor capped off a nine-run fourth with
BOX SCORE | REA 11, HFD 2
The Reading Fightin Phils smoked the Hartford Yard Goats 11-2 on Friday night. Every player in the starting nine recorded a hit, while Johan Rojas, Carlos De La Cruz, and Ethan Wilson each had two. Aldrem Corredor capped off a nine-run fourth with his 14th homer of the season.
The Fightins started off the scoring in the first. Rojas doubled on the first pitch of the game and came home on De La Cruz's single and a Hartford error.
Reading added one in the second when Wendell Rijo doubled in De La Cruz for a 2-0 lead.
The R-Phils put up a monster nine-run inning on six hits, three walks, an error and a wild pitch. Wilson blooped a single into center and Corredor walked to reach. A bunt single by Luis Garcia loaded the bases. Kevin Vicuna grounded into a fielder's choice, but drove in a run. Jack Conley doubled home Corredor. Another double by Rojas drove in two more. Rijo took a two out walk an another double by Ortiz brought him home. Wilson walked in his second at-bat of the inning and put two on. Corredor smashed a three-run home run to left center for an 11-0 lead.
In the seventh, Hartford got on the board. Brenton Doyle singled and moved to third on Daniel Montano's double. Doyle came home on a wild pitch.
Doyle then shot a homer deep to left to lead off the ninth for the Yard Goat's second and last run of the game. Reading was victorious 11-2.
Taylor Lehman got the spot start striking out six, including five straight. He let up just one hit and one walk.
Griff McGarry took two scoreless in relief. McGarry allowed one walk and struck out four.
Andrew Baker also had two clean frames, striking out three.
Aidan Anderson let up one run on a wild pitch amidst four hits.
Adam Leverett allowed a solo shot in the ninth but slammed the door shut on Hartford.