RED WINGS TO CELEBRATE THE LIFE OF MILO THE BAT DOG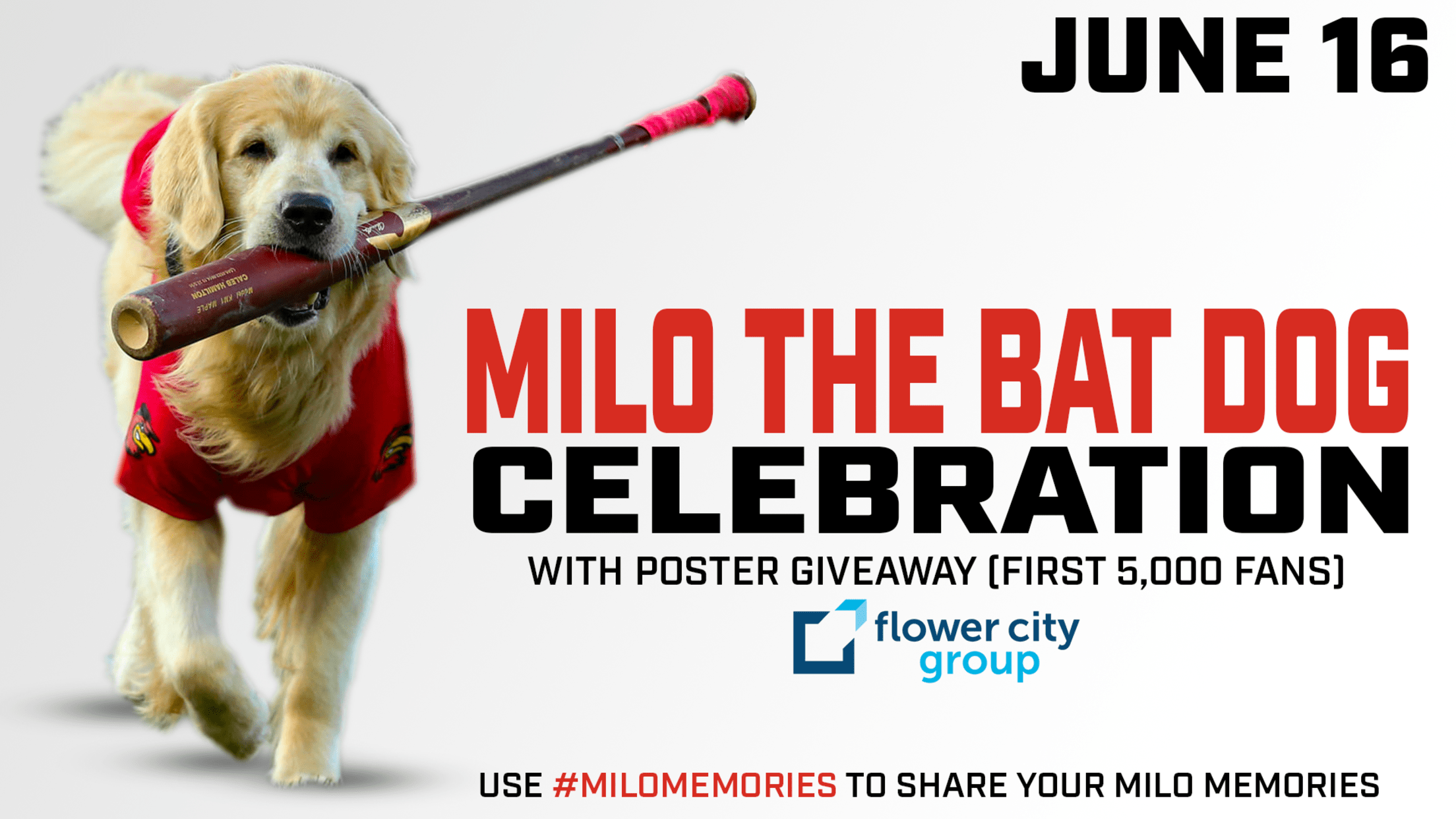 The Rochester Red Wings have announced they will pay tribute to their late Bat Dog, Milo, on June 16 at Innovative Field when the Red Wings take on the Scranton/WB RailRiders at 6:45 p.m. This announcement comes on the four-year anniversary of Milo's first game (June 1, 2019). The celebration
The Rochester Red Wings have announced they will pay tribute to their late Bat Dog, Milo, on June 16 at Innovative Field when the Red Wings take on the Scranton/WB RailRiders at 6:45 p.m. This announcement comes on the four-year anniversary of Milo's first game (June 1, 2019).
The celebration will begin with a Milo The Bat Dog poster giveaway to the first 5,000 fans, courtesy of the Flower City Group. Prior to the National Anthem, the Red Wings will honor Milo with an on-field ceremony. Josh Snyder, Milo's owner, will throw out the ceremonial first pitch and will participate in numerous tributes throughout the game in remembrance of the life of Milo.
Prior to the ceremonial first pitch, Flower City Group President Steve Schuld will make a significant announcement regarding their 2023 Milo Making A Difference Campaign. This campaign is dedicated to making a positive impact in the community, with its efforts aimed towards supporting Honor Flight Rochester and the Veterans Outreach Center.
Fans are encouraged to share their favorite memories using #MiloMemories on social media. Those who share digital memories using the hashtag will be displayed on the Red Wings videoboard on June 16.
"Milo was far more than just our Bat Dog; he brought tremendous spirit, and touched a lot of hearts in our community. His sweet demeanor was so obvious to all, and his energy was infectious ." Red Wings President, CEO, and COO Naomi Silver says. "We feel his absence deeply, but his memory lives on with his fans. This tribute celebrates his life and is meant as a heartfelt thank you to him and to Josh, his owner, for the joy they brought to every game Milo was a part of."
The Rochester Red Wings and the entire community invite fans to join them at Innovative Field to celebrate Milo's life and legacy on June 16. The team wishes to express their gratitude for the continuous outpouring of support and love for Milo The Bat Dog.