Braves' Bats Continue Hot Streak, Rome Wins Third Straight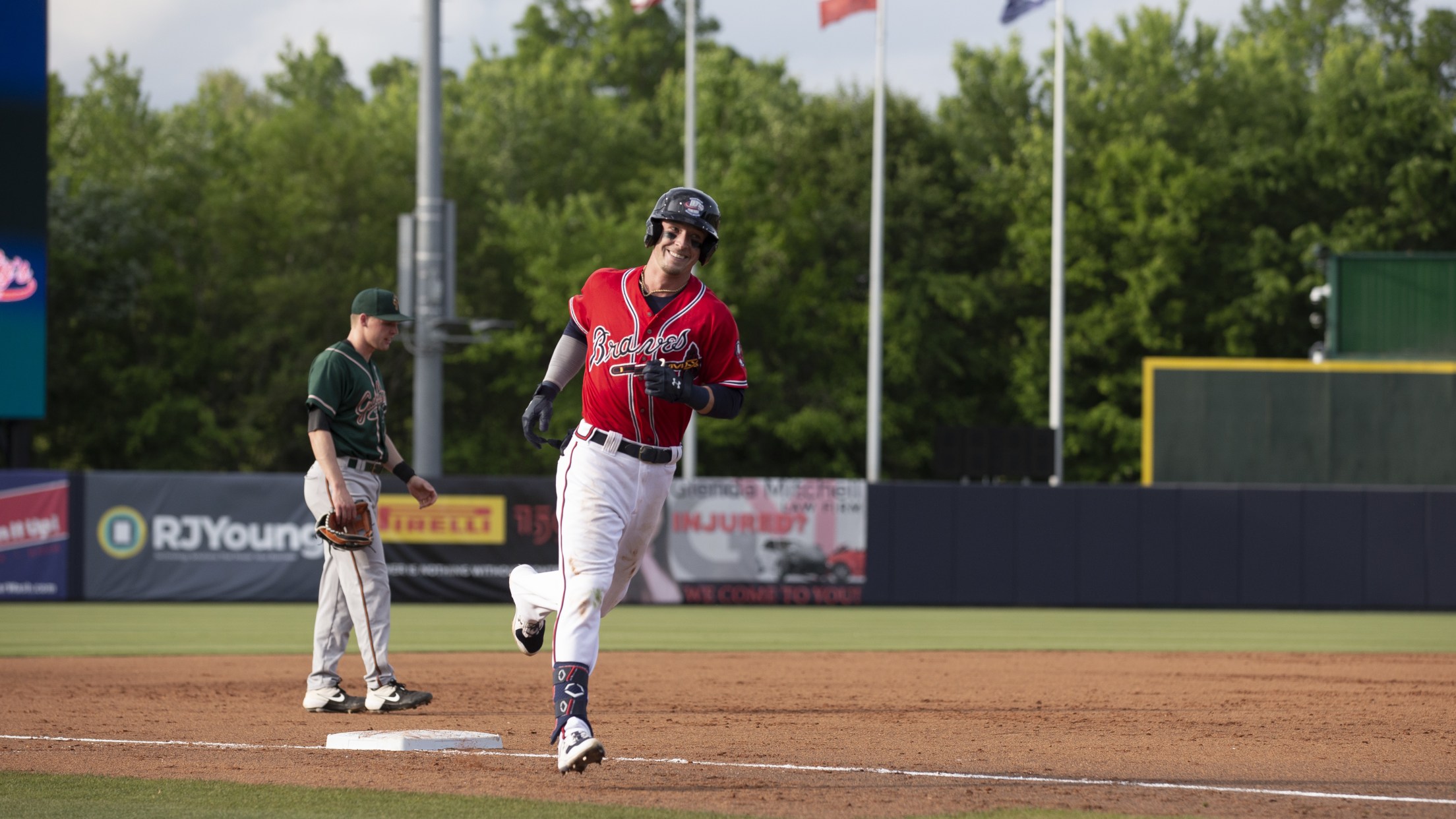 Drew Waters celebrates a home run in a 8-5 win over Greensboro on April 30th. (Mills Fitzner)
ROME, GA - Headed into Saturday night, the Rome Braves would be in third place for the highest batting average in the South Atlantic League. Rome would send righty Roddery Munoz to the mound in the Saturday showdown with their SAL North division foe Greensboro Grasshoppers. With first place Bowling
ROME, GA - Headed into Saturday night, the Rome Braves would be in third place for the highest batting average in the South Atlantic League. Rome would send righty Roddery Munoz to the mound in the Saturday showdown with their SAL North division foe Greensboro Grasshoppers. With first place Bowling Green dropping their contest with Brooklyn earlier in the day, a win would put Rome in a tie atop the SAL South division.
With Roddery Munoz on the bump, Greensboro would strike quick in the top of the first with a single from Henry Davis that would drive in Yoyner Fajardo. Abraham Gutierrez would tack on one more in the opening frame. Vaughn Grissom would get one of the runs back in the bottom of the first with a single to center that would score Drew Waters and make it two to one in the favor of Greensboro.
In the bottom of the second, Christian Robinson would single on a ground ball out to center, setting the stage for the Braves' number three overall prospect Drew Waters. Waters would crank his first homer of the season off of Greensboro's Garcia to put Rome up four runs to two. The Braves would keep pouring it on in the bottom of the fourth with a three-run double from Christian Robinson.
Greensboro would try to spark a rally and add on two more runs in the top of the seventh, shrinking Rome's lead to two. Vaughn Grissom would tack on an insurance run in the bottom of the eighth on a single that drove in Cody Milligan.
Roddery Munoz would pick up his first win of the season, going five full innings and only giving up two runs on four hits with six strikeouts. Alec Barger would relieve Munoz and cover one and a third of an inning giving up three runs on two hits. R.J. Freure would relieve Barger and cover the next one and two thirds innings. Freure would surrender no runs on no hits with two strikeouts, setting the stage for Justin Yeager.
Yeager would come on in a save situation and slam the door out of the bullpen. Yeager would strikeout the side, giving the Rome Braves their thirteenth win of the season. With the aforementioned Bowling Green loss, Rome now sits tied atop the SAL South.
The Braves have now clinched the series win, and look to close out the series with a win on Sunday. Rome will send Dylan Dodd to the bump in the Sunday matinee against Greensboro's Adrian Florencio for a two o'clock first pitch.