Clarno Plates A Pair, Braves Win Again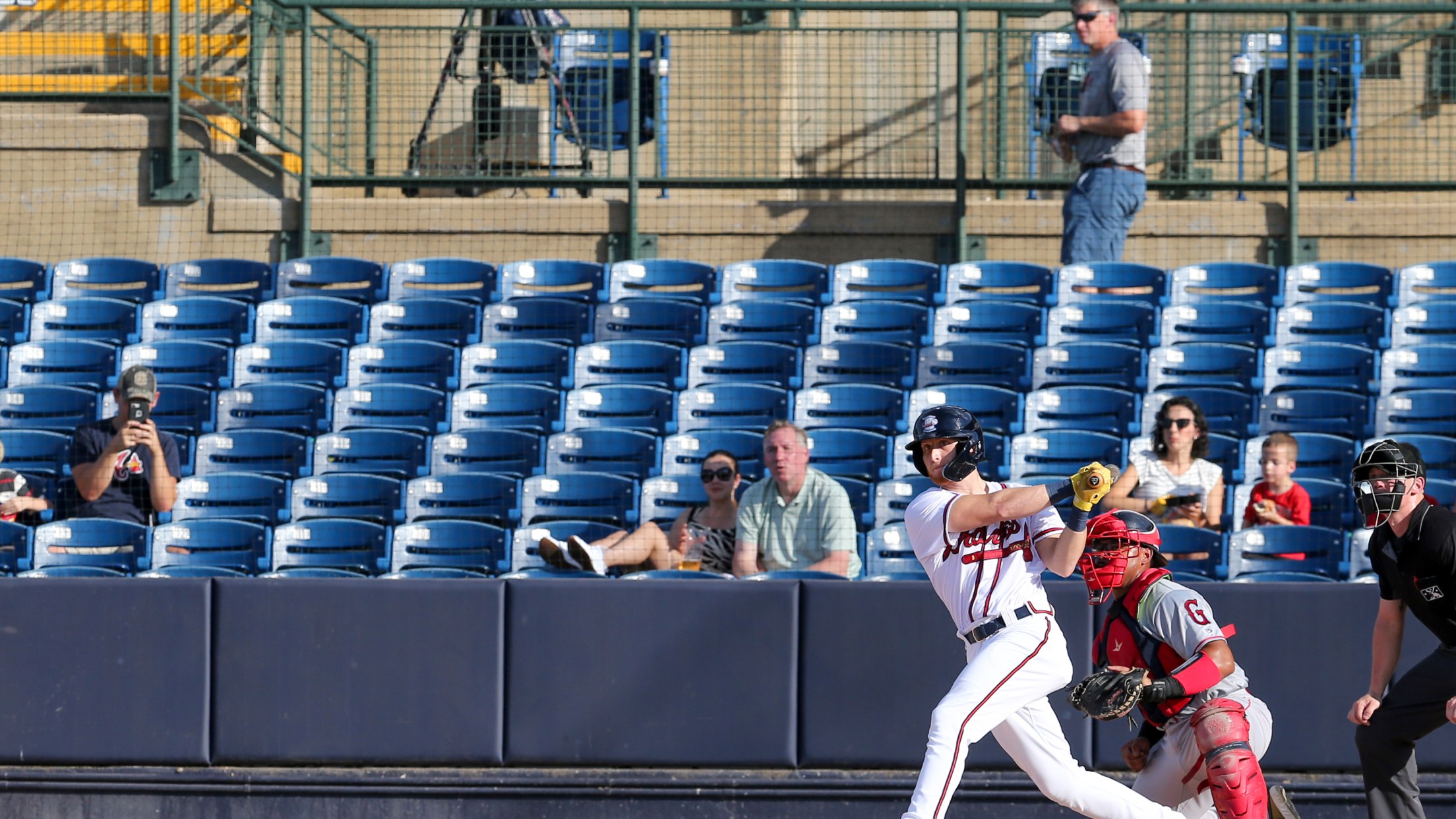 Nick Clarno smacks a double for his first professional hit during a 5-4 win on August 6th, 2022. (Mills Fitzner)
ROME, GA - JJ Niekro took the mound on Saturday night as the Rome Braves and Greenville Drive met for game five in the six game series. Entering Saturday night's contest, Niekro's lone start at AdventHealth Stadium came in his High-A debut against the Bowling Green Hot Rods. Neikro would
ROME, GA - JJ Niekro took the mound on Saturday night as the Rome Braves and Greenville Drive met for game five in the six game series.
Entering Saturday night's contest, Niekro's lone start at AdventHealth Stadium came in his High-A debut against the Bowling Green Hot Rods. Neikro would start the night off on the wrong foot, as Nick Yorke would lead off the night with a solo home run. A wild pitch from Niekro would give the Greenville Drive a two run lead before the Braves ever stepped to the plate.
Nick Clarno would make his professional debut on Saturday night after spending time in the Coastal Plain League with the Savannah Bananas, and playing college ball with the Lenoir-Rhyne Bears earlier this year. Clarno's first professional hit would come in his first at-bat on Saturday, as he doubled home Cade Bunnell in the home half of the second inning to get the Braves on the board.
The Drive would tack on one more run before Jacob Pearson singled in the home half of the seventh to pull the Braves within one run by a score of three runs to two. The Braves would tie the game the next at-bat, as Greenville catcher Jose Garcia's throw back to the mound would rattle off the head of Cal Conley, allowing Caleb Durbin to score.
In the same at-bat, Cal Conley would give the Braves the lead with a single into center, putting Rome in front by a score of four runs to three. Nick Clarno would give the Braves an insurance run in the bottom half of the eighth with a single that scored Beau Philip. Clarno would finish the night two for four with two runs batted in.
Davis Schwab and Austin Smith would be the two men out of the bullpen for the Braves on Saturday night, and would combine to hurl three full innings, and securing the win for the Braves.
The five to four victory is the sixtieth of the 2022 campaign for the Braves and their twenty-third of the second half. The Braves still enjoy a game and a half lead over the first half champion Bowling Green Hot Rods, and they look to build onto that lead tomorrow in the series finale against the Drive. Dylan Spain will get the ball in a 2:00 PM first pitch.