Malloy Perfect, Dodd Dazzles, and Rome Rolls Over Dash For Fifth Straight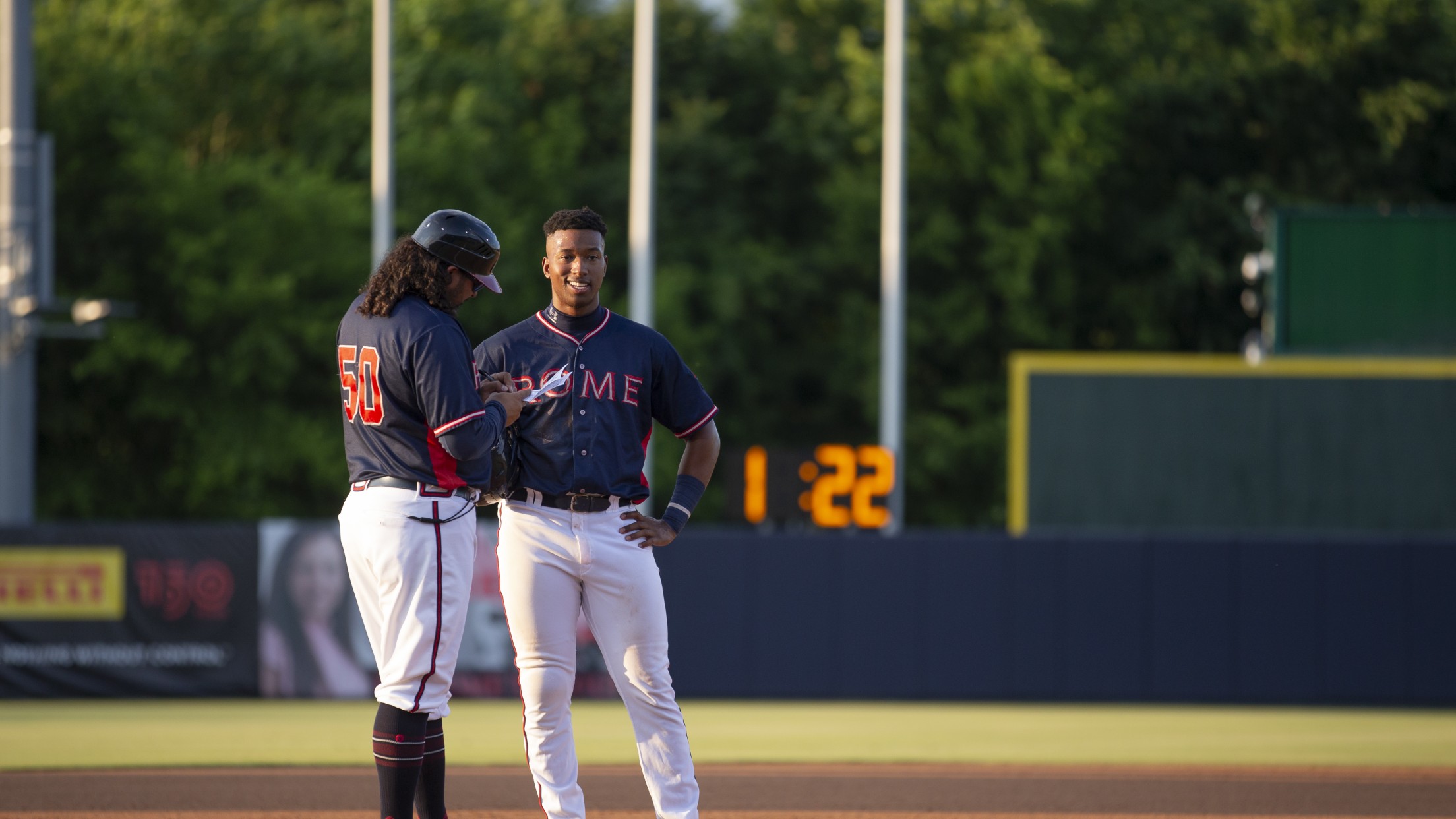 Justyn-Henry Malloy talks it over with his manager Kanekoa Texeira during a 7-1 win over the Dash on May 14th. (Mills Fitzner)
ROME, GA – The Rome Braves and Winston-Salem Dash would once again tee it up at AdventHealth Stadium for game five of the six game stint. Dylan Dodd would get the starting nod for the Saturday showdown. Dodd entered the night's contest looking to rebound from a rocky start on
ROME, GA – The Rome Braves and Winston-Salem Dash would once again tee it up at AdventHealth Stadium for game five of the six game stint. Dylan Dodd would get the starting nod for the Saturday showdown. Dodd entered the night's contest looking to rebound from a rocky start on the road in Greenville. One could say that Dodd had struggled to find his footing through the early parts of the season, but his fortunes changed on Saturday against what was once a hot-hitting Winston-Salem.
Dodd would be the story of the night. He would by far record his longest outing of the season going seven full innings on the bump. Dodd would have every pitch in the arsenal working for him tonight, only giving up five hits with five strike outs. Dodd's lengthy outing would preserve the bullpen who had worked most of the game the night before. Dodd would be credited with his third win of the 2022 campaign.
Much like the rest of the series, the Braves would get on the board in the bottom of the first. With the bases loaded and zero outs in the bottom of the fourth, Winston-Salem's Matt Thompson would plunk Landon Stephens to unconventionally drive in the game's first run. Then last night's hero Drew Campbell would ground out, but the Braves would happily trade an out for a first inning run as Vaughn Grissom would cross the plate. It would be the same trade-off for Beau Philip, as his ground out would score Justyn-Henry Malloy.
In the bottom of the second, Malloy would rope a double into the gap between left and center field. Speedsters Cody Milligan and Vaughn Grissom would cross the plate almost at the same time to make the score five runs to none in favor of the Braves. Javier Valdes would tally one more for the Braves in the fifth inning with a single to center field that scored Beau Philip, and a Landon Stephens double would cap the offensive efforts for Rome in the bottom of the eighth, leaving them with a seven run to nothing lead headed into the top of the ninth.
Rome could thank Justyn-Henry Malloy for the bulk of their offense. The designated hitter would record a perfect night, going five for five with two runs batted in. Malloy boosted his average to .327 with a .924 OPS.
Austin Smith would slam the door out of the pen and give the Braves their fifth straight win, and their nineteenth of the season. The Braves and Dash wrap things up tomorrow afternoon with a 2:00 pm first pitch. Andrew Hoffmann will get the ball looking to give the Braves their first sweep of 2022.