Sunday Slugfest ends in favor of Grasshoppers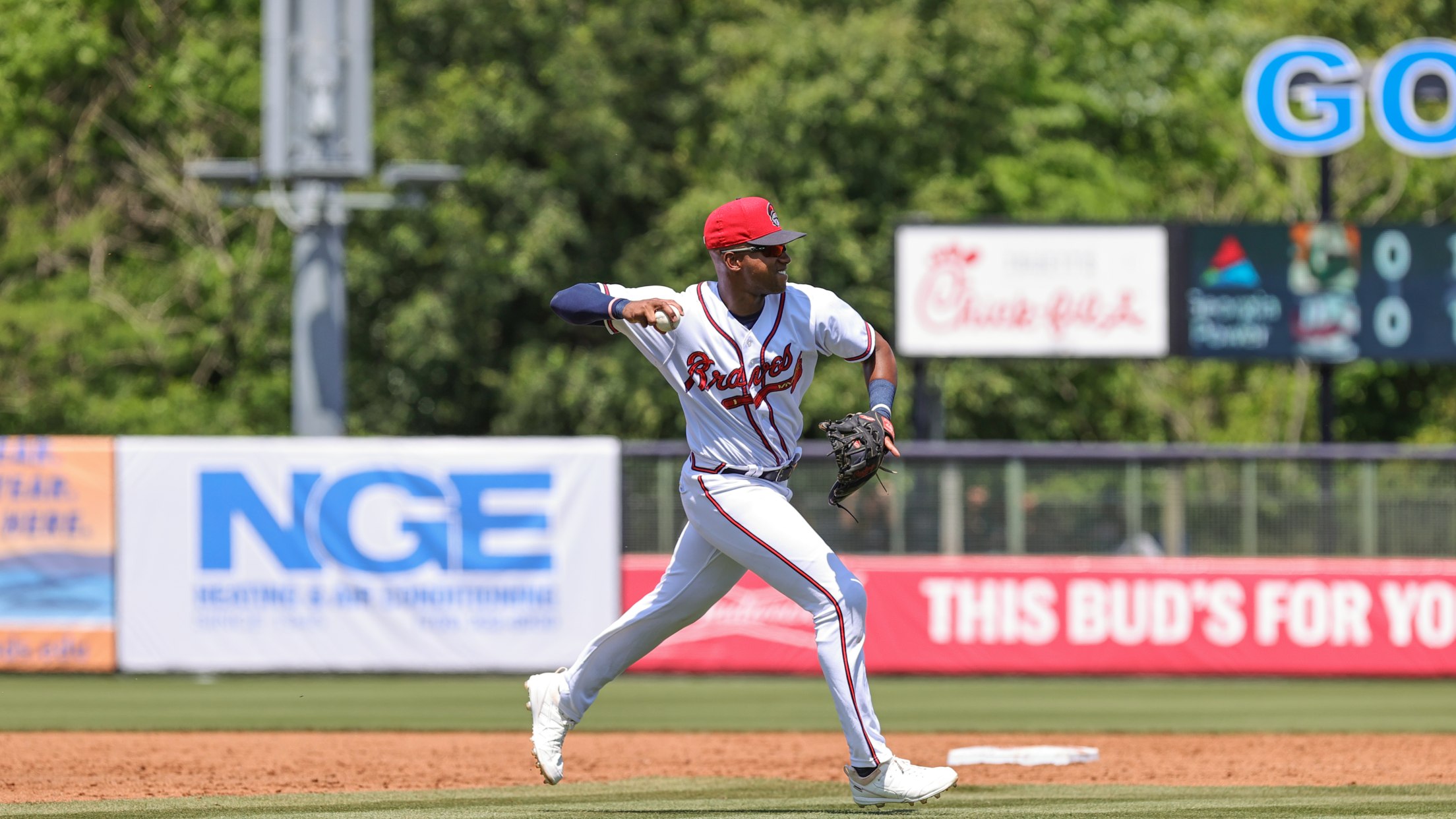 Justyn-Henry Malloy throws over to first in a loss to Greensboro on May 1st (Mills Fitzner)
ROME, GA – With a series win already clinched the Rome Braves would send Dylan Dodd to the mound in hopes of winning their fourth straight and fifth of the series with the Greensboro Grasshoppers. Greensboro would give the ball to Sean Sullivan with the hopes of turning the tide
ROME, GA – With a series win already clinched the Rome Braves would send Dylan Dodd to the mound in hopes of winning their fourth straight and fifth of the series with the Greensboro Grasshoppers. Greensboro would give the ball to Sean Sullivan with the hopes of turning the tide and getting out of town with a win.
Dylan Dodd would find himself in an early jam in the top of the second, and the Grasshoppers would strike first with an Ernny Ordonez single that would drive in Hudson Head. Rome would strike right back the next half inning with a Drew Campbell triple that would rattle off the visitor's bullpen door and drive in Landon Stephens to tie the game.
In the bottom of the third, Rome would jump ahead on a two-run Vaughn Grissom home run that could put the braves up three runs to one. The next half inning would see Dariel Lopez deposit a pitch into the visitor's bullpen to knot the score at three runs each.
The action between the Grasshoppers and Braves would stall out for about two and a half innings as no team would score until Endy Rodriguez would crank a homer onto the home run hill just beyond the right field wall. Ernny Ordonez would drive in one more run in the form of Jackson Glenn who would score on the base hit.
In the bottom of the seventh, Landon Stephens would find himself in prime position to put the Braves right back in the game with two runners on base. Stephens would send his league leading eighth home run of the season into the trees beyond the left field wall, leveling the score at six runs each.
With momentum swinging the Braves' way in the top of the eighth, Dylan Spain would surrender a line drive home run to Greensboro's Matt Gorski. The Grasshoppers would carry that lead through the rest of the contest and claim the win over the Braves in the series finale by a final score od seven to six. Rome still claims the series victory by four games to two.
The Braves will pack up and head to the Palmetto State for a six game series with the Greenville Drive, an affiliate of the Boston Red Sox. Andrew Hoffmann is scheduled to open the series on the mound for Rome.