Former River Cats power Giants to 2-1 series advantage
Giants 1, Dodgers 0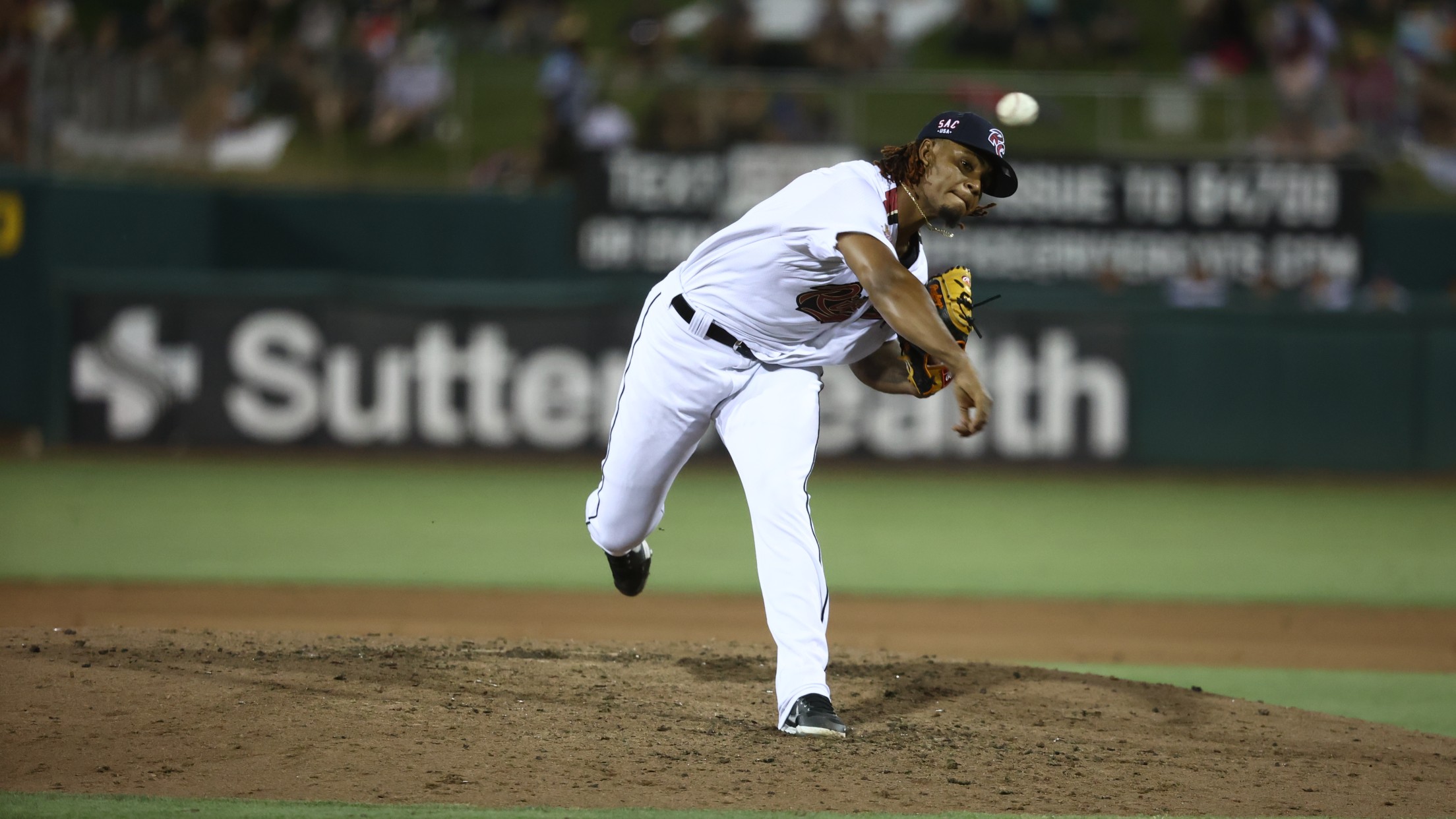 Sacramento right-hander Camilo Doval fires in a pitch against Reno on June 26, 2021. (Ralph Thompson Photo)
West Sacramento, Calif. — The San Francisco Giants defeated their rival Los Angeles Dodgers 1-0 to take a 2-1 lead in the National League Division Series, behind third baseman Evan Longoria's solo home run and a six-out save by rookie right-hander Camilo Doval. After fouling off two pitches to stay
West Sacramento, Calif. — The San Francisco Giants defeated their rival Los Angeles Dodgers 1-0 to take a 2-1 lead in the National League Division Series, behind third baseman Evan Longoria's solo home run and a six-out save by rookie right-hander Camilo Doval.
After fouling off two pitches to stay alive against three-time Cy Young winner, righty Max Scherzer (0-1), Longoria launched an 0-2 fastball through the blistering wind for a fifth-inning home run, the lone run of the ballgame.
The big fly was just enough for the Giants' bullpen to slam the door, as the 24-year-old Doval finished off the Dodgers with a 2.0-inning hitless save, the first postseason save of his career.
Doval, who entered the season with zero innings above Single-A, began the year at the Giants' Alternate Training Site in Sacramento before a quick MLB promotion. He debuted on April 18 in Miami before being optioned to the River Cats on May 21.
After putting in work on the field and in the classroom with Sacramento pitching coach Garvin Alston, the flamethrower caught fire at the perfect time. Over his last seven games with the River Cats, Doval struck out 12 while walking just two in 7.1 innings. He turned that into a call-up on Sept. 5.
Tyler Rogers on Camilo Doval, who got a two-inning save: "I wish I had the words to describe Camilo Doval, just his calmness … the guy is probably never going to get a speeding ticket in his life cause he just is so calm and moves so slow but he throws really fast."

— Alex Pavlovic (@PavlovicNBCS) October 12, 2021
Since his return to San Francisco, Doval has been one of, if not the best reliever in baseball. Through his last 17 games, including two postseason efforts, Doval is 4-for-4 in save opportunities with 22 strikeouts, a 0.58 WHIP, and a .121 opposing batting average in 17.1 shutout innings.
Some were shocked to see the Giants' newly-minted closer enter the game for the six-out save. Although not on the same stage as the NLDS, Doval had worked 2.0 innings four times this season, once on Aug. 12 against Colorado, and another three times for the River Cats, including a six-out save against Round Rock on July 17.
Additional Notes
Lefty Alex Wood, who rehabbed with Sacramento during the April Alternate Training Site exhibitions, allowed just two hits and two walks while striking out four in 4.2 innings.
Right-hander Tyler Rogers (1-0), a two-time River Cats Pitcher of the Year, added another 1.2 scoreless before veteran lefty Jake McGee completed the seventh to set up Doval's heroics.