River Cats announce end of year team awards
7 River Cats take home 8 awards voted on by teammates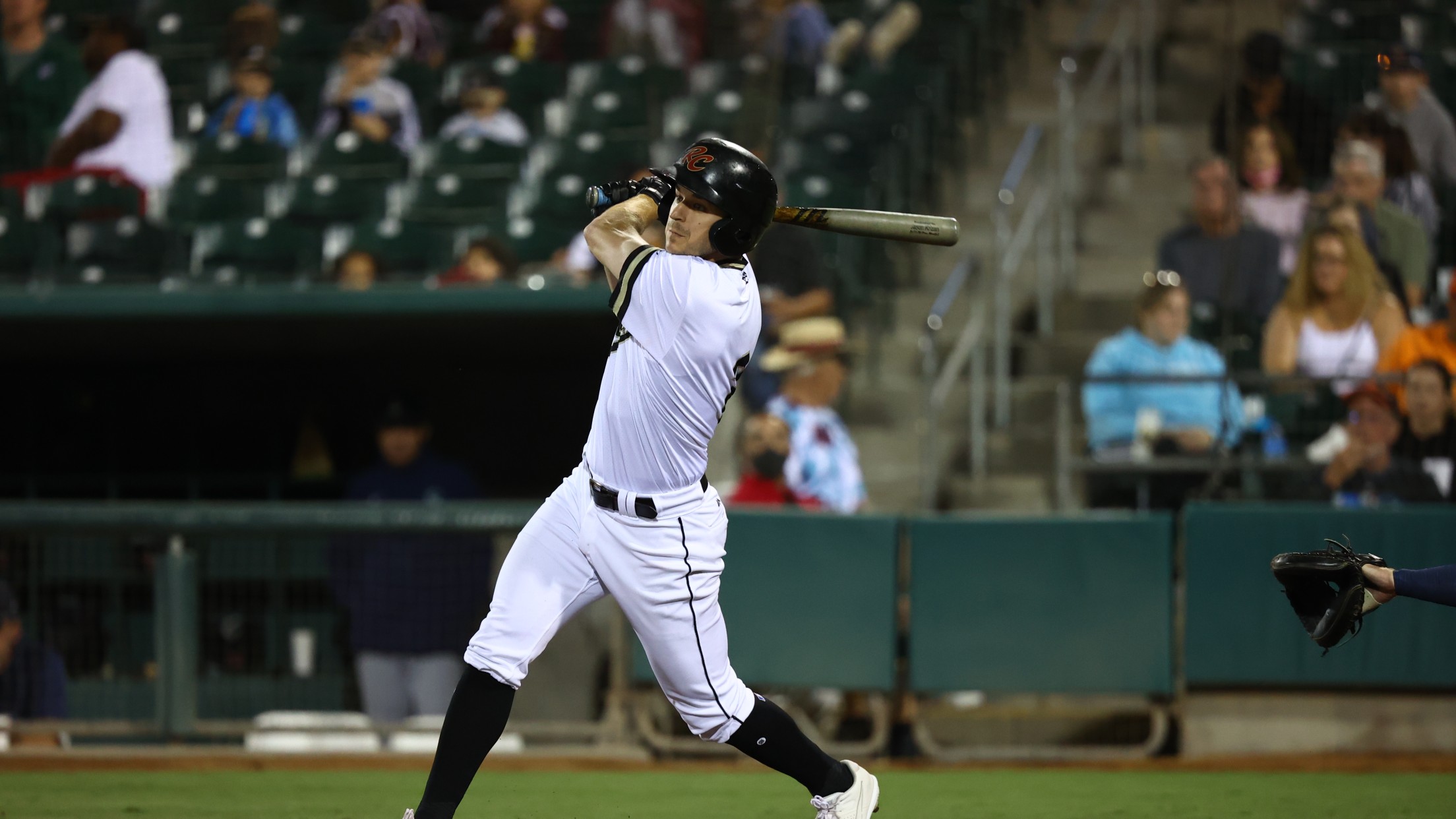 Infielder Jason Krizan lines a pitch to left field. Krizan won the team's MVP and Offensive Player of the Year awards with Sacramento in 2021. (Ralph Thompson Photo)
The Sacramento River Cats, the San Francisco Giants' Triple-A affiliate, finished off an exciting season on Sunday with the reveal of their team awards. Seven different River Cats were named the winners of eight awards, which were voted on by their teammates and coaches. Offensive Player of the Year and
The Sacramento River Cats, the San Francisco Giants' Triple-A affiliate, finished off an exciting season on Sunday with the reveal of their team awards. Seven different River Cats were named the winners of eight awards, which were voted on by their teammates and coaches.
Offensive Player of the Year and Team MVP: Infielder Jason Krizan
Infielder Jason Krizan was a constant presence in the River Cats lineup, finishing the season as the Triple-A West hit king with 136 in 2021. Krizan hit .316 while leading Sacramento with 67 runs, 26 doubles, 73 RBIs, 38 multi-hit games, and 18 multi-RBI games. He was also second on the team with 16 home runs, and even threw 1.1 scoreless innings on the mound.
Pitcher of the Year: Right-Hander Kervin Castro
In his first season above Single-A, 22-year-old Kervin Castro forced his way to San Francisco with a great Triple-A debut. After a quick adjustment period, Castro impressed going 6-1 with a 2.86 ERA, 1.20 WHIP, a .197 opposing batting average, and 60 strikeouts over 44.0 innings. He also had Triple-A West's longest streak of consecutive games with a strikeout, punching out a batter in all 30 games before his promotion.
Defensive Player of the Year: Outfielder Bryce Johnson
It's one thing to make a full-extension diving catch, it's another to do it twice in the same game, but outfielder Bryce Johnson did it on back-to-back batters twice this season. The speedy outfielder consistently flashed the leather and made highlight plays for the River Cats. He also had a great season with the bat, hitting .286 with 65 runs, nine home runs, 44 RBIs, 48 walks, and a Triple-A West leading 30 stolen bases.
Most Exciting Player: Infielder Thairo Estrada
Prior to his promotion to San Francisco on June 29, infielder Thairo Estrada was arguably the best hitter in Minor League Baseball, leading Triple-A West with a .385 batting average and a 1.057 OPS. Estrada continued to impress with the Giants, hitting .273 with 19 runs, seven home runs, and 22 RBIs in 52 games. Estrada is the second straight infielder acquired from the Yankees organization to win the Most Exciting Player Award, with Abiatal Avelino taking it home in 2019.
Most Versatile Player: Infielder/Outfielder Will Toffey
Will Toffey has done everything the team has asked, playing left field, right field, first base, second base, and third base. He even caught some bullpens when the River Cats were in need. Despite the many different gloves worn this season, Toffey had a .988 fielding percentage. The midseason trade acquisition from the Mets hit .270 with 15 runs, two home runs, and nine RBIs in 31 games for Sacramento, his first year at Triple-A.
Most Improved Player: Infielder Peter Maris
Infielder Peter Maris excelled when on the field for Sacramento. During his end-of-season call-up in 2019, Maris was 2-for-35 (.057) in 12 regular season games. In 2021, despite sporadic playing time, Maris became a force at the plate, hitting .289 with 23 runs, nine home runs, 29 RBIs, and a .847 OPS.
Best Teammate: Catcher Ronnie Freeman
If you don't like Ronnie Freeman, you don't like people. Freeman is absolutely beloved by his teammates and has played a major role in the River Cats' success each of the last two seasons. Over his final seven games, Freeman had four runs, three home runs (including the Sept. 30 game-winner), and five RBIs. This is Freeman's second Best Teammate award, having shared it with catcher Francisco Peña in 2019.