Villar, Mathisen homer in Wednesday defeat
Isotopes 6, River Cats 3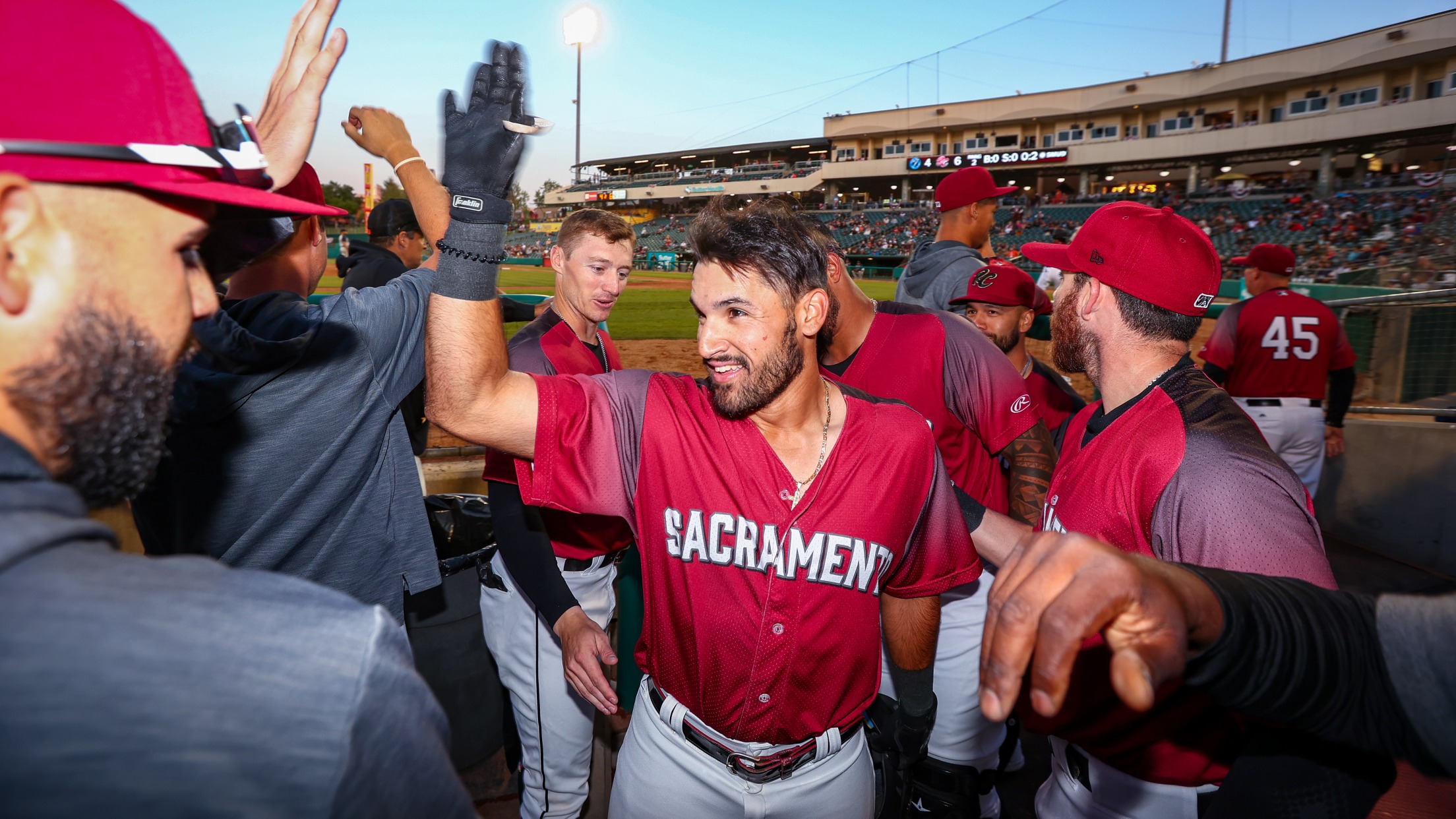 Sacramento infielder David Villar celebrates after his first career Triple-A home run (4/5/22). (Ralph Thompson Photo)
Albuquerque, N.M. — The Sacramento River Cats (11-9) could not overcome an early deficit, falling 6-3 to the Albuquerque Isotopes (8-12) on Wednesday night. Starting with a leadoff home run from former River Cats outfielder Wynton Bernard, the Isotopes burst out to a 5-0 lead with three runs in the
Albuquerque, N.M. — The Sacramento River Cats (11-9) could not overcome an early deficit, falling 6-3 to the Albuquerque Isotopes (8-12) on Wednesday night.
Starting with a leadoff home run from former River Cats outfielder Wynton Bernard, the Isotopes burst out to a 5-0 lead with three runs in the first and two in the third inning off right-hander Corey Oswalt (1-2).
Third baseman David Villar got the River Cats on the board in the top of the sixth with his sixth home run of the season, a two-run shot to right-center field. He now has a team-leading 19 RBIs in 17 games.
First baseman Wyatt Mathisen got Sacramento within three when he led the ninth inning off with a solo home run. Albuquerque righty Chad Smith limited the damage with three straight outs to end the game.
Former Sacramento right-hander Zach Neal (2-2) was solid for Albuquerque. Neal struck out five while allowing two runs on six hits and zero walks in 5.2 innings.
Left-hander Michael Plassmeyer (0-2, 3.26), who has lost two straight despite just one earned run in each outing, looks to get his first win of the season. He'll take on an Albuquerque TBD at 10:05 a.m. (PT). Listen to Johnny Doskow call the game online at rivercats.com or on the MiLB First Pitch app.
Additional Notes
Mathisen, who also homered in Tuesday's series-opener, finished Wednesday 2-for-4.
San Francisco outfielder LaMonte Wade Jr. went 1-4 in his third rehab game.
The Sacramento bullpen allowed one run in 5.1 innings. Right-hander Luis Ortiz struck out five while allowing one run on four hits in 3.1 innings. Righty Peter Tago struck out three and walked three in 2.0 scoreless frames.