Vosler extends hitting streak, Genovés homers in blowout defeat
Isotopes 11, River Cats 3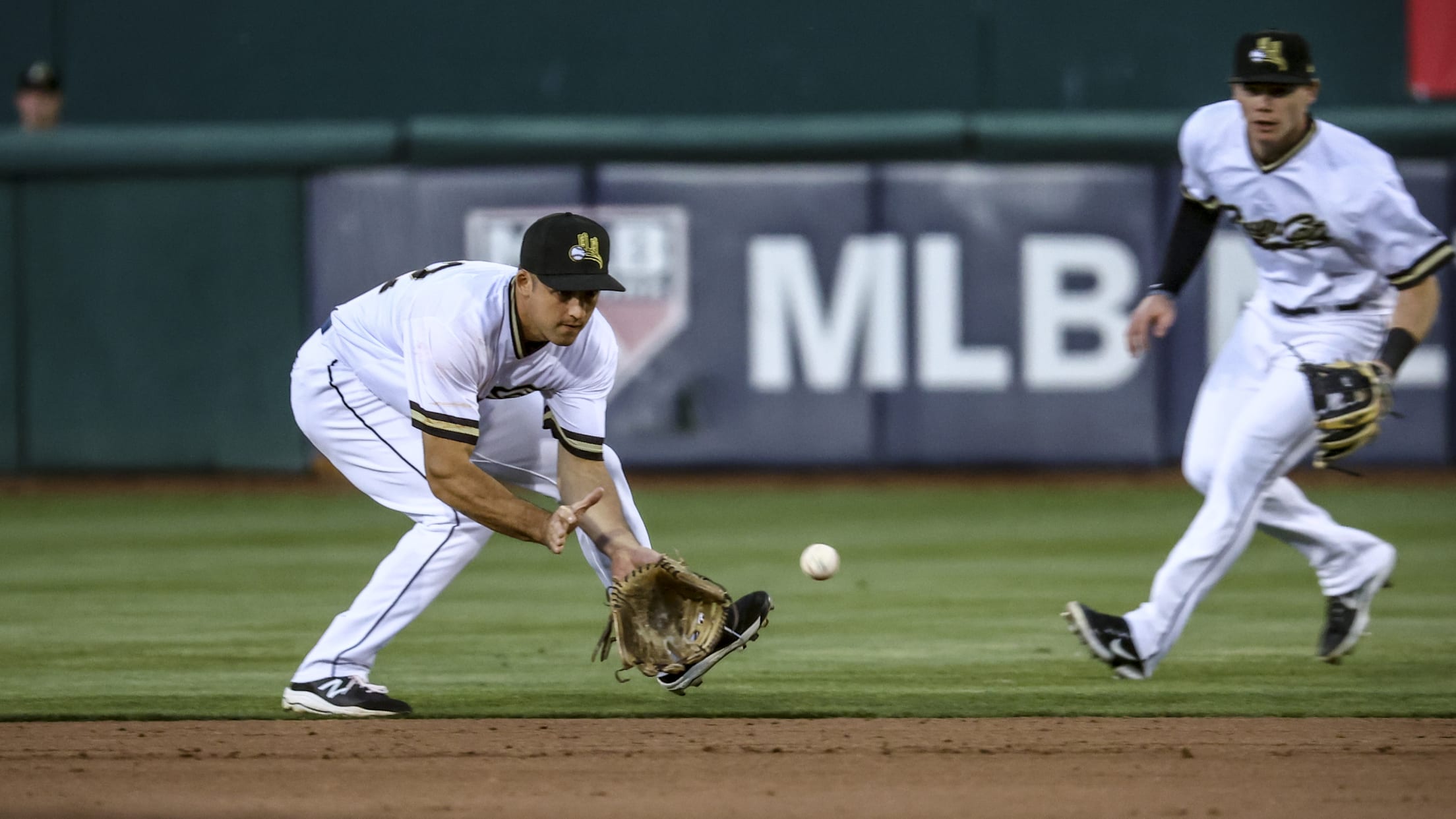 Infielder Jason Vosler fields a ground ball on May 22 vs Reno. (Ralph Thompson Photo)
West Sacramento, Calif. — One sloppy inning snowballed on the Sacramento River Cats (53-70, 1-5), leading to an insurmountable lead in their defeat to the Albuquerque Isotopes (57-69, 5-1). A dropped third strike, three singles, three walks, two hit-by-pitches, two wild pitches, and two passed balls led to eight runs
West Sacramento, Calif. — One sloppy inning snowballed on the Sacramento River Cats (53-70, 1-5), leading to an insurmountable lead in their defeat to the Albuquerque Isotopes (57-69, 5-1).
A dropped third strike, three singles, three walks, two hit-by-pitches, two wild pitches, and two passed balls led to eight runs in the sixth inning, four each off right-handers Logan Ondrusek (1-3) and Jake Jewell.
Ondrusek was quite effective prior to the wild sixth inning, finishing with four strikeouts while allowing four runs on eight hits and one walk in 5.0-plus innings.
Former River Cats right-hander Dereck Rodríguez (4-6) struck out a season-high nine over 5.0 shutout innings with just three hits allowed in his return to Sutter Health Park.
Second baseman Jason Vosler extended his hitting streak to 16 games with a fourth-inning single. Vosler is 26-for-61 (.426) with 11 runs, eight RBIs, and a 1.053 OPS over that span.
Catcher Ricardo Genovés continued his hot start for Sacramento, going 2-for-3 with his first Triple-A home run. Through four games with the River Cats, Genovés is 7-for-15 (.467) with three doubles, three runs, and three RBIs.
The River Cats look to bounce back on Thursday with veteran righty Matt Shoemaker (3-3, 5.31) on the mound. He'll take on lefty Ryan Rolison (2-2, 6.26) at 7:05 p.m. (PT). Listen to Johnny Doskow call the game live online at rivercats.com or on the MiLB First Pitch app.
Additional Notes
Sacramento's first run came on a bases-loaded walk by pinch-hitter Peter Maris in the eighth inning to make it 11-1.
In his first Triple-A game, lefty Jake Dahlberg struck out two in a scoreless ninth inning for the River Cats.