San Jose Giants Release 2023 Promotional Schedule 
Single Game Tickets On Sale Tuesday, February 21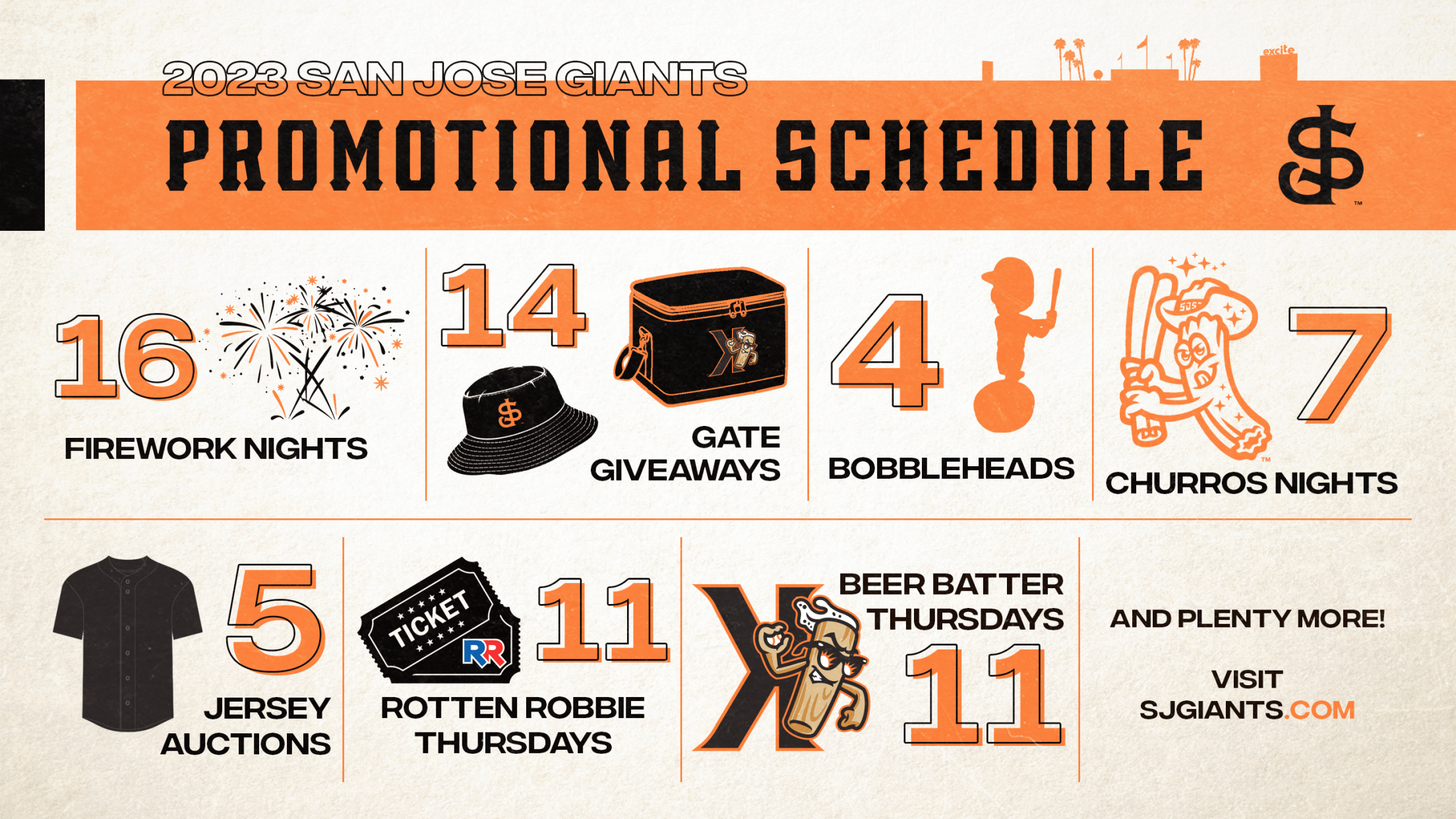 San Jose, CA - The San Jose Giants announced today their Promotional Schedule for the 2023 season. Click here to view the calendar in its entirety. Fans can guarantee their seats now for the most popular days by purchasing any one of the San Jose Giants Mini Plans. Single game
San Jose, CA - The San Jose Giants announced today their Promotional Schedule for the 2023 season. Click here to view the calendar in its entirety. Fans can guarantee their seats now for the most popular days by purchasing any one of the San Jose Giants Mini Plans. *Single game tickets go on sale Tuesday, February 21. *
The promotional calendar continues the longtime traditions of Excite Ballpark while bringing new concepts with help from the team's alternate identities. Key promotions in the calendar include:
Fireworks: Opening Night, 12 Friday Night Excite Credit Union Shows, July 3, three (3) Saturday shows
Bobbleheads: Logan Webb (May 13), Black Panther (July 22), Casey Schmitt (August 12), Grant McCray (August 26)
San Jose Churros: April 22, May 5, May 6, June 3, July 15, August 12, September 9
Beer Batter Weekend: June 16-18 (June 17 Cooler Giveaway)
Marvel Weekend: July 21-22 (July 22 Black Panther Bobblehead)
Gate Giveaways: Military Tag (April 8, May 29), Runzikawa #45 T-Shirt (April 22), Churro Stress Ball (May 6), Bucket Hat (June 3), Patriotic Sunglasses (July 1-2), Camilo Doval Pillow (July 15)
Jersey Auctions: Military (April 8-May 29), Beer Batter (June 18), USA (July 1-3), Marvel (July 21-22), Churros (Sep 9)
Beer Batter Thursdays: every Thursday home game (11 total) Beer Batter pricing all game long
"We are extremely excited about the 2023 promotional calendar," said Matt Alongi, San Jose Giants Vice President of Marketing. "Combining storied traditions with new and engaging promotions, we know there is something for everyone at Excite Ballpark this season. A tremendous amount of work has been done to entertain our fans at the ballpark every night, and we're looking forward to putting on the best show on and off the field."
San Jose Giants single game tickets will go on sale Tuesday, February 21 at 10:00 AM. The San Jose Giants 2023 Opening Night is Thursday, April 6 at Excite Ballpark against the Fresno Grizzlies. Ticket packages are on sale now. For more information on Ticket Offers call 408.297.1435, visit the Excite Ballpark Box Office or log on to sjgiants.com.
View the Complete 2023 Promotional Schedule