Redención: Bañuelos redemption journey comes full circle
Manny Bañuelos has seen his time in baseball require perseverance and patience. He is once again on the cusp of fulfilling the promise of decades past.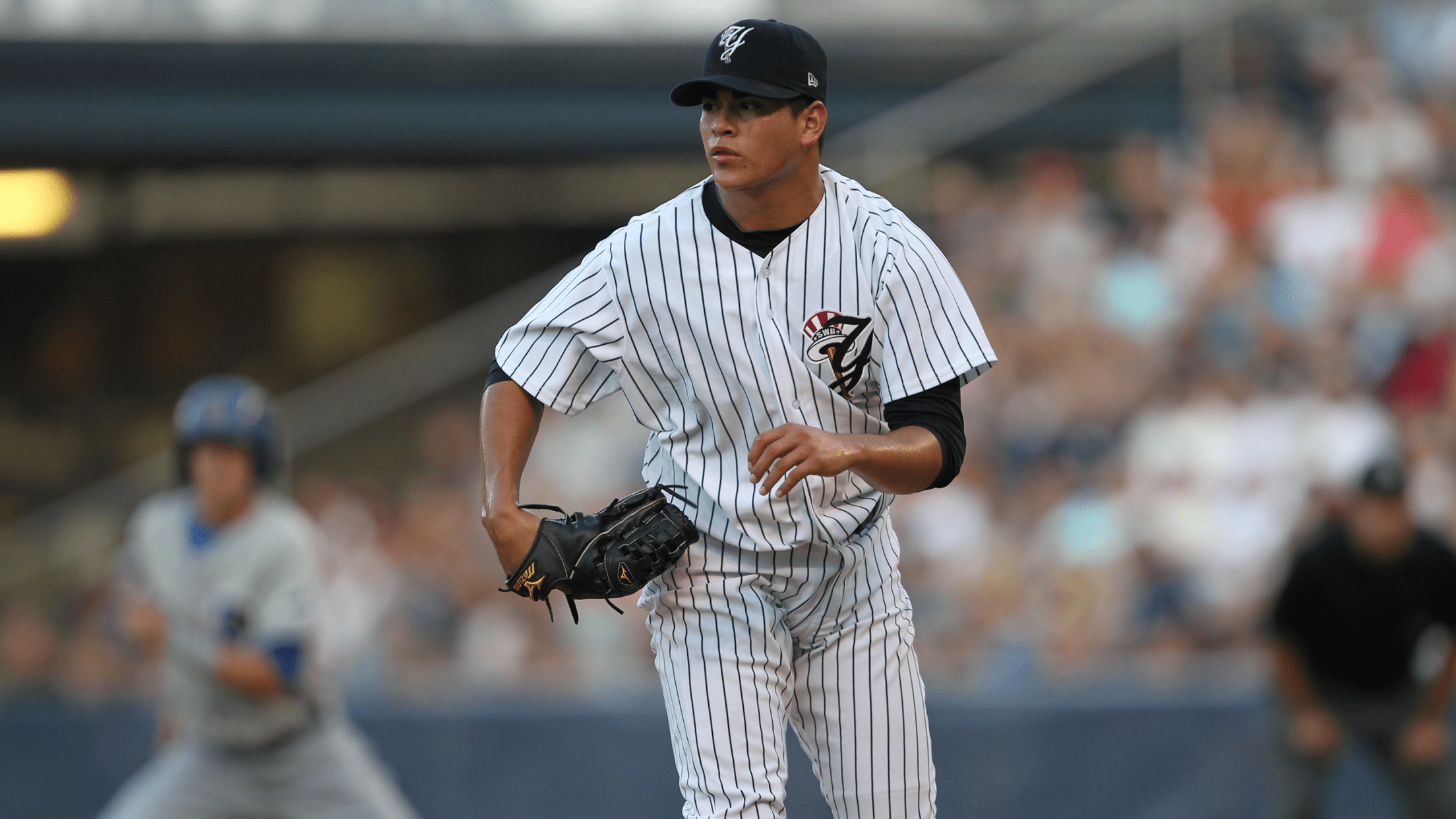 Manny Banuelos in 2011 as an SWB Yankee.
How hard would you fight to make your dreams a reality? Would you work for 15 years? Would you go through two years of physical rehab? Would you travel across the world? RailRiders southpaw Manny Bañuelos has done all the above and then some. The former top pitching prospect, now
How hard would you fight to make your dreams a reality? Would you work for 15 years? Would you go through two years of physical rehab? Would you travel across the world?
RailRiders southpaw Manny Bañuelos has done all the above and then some. The former top pitching prospect, now 31-year-old redemption story is back in the United States trying to make his lifelong dream a reality.
"To get this opportunity, it's big for me. It's huge," the veteran said on a windy day towards the tail end of his first homestand of the 2022 season.
Bañuelos was just 16 when he signed with the New York Yankees in 2008 for $450,000 out of Mexico. Since then, his transactions page looks like a laundry list of every team you've heard of, and some you haven't. But at one point, he was the next big thing.
The lefty was a quickly rising star in the Yankees' system. Entering the 2011 season, Baseball America ranked him the 41st best prospect in all of baseball. He would jump as high as number 29 in the following season. The touted outlet went as far as calling him "the best lefthander in the system by a mile." In the era of New York baseball that just saw a World Series Championship in 2009, the next wave of studs was already nearly heading to the Bronx, dubbed 'The Killer B's'. Alongside Bañuelos were Andrew Brackman and Dellin Betances.
Keen-eyed Scranton/Wilkes-Barre fans might recognize the name Manny Bañuelos. He has pitched in parts of three seasons here, dating back to the SWB Yankees days in 2011 and 2012, then making four starts for the RailRiders in 2014.
"Back then, I was just a young man with a lot of ability," Bañuelos recalled.
In the early 2010s, the left-handed starter featured a changeup and curveball, both considered plus pitches, and a fastball that could reach up to 96 MPH. As a sub-six foot pitcher, let alone in the pre-triple digit revolution, these numbers turned heads. That same Baseball America scouting report said he had "excellent fastball control, even with his improved velocity, and projects to have true big league command." They also projected him to be a frontline starter in the majors.
The praise for this young starter came from everywhere. Then future Hall of Famer Mariano Rivera loved what he saw from Bañuelos, telling ESPN, "I like everything about him. The makeup and how he keeps his composure. I notice situations and how you react in situations. Where you make your pitches in tough situations, where you spot your pitches, he has the ability to do that," the legendary closer said during Spring Training in 2011.
That same fastball that once lived in the mid to upper-90's, 11 years later, now sits in the low 90's.
So, what happened?
2012 was set to be the big year for Bañuelos. He was part of a talented starting rotation for Scranton/Wilkes-Barre along with the aforementioned Betances, Ramón Ortiz and Adam Warren. After just six starts and 24 innings, he was shut down with elbow pain. He had Tommy John surgery that October.
"It took me like two years to feel 100%. I remember coming back, my arm would never feel the same… It was tough for me."
Once he was able to pitch again, the same numbers that got him the high honors and praise had vanished. Initially, his fastball couldn't even break 90 MPH.
The next few years for the promising starter weren't exactly on the same plane as the previous. After missing the better part of three seasons, Bañuelos returned to the field in 2014, pitching for Tampa, Trenton and Scranton/Wilkes-Barre. His season combined ERA was nearly at the highest of his career. 2014 would be his final season in the New York system. The Yankees traded him to the Atlanta Braves for LHP Chasen Shreve and RHP David Carpenter.
Now without pinstripes, he set his eyes on finally achieving his dream, which he did. On July 2, 2015, he found himself on a big league mound at Turner Field in Georgia. His first taste of the show began with a bang: 5.2 shutout innings with seven strikeouts and just two hits against the Washington Nationals, rivaling Max Scherzer no less.
In five of his first six Major League starts with the Braves, he allowed three or fewer total runs. Things had seemed to click, and he was returning to the promising pitcher he felt he was years prior. But just a few months later in his first start of September, he surrendered seven runs in just two innings against those same Washington Nationals.
It took him eight professional seasons to make his MLB debut, but the injury bug had bitten him once more. The left-hander needed to have bone chips removed from his throwing elbow. Bañuelos never settled back in the Majors in a full capacity thereafter.
Atlanta released him in 2016. The Los Angeles Angels signed him six days later.
He pitched for a year in Salt Lake and then elected free agency. The Los Angeles Dodgers signed him to a minor league deal.
He pitched for a year in Oklahoma City. The Dodgers traded him to the Chicago White Sox.
He pitched in the Majors for 16 games while dealing with shoulder issues all season. He elected free agency.
The Seattle Mariners invited him to Spring Training. COVID.
Bañuelos left the United States. He played in his native Mexico. He went to China to pitch in Taiwan. He pitched in the Winter Leagues. He went to the Olympics. He did everything in his power to stay on the mound, wherever in the world that happened to be, for whatever jersey they'd allow him to put on.
"I got to be honest, when I was pitching there (in Taiwan), I thought I wasn't going to get a chance to pitch back here in the United States," Bañuelos confided.
Throughout this head-spinning process, he's quietly had to re-learn how to pitch. Gone are the days when he can rush it past anyone and everyone. Now it takes a game plan, scouting reports, better sequencing and more finesse to find success.
And he did find success. Returning to pitch in the Chinese Professional Baseball League for his second season in 2021 proved to be critical in keeping his dream alive. With the Fubon Guardians, Bañuelos tossed 49 innings in nine starts with a 2.94 ERA and 64 strikeouts. It wasn't until he was back home pitching in the Mexican Pacific Winter League that a second chance seemed like a real possibility.
In the final week of December 2021, his agent asked if he had an interest in giving it another go in affiliated baseball. He said yes. Two weeks later he signed the dotted line. It was the Yankees.
"Trust me, my dream is pitching in New York, pitching for the Yankees. It's my dream because here's where I started."
After the lockout ended, Bañuelos found himself pitching in big league Spring Training games, and all the media attention and fan fervor that he saw in the early 2010s was back, but for a different reason. He was now a feel-good story, the easy guy to root for. He pitched well in three Grapefruit League outings but didn't make the big league club when it came down to it.
"You know, there are things that I can't control. It wasn't in my hands," he explained. He seems genuine when he says he's just grateful to be back in the system. He seems relaxed. And while his first outing with the RailRiders started a hair shaky, it all evened out across three innings with just one run allowed. Then his first start, a four-inning shutout outing against a potent Norfolk offense, went even better. He allowed just one hit.
"I'm healthy. I've been fighting against the issues that I've had with my arm in the past. Now I'm enjoying it because I'm not worried about injuries. I'm not worried about anything like that. Now I'm a hundred percent healthy and I feel strong."
Manny Bañuelos walks around PNC Field and the rest of the International League with a smile on his face, despite the emotional weather the early part of the season has seen, let alone the emotional turmoil he's endured while trying to get back to the majors. He's talkative. He laughs. He's patient. He's genuinely happy, by all accounts.
While there's no telling when or if the big call from the Bronx will ever come, Bañuelos goes about his business with the spirit of that bright-eyed 16-year-old still inside him. The upper-90's velocity may be gone. The prospect lists may no longer bear his name. But the chance at finally donning the pinstripes for the team that believed in him from the beginning gets him out of bed every morning.
"This is my second opportunity and I want to take advantage, man. I want to do my best."