Ten Former Patriots Break Into Big Leagues in 2022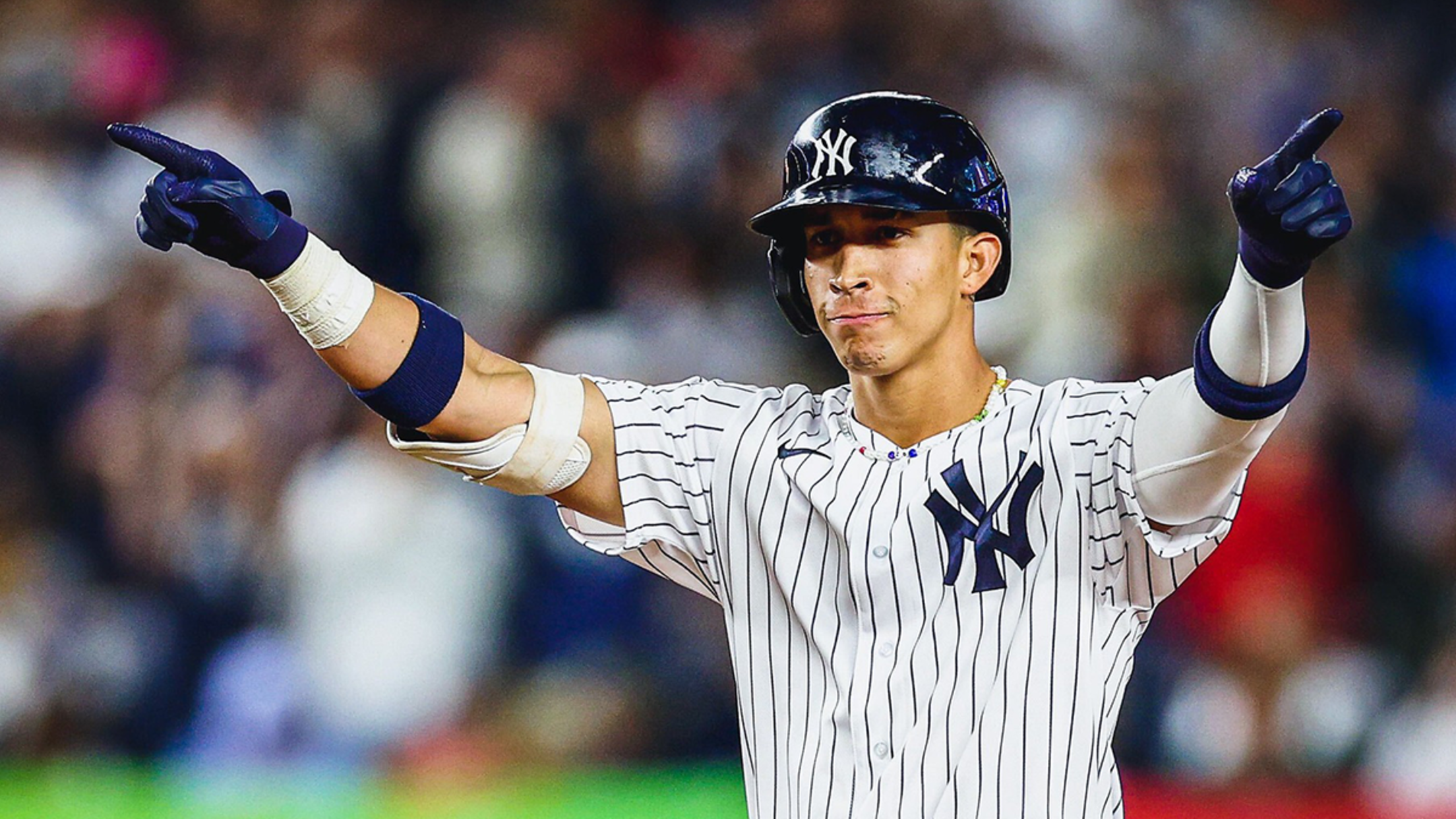 Bridgewater, New Jersey- Over the course of the Patriots' first two seasons as the Yankees' Double-A affiliate, 16 players have passed through Somerset en route to making their MLB debuts. All 16 former Patriots to have debuted in MLB were part of Somerset's inaugural season as the Yankees' Double-A affiliate
Bridgewater, New Jersey- Over the course of the Patriots' first two seasons as the Yankees' Double-A affiliate, 16 players have passed through Somerset en route to making their MLB debuts. All 16 former Patriots to have debuted in MLB were part of Somerset's inaugural season as the Yankees' Double-A affiliate in 2021. Of this total, 10 former Patriots broke into the big leagues in 2022.
DIEGO CASTILLO, INF (SOM, 2021) - MLB Debut: 4/7/22
In the Patriots' first season as an affiliate of the Yankees, Castillo established himself as one of Somerset's signature players, receiving both MiLB Player of the Month (June) and Player of the Week (June 6) honors in 2021. Castillo was traded to the Pittsburgh Pirates at the 2021 MLB trade deadline alongside former Patriot Hoy Park in exchange for RHP Clay Holmes. Castillo made his MLB debut for the Pirates on Opening Day 2022 and went on to play in 96 games for Pittsburgh. Along his rookie campaign, Castillo hit 11 HR with a .633 OPS.
RON MARINACCIO, RHP (SOM, 2021-22) - MLB Debut: 4/9/22
During the 2021 season, Marinaccio proved himself to be one of the most dominant relievers in the Yankees organization. Pitching in 22 games for Somerset, the Toms River, NJ native posted a 1.82 ERA with 64 strikeouts over 39.2 innings pitched. His 14.25 K/9 inning ratio from 2021 is the lowest on record by any Yankees minor league pitcher since 2006 (min. 60 innings pitched). On August 8, 2021, Marinaccio finished the first no-hitter in Somerset Patriots franchise history with a hitless ninth inning at TD Bank Ballpark.
Marinaccio made his first MLB Opening Day Roster in 2022, debuting on Opening Weekend with a scoreless inning vs. Boston. During his rookie season, Marinaccio separated himself as one of the Yankees' most reliable bullpen arms by posting a 2.05 ERA, 1.05 WHIP and .149 BAA over 40 relief appearances. He also did not allow a hit in 22 of his first 27 appearances for the Yankees, marking the most such games by any MLB pitcher through his first 27 career games. In 2022, Marinaccio became the first member of the Patriots to pass through Somerset and make his MLB debut, then return to TD Bank Ballpark on an MLB rehab assignment for the Yankees.
JP SEARS, LHP (SOM, 2021) - MLB Debut: 4/13/22
Sears was a key member of Somerset's inaugural Yankees-affiliated team in 2021, going 3-2 with a 4.09 ERA and 71 strikeouts in 50.2 innings pitched in 15 games (eight starts). Upon earning a call-up to Triple-A, he went a perfect 7-0 in Scranton/Wilkes-Barre to finish out the season. In 2022, Sears made his first MLB Opening Day roster with the Yankees and went on to pitch a total of seven games (two starts) for New York. As a Yankee, Sears was 3-0 with a 2.05 ERA and 0.86 WHIP. At the 2022 MLB trade deadline, Sears was dealt alongside former Patriots Ken Waldichuk and Luis Medina to the Oakland Athletics in exchange for RHP Frankie Montas. In Oakland, Sears made 10 appearances (nine starts) and went 3-3 with a 4.69 ERA.
DERMIS GARCIA, INF (SOM, 2021) - MLB Debut: 7/12/22
Garcia introduced himself to the Patriots by breaking the team's longstanding single season home runs record in Somerset's inaugural season affiliated with the Yankees. Garcia smashed 31 home runs in 2021 to lead the Double-A Northeast League, spending all of 2021 in Somerset. Following the season, Garcia elected free agency and signed with the A's. After beginning 2022 in Triple-A Las Vegas, Garcia made his MLB debut in July and went on to play 39 games for Oakland, in which he hit five home runs.
OSWALDO CABRERA, INF (SOM, 2021) - MLB Debut: 8/17/22
In 2021, Cabrera established himself as the original face of the Somerset Patriots in the Yankees era, spending all of 2021 with the team and winning the Northeast League MVP in the team's first ever affiliated season. He led the league in hits (112), RBI (78), extra base hits (54), and total bases (215), while ranking among the league leaders in home runs (24, 3rd), slugging percentage (.492, 10th), doubles (29, T-3rd), and stolen bases (20, T-5th).
Cabrera was called up by the Yankees in mid-August 2022, when the team was in the midst of its worst slump of the season (lost 11 of last 13 games). Down the stretch, he proved to be a key piece to the team's depth and versatility en route to the playoffs. The Yankees finished the season 27-18 from the time of Cabrera's promotion. In total, he played 44 regular season games for the Yankees, hitting .247 with 21 runs, 19 RBIs, eight doubles and six home runs at the plate. Defensively, Cabrera appeared at six different positions in the field (1B, 2B, 3B, SS, LF, RF) and became the first player in Yankees franchise history to start at four different positions within his first six MLB games (2B, 3B, SS, RF). Known mostly for his defense in right field, Cabrera earned seven outfield assists in only 34 games played at the position, which tied with Aaron Judge for the most on the team and ranked first in MLB from the time of his Major League debut. Prior to his MLB debut, Cabrera had only played four professional games in the outfield.
GREG WEISSERT, RHP (SOM, 2021) - MLB Debut: 8/25/22
In 12 appearances for Somerset in 2021, Weissert had a 0.71 ERA and 20 strikeouts in 12.2 innings pitched before dominating at the Triple-A level for Scranton/Wilkes-Barre. At Triple-A in 2022, Weissert appeared in 42 games and posted a 1.69 ERA with 18 saves and a 0.90 WHIP. Upon earning his promotion to the Bronx in late August, Weissert appeared in 12 games for the Yankees and went 3-0 with a 0.97 WHIP and .146 BAA.
KEN WALDICHUK, LHP (SOM, 2021-22) - MLB Debut: 9/1/22
Waldichuk led the Patriots' pitching staff in strikeouts (108) during the 2021 season, posting a 4-3 record and 4.20 ERA over 79.1 innings. He then returned to Somerset to start the 2022 season, making him the first member of the 2022 team to have made his MLB debut. He started the season with a 4-0 record in Somerset, posting a 1.26 ERA and 46 strikeouts in six starts before a call-up to Triple-A Scranton/Wilkes-Barre. He started 11 games for the Yankees at Triple-A, before being dealt in a package for RHP Frankie Montas at the 2022 MLB trade deadline. Waldichuk made his MLB debut with the A's, starting seven games in September and going 2-2 with a 4.93 ERA. On September 24, he earned his first career win in a start against two-time Cy Young Award winner Jacob deGrom and the New York Mets.
OSWALD PERAZA, INF (SOM, 2021) - MLB Debut: 9/2/22
Peraza established himself as a signature member of the 2021 Patriots, slashing .294/.348/.466 with 12 HR and 40 RBIs across 79 games during Somerset's inaugural season as the Yankees' Double-A affiliate. Peraza earned a September 2021 call-up to Triple-A, before beginning the 2022 season at that level. Over 99 games to begin the season, he set a new career-high 19 home runs, while hitting .257 with a .777 OPS. Peraza earned his call-up to the Bronx in September of 2022, making him the first Yankee in history to be born in the 2000s. He played in 18 regular season games for New York, slashing .306/.404/.429 with eight runs scored. On October 4, Peraza hit his first MLB home run one inning after his longtime teammate Oswaldo Cabrera went deep for the Yankees.
DONNY SANDS, C (SOM, 2021) - MLB Debut: 9/2/22
During the 2021 season, Sands played 52 games in a Patriots uniform, slashing .253/.316/.459 with 10 home runs before a promotion to Triple-A. During the offseason, Sands was traded to the Philadelphia Phillies in exchange for minor league 3B T.J. Rumfield and LHP Joel Valdez. Sands began the 2022 season in Triple-A Lehigh Valley for the Phillies, slashing .308/.413/.428 with five home runs, before being called up in September. Across the final month of the season, Sands appeared in three games for Philadelphia, en route to the team's 2022 World Series appearance.
HAYDEN WESNESKI, RHP (SOM, 2021) - MLB Debut: 9/6/22
A key member of the 2021 Patriots pitching staff, Wesneski finished his time in Somerset among the league leaders in wins (8, T- 3rd) and strikeouts (92, 7th). During his final month in Somerset, Wesneski was named the Double-A Northeast Pitcher of the Month for September, when he went 3-0 across three starts with a 1.35 ERA and 30 strikeouts. In total, Wesneski started 15 games for the Patriots in 2021, posting a 4.01 ERA and leading the team in wins. He was traded to the Chicago Cubs at the 2022 MLB trade deadline in exchange for RHP Scott Effross. Debuting in September, Wesneski went on to pitch in six games for the Cubs (four starts), dazzling with a 2.18 ERA, 0.94 WHIP and .198 BAA. On September 22 in Pittsburgh, Wesneski accomplished an immaculate inning for the Cubs, striking out the side on nine pitches.