Five Spokane Indians Named Organization All-Stars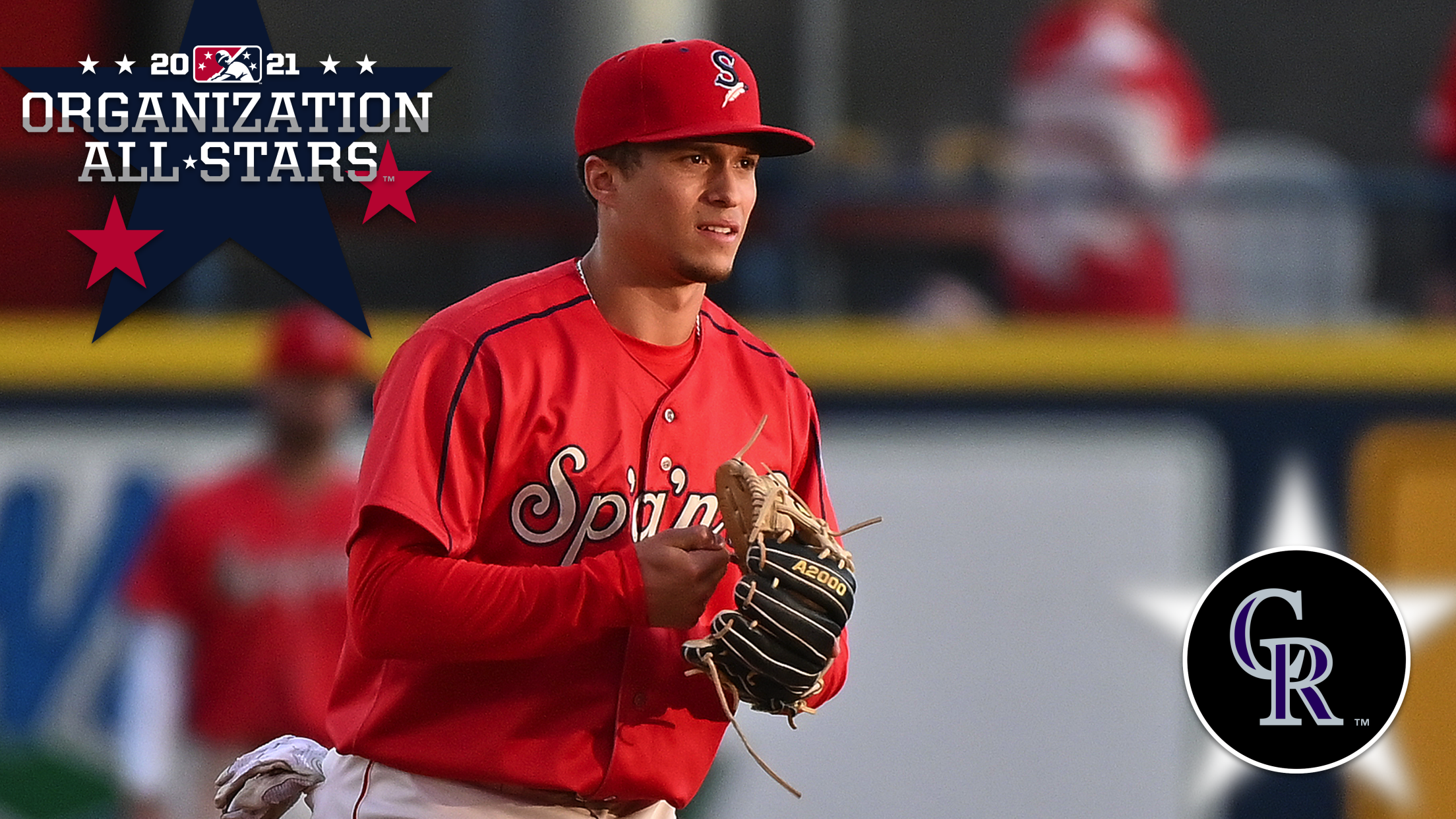 Shortstop – Ezequiel Tovar, Fresno (72 games), Spokane (32 games): Few players within the organization made the post-shutdown jump that Tovar did this season. The 11th-ranked prospect executed significant jumps across the board, posting a combined .287/.322/.475 slash line with 79 runs scored, 72 RBIs and 24 stolen bases in
Shortstop – Ezequiel Tovar, Fresno (72 games), Spokane (32 games): Few players within the organization made the post-shutdown jump that Tovar did this season. The 11th-ranked prospect executed significant jumps across the board, posting a combined .287/.322/.475 slash line with 79 runs scored, 72 RBIs and 24 stolen bases in 104 games across two levels of the Minors. And what made his performance even more remarkable were the challenges he's faced since early 2020.
"Things have gone a little fast when you count the whole pandemic shutdown and that, at 20, he's still such a young kid," Forbes said. "But I have to give him a ton of credit because when the shutdown happened and the borders closed, we weren't able to get him back home to Venezuela. So we got him (and a few other guys) an AirBnB and he's been here the whole time. He still has not been home yet since the shutdown.
"So from a maturity factor, we see the way he's gone about immersing himself here, and when he showed up at instructional league, you just saw a different guy. You saw a guy with a lot of confidence who truly felt like he belonged. Defensively, there is an easiness to how he operates, and we already see the strides with the bat too."
Outfielder – Isaac Collins, Fresno (17 games), Spokane (78 games):** In his first full season of pro ball, the 24-year-old opened the year with a brief stint at Fresno before rising on June 1 to Spokane, where he performed even better. Collins launched a career-best nine long balls while hitting .312 for the Indians. His combined 55 walks showed advanced strike-zone awareness, and his versatility was on full display as he lined up at second base as well as the corner outfield spots.
"He's got that physical and mental toughness that you need on a winning team, and he always expects to win. This is a winning player," Forbes said. "A little pesky, probably not liked by other teams, but great versatility, switch-hitter and just goes out there and grinds things out."
Right-handed starting pitcher – Ryan Feltner, Spokane (seven starts), Hartford (13 starts), Albuquerque (one start), Colorado (two starts): Rising up three levels of a system in the same season is a remarkable feat, but climbing four levels to make your Major League debut is nearly unheard of. That's exactly what the organization's 22nd-ranked prospect did, opening the season at High-A before getting the ball for the first time in The Show on Sept. 5 at Coors Field. In 112 2/3 combined Minor League innings this season, the Ohio State product posted a 2.96 ERA with 127 strikeouts.
"We started to really see this season just how meticulous of a worker he is – in everything he does, really," Forbes said. "He's a guy with a great four-pitch mix, very aggressive about attacking hitters, can work to both halves, and he started to show a 94- to 97-mph fastball with action. He always had a great changeup to equalize everything, but the uptick in velocity really helped the effectiveness of his slider, and he just put it all together this season."
Left-handed starting pitcher – Nick Bush, Spokane (10 games, seven starts), Hartford (seven starts): The southpaw had a sensational start to the year – posting a 2.58 ERA and a 0.94 WHIP with 60 punchouts and only nine walks over 52 1/3 frames at High-A. A late promotion to Double-A proved to be an adjustment early on, but the 25-year-old returned to form after a few appearances for the Yard Goats and finished the season on a high note.
"He's got the secondary options that play up his fastball," Forbes said. "His ability to land his secondary stuff in all counts – early and late – on top of a mid-90s fastball, and from the magic side of the mound, makes him a really intriguing option for us."
Relief pitcher – Dugan Darnell, Fresno (eight games), Spokane (36 games): With one of the most intriguing backstories of any prospect in the Minors, Darnell is the epitome of a "diamond in the rough." The 24-year-old, who was not scouted, promoted himself after an effective run in the Independent League, and proved those numbers were no fluke by dominating in his first pro season. He posted a 1.95 ERA and a 0.76 WHIP with 80 strikeouts over 55 1/3 combined innings between Low-A and High-A.
"This is a young man who did a fantastic job of self-promotion. He sent his tape to every department in our organization – ticketing, suites, the front office – I mean, he left no stone unturned here," Forbes said. "And our scout in Ohio knew who he was and said, 'Why not, let's give him a shot. It's not going to hurt us.' And right away, he showed us an uptick in the fastball, his split-finger that he tunnels unbelievably well, and a curveball that can land early in counts and it changes the whole at-bat. … I'm glad that we answered those e-mails."
About the Spokane Indians
The Spokane Indians are the High-A affiliate of the Colorado Rockies located in Spokane, Washington. Avista Stadium is home to the $5 Kids Bench Seat courtesy of MultiCare. Parking at all Spokane Indians games is FREE. The Spokane Indians Team Store fall hours are Monday through Thursday, 8:00 AM - 5:00 PM, and Friday, from 8:00 AM to 12:00 PM.