Indians Through the Decades: A Look Back at Spokane's Teams of 10, 20, 30, 40, & 50 Years Ago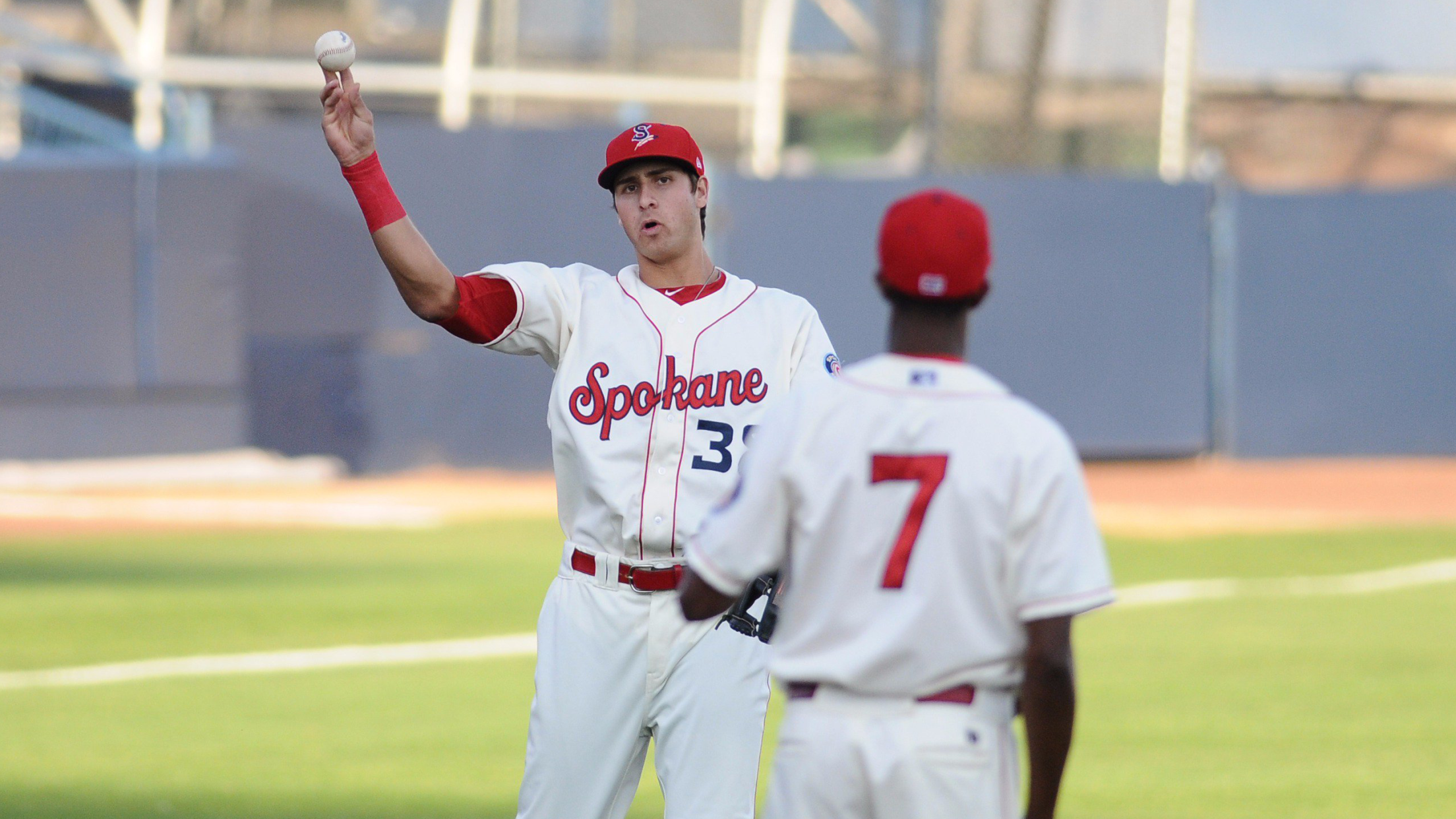 2012 Record: 28-48 (4th in NWL East Division) MLB Affiliate: Texas Rangers Notable Alumni: Joey Gallo and Carl Edwards Jr. Notes: The 2012 Spokane Indians produced a quality big league slugger in Joey Gallo and not much else. The team finished dead last in the eight-team league, endured a 10-game
2012
Record: 28-48 (4th in NWL East Division)
MLB Affiliate: Texas Rangers
Notable Alumni: Joey Gallo and Carl Edwards Jr.
Notes: The 2012 Spokane Indians produced a quality big league slugger in Joey Gallo and not much else. The team finished dead last in the eight-team league, endured a 10-game losing streak, and committed a staggering 128 errors, nearly twice as many as the Vancouver Canadians. The offense finished third in the league with a .249 average, led by Ryan Rua (.293, 7 HR, 43 RBI) and Gonzaga alum Royce Bolinger (.301), whose 23-game hitting streak provided one of the season's lone bright spots. Gallo joined the team in August after clobbering the competition in the Arizona League and provided an instant jolt of electricity to the team, connecting on a pair of home runs in his first home game including a grand slam. The pitching staff was fifth in the NWL with a 3.94 ERA led by the electric Edwards (2.11 ERA, 60 K's in 47 IP) and future big leaguer Alec Asher (3.09 ERA, 50 K's in 35 IP). Bolinger returned to the team in 2018 – this time as a pitcher – and struck out 20 in 14.1 innings before being promoted to Hickory.
2002
Record: 29-47 (4th in NWL East)
MLB Affiliate: Kansas City Royals
Notable Alumni: Zack Greinke, Donnie Murphy, and Ira Brown
Notes: 2002 was the final season of an eight-year affiliation with the Kansas City Royals that produced one NWL Championship and two potential Hall of Fame players (Greinke and Carlos Beltran). This particular squad was not one of the highlights of the affiliation, finishing a whopping 20 games back of the Boise Hawks in the East Division. The main culprit for the team's struggles was a pitching staff that posted a league-worst 4.79 ERA, nearly 3/4s of a run higher than the next closest team. The highly touted Greinke appeared in just a pair of games after being selected sixth overall in that summer's draft and struck out five in 4.2 innings. Closer Billy Keppinger (16 saves, 1.29 ERA) was Spokane's go-to reliever while Eric Ackerman (3.10 ERA) and Danny Christensen (1.10 ERA) anchored the starting rotation. The offense, which finished third in the league with a .332 OBP) was led by Tim Frend (.326, 19 2B, 34 RBI) and Matt Tupman (.271, 2 HR, 23 RBI), who is one of just 16 players in MLB history to record a hit in a lone big league plate appearance. Right-hander Ira Brown struggled on the mound (5.43 ERA) but found his true calling when he returned to Spokane as a basketball player at Gonzaga for a pair of seasons that included a trip to the Sweet 16 in 2009. Brown currently plays professionally in Japan and competed for Team Japan in 3-on-3 basketball at the Tokyo Olympics.
1992
Record: 32-44 (4th in NWL North)
MLB Affiliate: San Diego Padres
Notable Alumni: N/A
Notes: The 1992 Spokane Indians were just not very good. The team produced zero big league players of note, finished with the worst record in the entire league, and ranked last in the NWL in runs, hits, and OPS. Offensively, the standouts were Bill Robbs (.305, 10 2B) and Sean Drinkwater (.301, 4 HR, 41 RBI) while the stalwarts of the pitching staff were Todd Schmitt (6-1, 1.18 ERA, 15 saves), Ken Grzelacyzk (2.02 ERA, 86 K's in 75.2 IP), and Jared Baker (6-3, 2.82). The team did feature a famous "Junior" – Bobby Bonds Jr. – though Barry's brother managed to hit just .179 in 84 at-bats.
1982
Record: 78-65 (2nd in PCL North)
MLB Affiliate: California Angels
Notable Alumni: Tom Brunansky, Joe Coleman, Jerry Narron, Gary Pettis, Dick Schofield
Notes: The Spokane Indians made the most of their single season as an affiliate of the California Angels, reaching the Pacific Coast League finals (where they lost to the Albuquerque Dukes in six games) and producing a five-time Gold Glove Award winner (Pettis), big league manager (Narron), and AL All-Star (Brunansky). The Indians hit .286 as a team in 1982, although that was only the fifth-best mark in an offensively loaded PCL that featured future Hall of Famer Tony Gwynn on the Hawaii Rainbows. Steve Lubratich, who would later manage the Indians, led the team with a .338 and 88 RBIs while four other regulars finished with a .300+ average. The pitching staff posted an unsightly 4.82 ERA (good enough for fifth in the league) though they did get solid contributions from Craig Eaton (9-3, 3.53) and Steve Brown (14-11, 3.88 ERA). Spokane skipper Moose Stubing would later serve as third base coach and interim manager for the Angels, and holds the unique and unfortunate distinction of being a major league player without a hit (0-5 with four strikeouts in 1967) and a major league manager without a win (he went 0-8 to close out the 1988 season).
1972
Record: 42-36 (2nd in NWL North)
MLB Affiliate: Los Angeles Dodgers
Notable Alumni: Glenn Burke
Notes: The Indians were the Triple-A affiliate of the Dodgers from 1958-71 before dropping down to the Northwest League in 1972 (though they would return to Triple-A with the Texas Rangers in 1973). The well-balanced squad finished second in the league in both batting average (.278) and ERA (3.86) but still finished 11 games back of the Lewiston Broncs in the NWL North. Six of the team's regulars hit over .300, led by Glenn Burke's .340 mark, while Donald Standley was the star of the pitching staff with a 10-2 record and 2.33 ERA. The only player for the team to reach the majors, Burke was the first openly gay player in MLB and is credited with inventing the high five. He tragically passed away from AIDs-related complications in 1995.
ABOUT THE SPOKANE INDIANS
The Spokane Indians are the High-A affiliate of the Colorado Rockies located in Spokane, Washington, and were named 2021 MiLB Organization of the Year. Avista Stadium is home to the MultiCare Kids Bench Seat. Parking at all Spokane Indians games is FREE. The Spokane Indians office and team store hours are 10:00 AM - 4:00 PM on Monday through Thursday and 10:00 AM - 1:00 PM on Fridays. On game days, the office and team store are open from 10:00 AM through the end of the game.