Q & A with Indians Alum Jim Elliott ('90)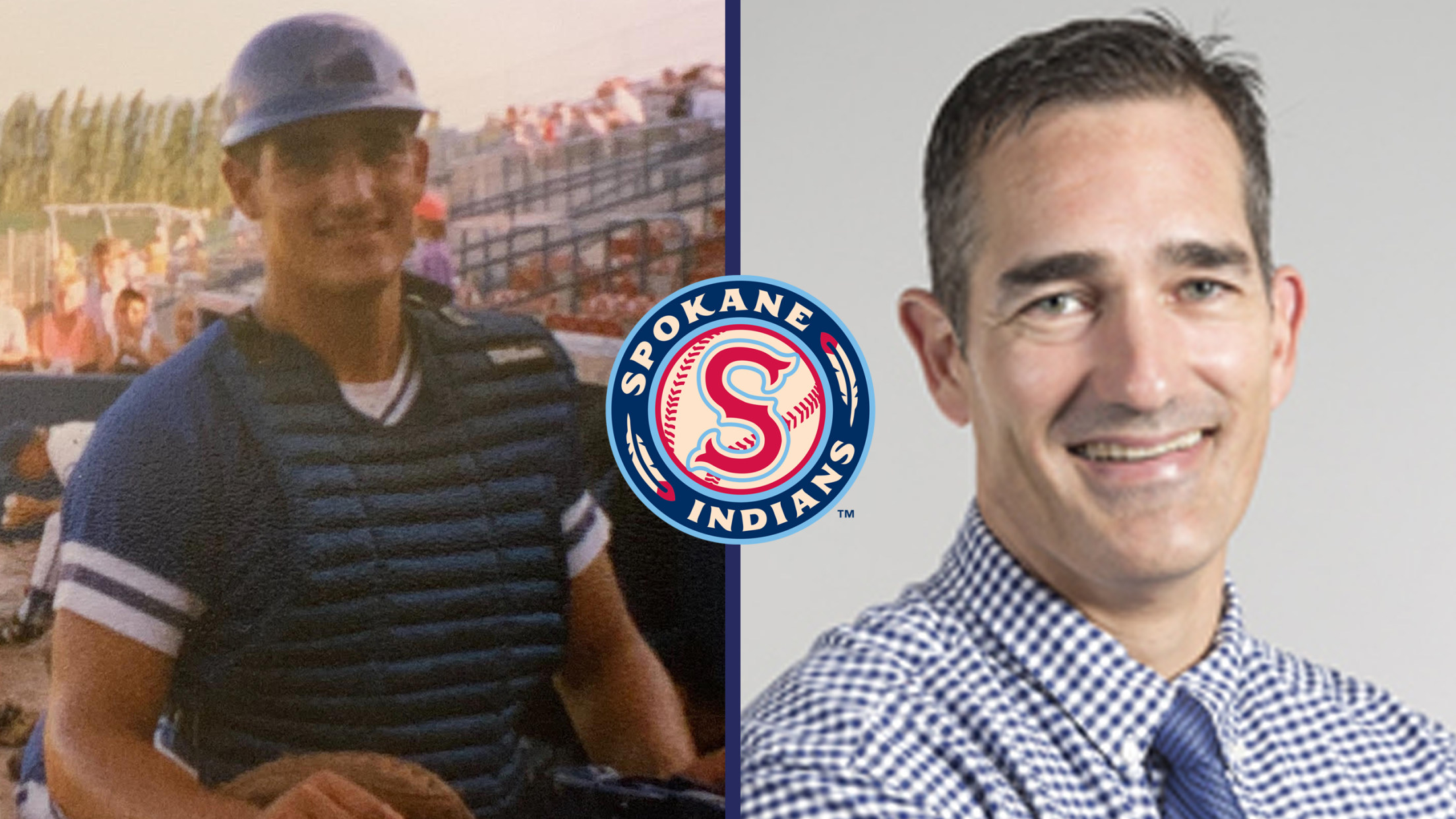 Spokane, WASH. - Jim Elliott always imagined he would play in the majors for a decade before transitioning to the broadcast booth – which explains why he initially majored in communications in college. Instead, the former Spokane Indians catcher spent just two seasons in the minor leagues – including winning
Spokane, WASH. - Jim Elliott always imagined he would play in the majors for a decade before transitioning to the broadcast booth – which explains why he initially majored in communications in college. Instead, the former Spokane Indians catcher spent just two seasons in the minor leagues – including winning a Northwest League title with the Indians in 1990 – before making the switch to a career in healthcare. Now, over three decades after his playing career came to an end, Jim is the Professor of Allied Health in the Northern Sydney Local Health District & Acting Executive Director of the Kolling Institute in Sydney, Australia. Life's funny that way.
We recently caught up with Jim to talk about his time in Spokane, his transition to the healthcare field, and whether he's managed to figure out cricket yet.
What are some of the best memories from your time in Spokane?
Baseball wise - could you start a professional career in a better city/stadium than Spokane? I think not. The history of the stadium. The players that had passed through. The skippers who had managed at the AAA (Lasorda) and A (Glynn/Bochy, countless others). My teammates, all of whom could catch, throw, run, hit (well, not the pitchers) embarked on their transition from aluminium to wood bats in front of an average crowd of roughly 3,500 per night (yelling, "we want four" in reference to the unbelievable fact the Indians had won three straight NWL championships with three different rosters and skippers/staff. That's very impressive. In short, kicking off a professional career in Spokane at Avista Stadium was special.
I equally enjoyed bunking at Gonzaga Uni as it provided such a great opportunity to establish relationships with my new teammates and get to know the neighbourhood (proud Jesuit campus and all; I can't recall name of the diner near campus (Archie's?) but it was great and many of us would eat breakfast nearly every day ending in "Y" when we were in town. A great start to the day and an even better way to get to know your teammates and become part of the community. I believe we really came together through our living arrangements as evidenced by the fact we ended the season 20 some odd games over .500 and captured another NWL championship, coming good on the early seasons' requests of 'we want four' from the fan faithful.
Meeting Bobby Brett was a real highlight for me and catching hard throwing right hander, Mike Bradley (from U of Texas) on opening night against the Yakima Bears (Dodgers) was second to none (a high school rival, Kurt Olson from Hinsdale Central High School (Chicago-land) was on the Bears, we had a laugh at home plate - from Chicago to Spokane. Bradley was chucking the pill and I'd never caught anything so heavy in my life… WOW…a hard throwing righty from Round Rock, Texas.
Tagging out Bears' catcher, Garrett Beard at the plate on opening night and hearing the crowd roar after the umpire called him out was one for the memory banks. If memory serves, Bill Miller (long-time MLB umpire) was behind the plate.
Do you still stay in touch with teammates from Spokane?
Yes, we've started a Facebook chat room and it has been great to catch up with so many of our teammates. Sadly, we've lost a couple: pitching coach, Kevin Towers (legend) and OF Jeff Pearce.
What was it like winning a league championship in your first professional season?
Not enough words. Winning four consecutive NWL titles (1987-1990) is an impressive record. I turned 21 the day we won the NWL pennant against the Boise Hawks. What a present.
*Best player you competed with/or against? *
Pfft, that's a tough one, so many. Garret Anderson, Pedro Astacio, Carlos Delgado, Matt Mieske (teammate), Troy Percival.
You're originally from Illinois and went to school in Denver. What were your impressions of the Northwest upon arriving in Spokane? Have you been back since?
I've not been back to Spokane since the 1990 campaign. However, I had an idyllic impression of the NW as my father was a commercial pilot for United Airlines (A WWII and Korean War Veteran who ended his career in 1984). I was 14 and he took me out of school to join him on his second to last round trip flight – Chicago – Seattle – Chicago. He was a captain on a DC-10 and his co-pilot pulled me up to the cockpit at the gate in SeaTac. I sat behind Dad as he took off and navigated the vector out of Seattle and back to Chicago. I was blown away by the sheer beauty of the NW surrounds below us; what a gorgeous part of the world. Naturally, I was beyond excited to return to the Pacific Northwest and start my professional baseball career in the Northwest League.
When did you know it was time to hang up your cleats?
Well, never an easy decision, but a few injuries and DH'ing every other game in the Midwest League for a National League club (1991, Waterloo Diamonds) proved the writing on the wall. I was released in Spring Training 1992 by Tom Gamboa and Ed Lynch (both Facebook friends to the day). Looking back, it's a funny story. It was 'cut-day' in Yuma, AZ. Despite some throwing arm issues, I had (to my knowledge) a pretty good Spring Training and was expecting to break with the high A club. A bunch of us were huddled about on a 'cold' Yuma February morning, and I told the fellas, "Don't hide from Bob." Bob Doty, clubhouse manager, who had the terrible job of informing players that Tom and Ed wanted to 'see you'. Bob opens the doors of the clubhouse and I said, "Watch, look him in the eye, and if he passes you up, you're good." Well, Bob caught my eye and waved me in, much to the laughter and sadness of my good mates. I couldn't believe it; they released me and that was it. If memory serves, Tom and Ed offered to put a good word in for me at another club but I decline; thought it was time to move on (sadly). I was provided a ticket back to Chicago but gently asked Priscilla Oppenheimer in the front office to reroute me to Houston, TX so I could be with my brother (and hide from having to tell my family/friends in Chicago why I was back home in early February). Turned out to be a great decision. I moved to Denver and received a phone call from Bob "Geb" Gebhard (GM of the Colorado Rockies) via Gene Glynn (it's not who you know, it's who knows you) asking if I'd like to work for the Rockies at the big league level. Say no more. I spent 4 great championship seasons with the Rockies in the front office, working for, and learning from, Geb and his team.
After 30 years away from the game, I've put the cleats back on and playing every Saturday with the Ku-ring-gai Stealers. Love it. Back behind the dish or at third (sometimes 1st). Great bunch of guys, 25 to 60 some odd years in age. We all love the game. I went yard in my first at bat at the wonderful Flat Rock Reserve Baseball Diamond, Naremburn, NSW.
Small world. One of my teammates here (Gavin Fingelson, heck of player) won a silver medal in the 2004 Olympics in Greece. We share a mutual teammate, Paul Gonzalez (now GM of the Brisbane Bandits). Paul started at third base on opening night in Spokane 1990, and I threw a guy out at third with "Gonzo" applying the tag.
You're a lifelong Chicago Cubs fan - what was it like seeing them finally capture a World Series title in 2016 (with a pair of Spokane Indians, Kyle Hendricks and Carl Edwards Jr., on the roster no less)?
Cathartic. I watched Game 7 by myself (My amazing British wife, Helen, left me to it). I reflected on all the years going to Wrigley with my father. He'd pull us out of school, and we'd rock up at the box office on a Tuesday asking what best seats were available. Often times we'd get box-seats for a paltry $6 bucks; my how times have changed.
*You're currently a Professor of Allied Health in the Northern Sydney Local Health District & Acting Executive Director of the Kolling Institute. What do those roles entail and how do you become interested in spinal trauma? *
Forever fascinated by 'recovery' following injury (mine included), I developed a real passion towards understanding why some, but not others, recovery spontaneously after a non-catastrophic trauma (e.g. ankle sprain, motor vehicle crash, slip and fall). My program of research arose from clinical observations when treating patients with whiplash associated disorders and a quest to understand and learn more about the changes in muscle morphology which I was observing in the MRIs of many of my patients. I was captured by their stories, their experiences, the relationships with insurers, sometimes attorneys, and their quest to find answers. Reminded of the wonderful 1996 paper by Nortin Hadler, MD, "If you have to prove you are ill, you can't get well", I was inspired to help. I embarked on my PhD with world renowned researcher, Prof. Gwen Jull and Prof. Graham Galloway (Physiotherapy and MRI Physicist, respectively) at The University of Queensland, Australia. It was the best 5 years of my professional life and provided opportunity to shift back to my hometown, Chicago in 2010 to commence a tenure track position at Northwestern University, Feinberg School of Medicine. I developed the Neuromuscular Imaging Research Laboratory in 2010 and have since shifted the lab to Sydney (Dec 2017). I remain forever grateful to Prof. Julius Dewald (Chair of the Department of Physical Therapy and Human Movement Sciences) for his support and mentorship of me in my early-to-mid-career stages. I will forever remain proud of my seven glorious years at Northwestern and beyond thrilled to be an active adjunct professor with the team back in Chicago.
This led me to Sydney in December of 2017 working at the University of Sydney and the Northern Sydney Local Health District (LHD). We serve approximately 1.5 million people across our LHD. It is a dream job, and it gets me out of bed each and every day.
Can you tell us a bit more about your path to your current role following your playing career?
Well, in short, after I left the Padres, I was fortunate to start work with the Rockies at the big-league level in Denver. Befriending the Team Physical Therapist (Tom Probst) and Team Physician (Wayne Gersoff), I became more and more interested in pursuing a career in healthcare. So, I went back to school, part-time to fulfill the course requirements for either PT or Medicine. I began volunteering at PT clinics and eventually landed a part-time job working as a PT aide. I applied for and was accepted to Regis University's Masters of Science in Physical Therapy and completed my coursework in 1999. Started working in a private practice specializing in chronic pain. The majority of patients had chronic pain following a motor vehicle collision and this sparked my interest in trying to understand more and more about pain and why some, but not others, recovered spontaneously. This passion led to me 'leaving' the game and pursuing professional passions as a physical therapist, and ultimately a Research Academic.
I should mention, my first degree at the University of Denver was in Mass Communications as I was sure my career trajectory would include playing 10-12 years of major league baseball with a natural transition to the broadcast booth on retirement. And here I am a professor, an academic researcher with recognition as a leader in the field of chronic pain. I'm a lucky fella to be able to do what I love and love what I do.
Met my wife (a physiotherapist, now Nurse for NSW Health) while providing a two-day workshop on spinal pain in Glasgow, Scotland (well, Paisley, just outside Glasgow). Four months later she moved to the States and we've been stamping our passports ever since. Three kids and 20 years of marriage finds us back in Oz, loving life in the Antipodes.
Favorite part of living in Australia?
The people. The culture. The humour (spelled with a 'u'). The egalitarian "everyone can have a go" mentality. Oh yeah, the Northern Beaches of Sydney -incredible.
Do you understand cricket yet?
I'm married to a lovely lass from Scotland. She is the daughter of a Scottish Farmer (Tony Stevens, bless him and RIP, Tony). We could not be any different; a city boy from Chicago vs. a farmer from far North Scotland born in Australia to ex-pat parents working with Royal Air Force. Tony loved sport. He loved anything to do with motor bikes, fast cars and a Cricket Pitch (field). Moving to Australia provided a lovely opportunity to game up on my knowledge of Cricket so that Tony and I would have something in common, something to chat about. Long of the short, I've grown to love Cricket: the strategy, the nuances, the commentary, the HISTORY. Similar to baseball in America, the Cricket is on TV or the radio in most households in Australia. One may not watch every over (inning), but it's there, the commentary is audible, the game is visible, and one may stop what he/she is doing (mowing the lawn, feeding the pooch, whatever) to watch. Watch that one crucial over or at bat - it's the love of sport and competition that keeps us coming back for more.
What do you miss the most from home?
My mother - full-stop. And Barone's Pizza.
Anything else you'd like to say to the fans in Spokane?
Thank you. Thank you for providing us young kids the opportunity to work and live in your wonderful city. You cheered us on. You looked after us in public. You welcomed us to your community. I hope we did you proud and I so look forward to the next opportunity to revisit the NW, Spokane, and the lovely people who screamed, "we want four".
ABOUT THE SPOKANE INDIANS
The Spokane Indians are the High-A affiliate of the Colorado Rockies located in Spokane, Washington, and were named 2021 MiLB Organization of the Year. Avista Stadium is home to the MultiCare Kids Bench Seat. Parking at all Spokane Indians games is FREE. The Spokane Indians office and team store hours are 10:00 AM - 4:00 PM on Monday through Thursday and 10:00 AM - 1:00 PM on Fridays. On game days, the office and team store are open from 10:00 AM through the end of the game.