Mets back at Clover Park for big week of fun, fireworks
Mets host Jupiter Hammerheads from Tuesday-Sunday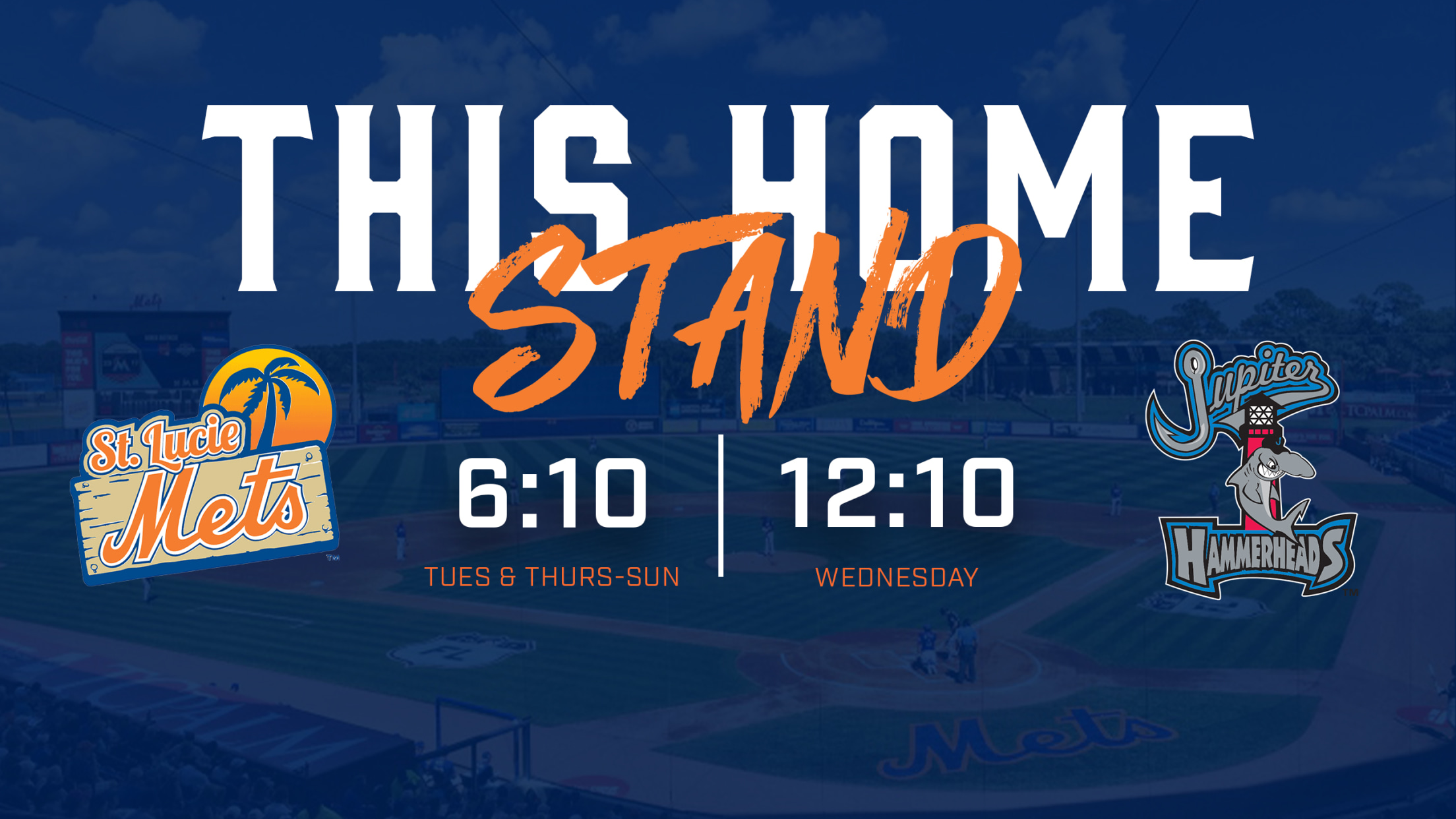 PORT ST. LUCIE, Fla. – The St. Lucie Mets return home to Clover Park from Tuesday-Sunday for a six-game series vs. the Jupiter Hammerheads. Highlighting the home stand is Military Appreciation Weekend, which runs Thursday-Saturday. The home stand concludes with the Treasure Coast's best Independence Day fireworks show on Sunday
PORT ST. LUCIE, Fla. – The St. Lucie Mets return home to Clover Park from Tuesday-Sunday for a six-game series vs. the Jupiter Hammerheads.
Highlighting the home stand is Military Appreciation Weekend, which runs Thursday-Saturday. The home stand concludes with the Treasure Coast's best Independence Day fireworks show on Sunday night.
As part of the Mets Military Appreciation Weekend, the Mets will wear special military-themed jerseys Thursday-Sunday. Those game worn jerseys will be up for auction on www.stluciemets.com/auction. Bidding begins Thursday at 5 p.m. and ends Tuesday, July 5th at 9 p.m. All proceeds go towards the Vietnam Veterans of America Chapter 556 Health and Welfare fund to help local veterans.
Tuesday's game and games Thursday-Sunday start at 6:10 p.m. Wednesday's game is at 12:10 p.m.
Tickets to all other games are available on www.stluciemets.com or at the box office, which will open at noon every day this week. Fans are encouraged to take advantage of the Summer Flex Plan which includes 10 tickets and two parking vouchers for just $80.
The following is a full list of events at the Clover Park for the week ahead:
Tuesday – 6:10 p.m.
-Silver Sluggers Night: All Silver Sluggers members get in free and receive a free hot dog.
-Baseball Bingo: Free for all fans to play.
Wednesday – 12:10 p.m.
-Camp Day: Camps from around the Treasure Coast can enjoy an afternoon at the ballpark.
-Silver Sluggers Day: Silver Sluggers get a free ticket.
Thursday – 6:10 p.m.
-Military Appreciation Night 1: All active duty military members and veterans can pick up a free ticket at the ticket office by showing their military ID.
-Dollar Night: $1 Bud and Bud Light (8 oz. cans), $1 soda, $1 popcorn and $2 hot dogs.
-DJ Louie G playing live music at the Jim Beam Bourbon Bar.
Friday – 6:10 p.m.
-Military Appreciation Night 2: Fans are encouraged to wear red in support of Blue Star Mothers.
-Bark in the Park: Bring your dog to the game! Dog tickets are $3 and proceeds go to the Humane Society.
-Family 4 Pack: Receive four general admission tickets, four hot dogs, four sodas, and one family size popcorn for $50.
-All You Can Drink: For $40 get a ticket and enjoy exclusive access to the Jim Beam Bar with all you can drink draft beer, cocktails and seltzers until the middle of the seventh inning or 8 p.m. (whichever comes first). For $30 a designated driver can get access to the Jim Beam bar and unlimited soda and water.
-Kids Club Night: All Klutch's Kids Crew members get in free and receive a free ice cream.
Saturday – 6:10 p.m.
-Military Appreciation Night 3: The Mets will honor Gold Star Mothers with first pitches and a video presentation.
-Postgame fireworks!
Sunday – 6:10 p.m.
-Independence Day fireworks extravaganza!
-Chad Durick Charity Co-Ed Softball Game & Home Run Derby: Gates open at 12:00 p.m. for a charity softball game and a home run derby. The band 21 to Burn will play a live concert during the softball game and home run derby. The finals of the home run derby will take place after the postgame fireworks show.