Comeback Cowboys Finish Off Series With Mother's Day Victory
Pedro León's Double in the Sixth Completes Another Sugar Land Comeback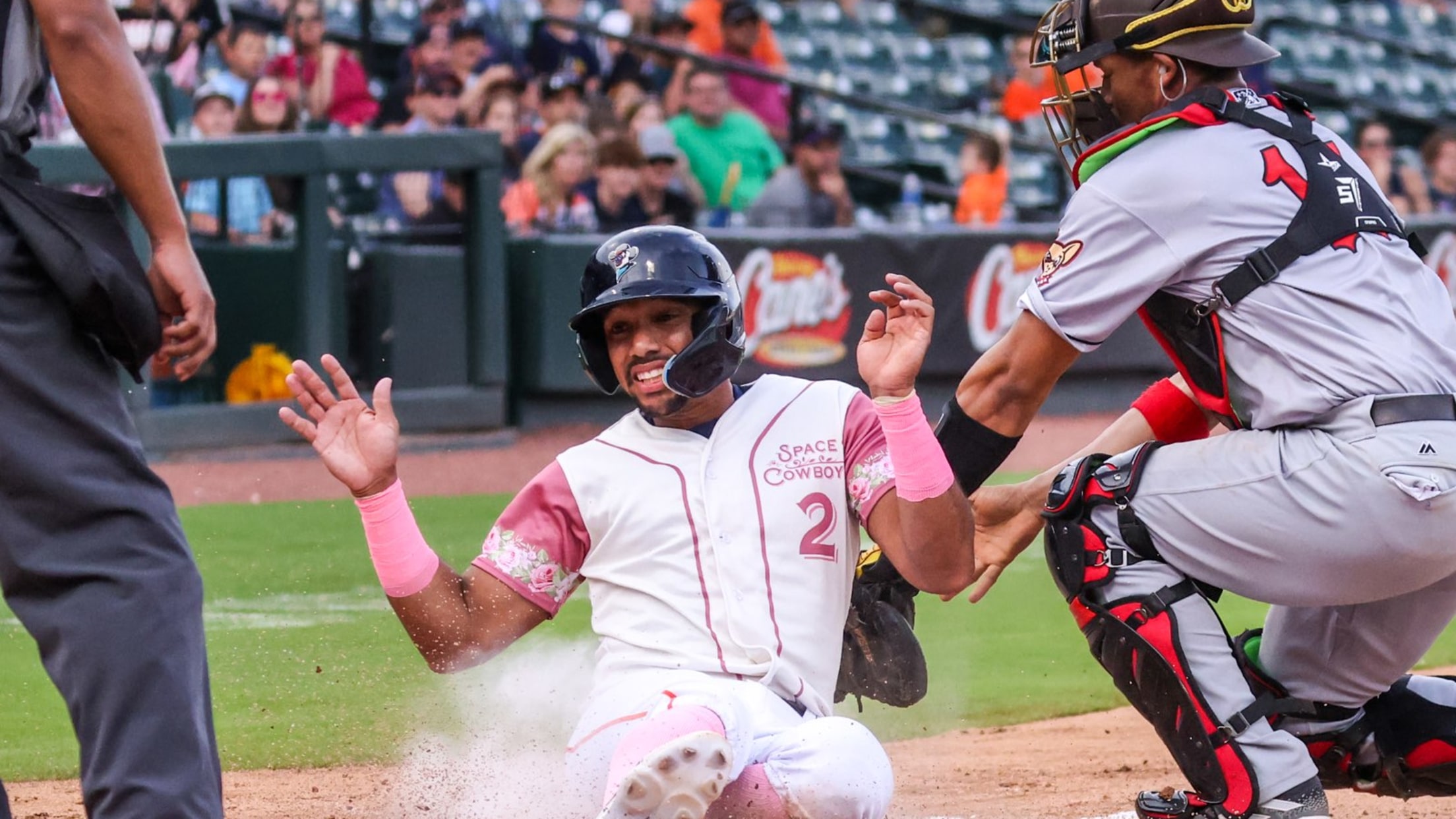 SUGAR LAND, TX – After falling behind for a fourth time in six games, the Sugar Land Space Cowboys (17-21) once again mounted a comeback to take down the El Paso Chihuahuas (16-23) 4-3 on Sunday evening at Constellation Field. The Chihuahuas struck for a pair of runs in the
SUGAR LAND, TX – After falling behind for a fourth time in six games, the Sugar Land Space Cowboys (17-21) once again mounted a comeback to take down the El Paso Chihuahuas (16-23) 4-3 on Sunday evening at Constellation Field.
The Chihuahuas struck for a pair of runs in the second inning on a two-run homer by Rangel Ravelo. It was one of just three hits allowed by LHP Nick Allgeyer, who tossed 3.2 innings in his first start for Sugar Land.
Sugar Land pulled within a run in the home half of the third. Dixon Machado walked with one out and moved around to third on a bouncing ball from Jose Altuve that deflected off Jantzen Witte's glove. A sacrifice fly from Bligh Madris brought in Machado, making it 2-1 El Paso.
RHP Ronel Blanco (W, 1-0) took over on the hill in the fourth and hurled 3.1 hitless, scoreless inning, giving up three walks while striking out four. The righty retired the first seven hitters he faced and ten of the first 11.
In the bottom of the sixth, Korey Lee reached on an infield single and JJ Matijevic worked a walk from RHP Reiss Knehr (L, 1-1). Lee and Matijevic executed a double steal and Pedro León scored them both with a double over third base, pushing the Space Cowboys ahead 3-2. Another sacrifice fly by Madris in the seventh increased the Space Cowboys lead to 4-2 going to the last two innings.
Blanco returned for the eighth but issued back-to-back walks, putting the tying run on for El Paso. LHP Parker Mushinski (H,1) entered and needed just nine pitches to get three outs, striking out Alfonso Rivas and inducing an inning-ending double play from Tim Lopes to keep the Space Cowboys in front.
El Paso rallied for a run in the ninth on a one-out RBI single by Jose Iglesias, but Mushinski force a flyout from David Dahl as the second out. RHP Enoli Paredes (S, 4) came into the game for Sugar Land and got a flyout from Matthew Batten to end the game. All told, Sugar Land took five out of six from the Chihuahuas and has come back to win five of their last nine games.
After an off day on Monday, the Space Cowboys travel to Oklahoma City to take on the Dodgers for a six-game series beginning on Tuesday night. Sugar Land has not named a starter for the opener while Oklahoma City is scheduled to throw RHP Gavin Stone for a 7:05 pm first pitch. The game can be heard on ESPN 92.5 FM or online here and seen on MiLB.TV.
*ABOUT THE SUGAR LAND SPACE COWBOYS: *
The Sugar Land Space Cowboys are the Triple-A affiliate of the Houston Astros and compete in the Pacific Coast League. They began play as the Astros Triple-A affiliate in 2021 and began playing under the Space Cowboys brand in 2022. The Space Cowboys play at Constellation Field, located at the corner of Hwy-6 and US-90 Alternate in Sugar Land, Texas. Follow the team on Twitter (@SLSpaceCowboys), Instagram (@slspacecowboys), Facebook (SLSpaceCowboys) and their official website (slspacecowboys.com). Fans can purchase full-season and partial-season plans, as well as single-game tickets, by visiting slspacecowboys.com/tickets.