Late Tacoma rally falls just short in Sugar Land on Saturday
Jarred Kelenic and Erick Mejia each with 3 hits and 2 RBI in narrow defeat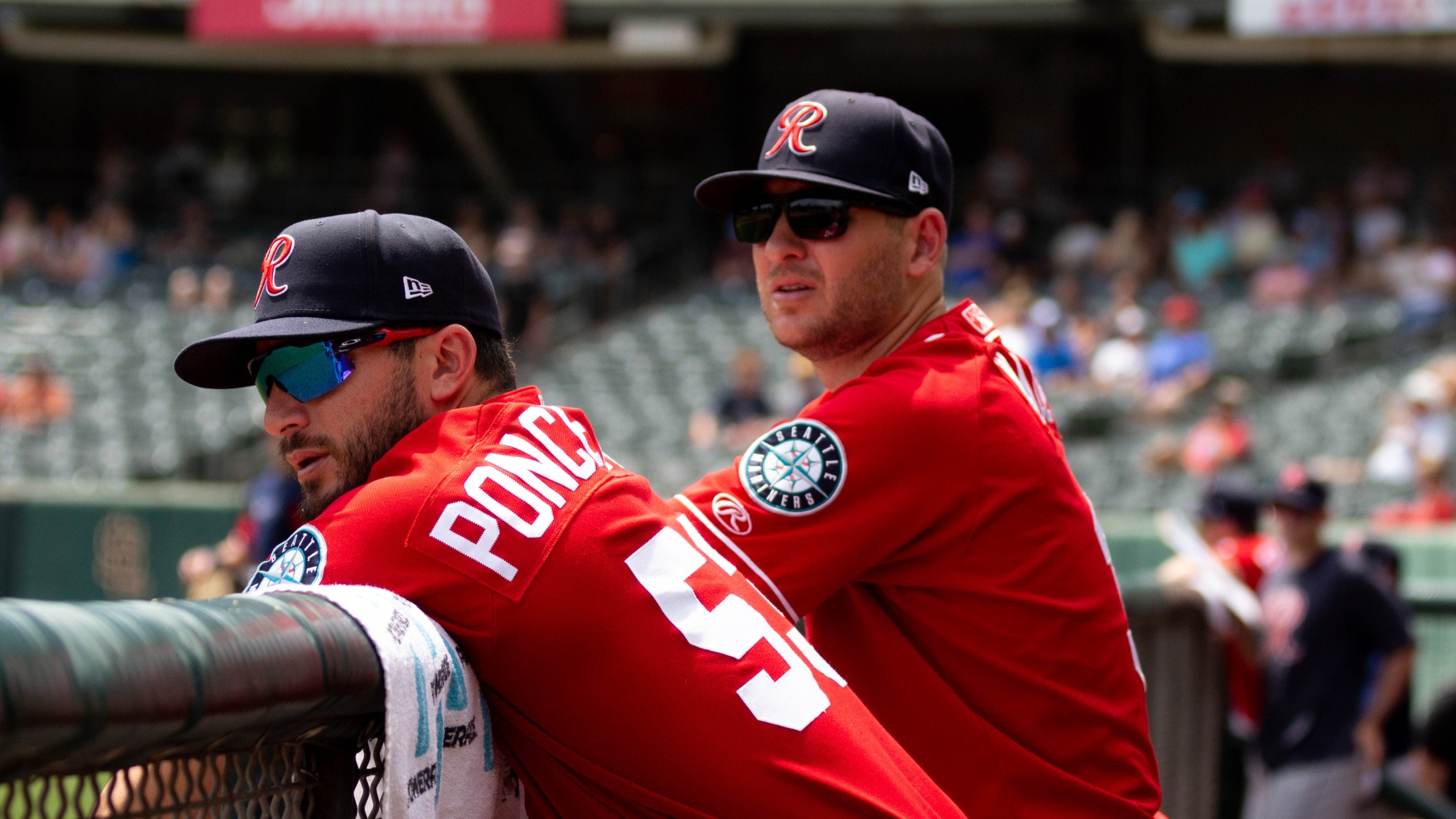 Sugar Land, TX (6/25/22) – The Tacoma Rainiers (28-42) will try for a six-game series split on Sunday in Sugar Land, as the Space Cowboys (31-40) erased an early deficit Saturday night, and withstood a furious four-run ninth inning Rainiers rally to hang on 9-8. Sunday's game will be the
Sugar Land, TX (6/25/22) – The Tacoma Rainiers (28-42) will try for a six-game series split on Sunday in Sugar Land, as the Space Cowboys (31-40) erased an early deficit Saturday night, and withstood a furious four-run ninth inning Rainiers rally to hang on 9-8. Sunday's game will be the last of 12 in 2022 between these clubs on opposite ends of the PCL.
Tacoma tacked on two runs in the second inning, and took the first lead. Zach Green led off with a single and Erick Mejia doubled to left field, placing two runners in scoring position. Each went home on a Joe Odom groundout and an Andrew Knapp sac fly.
The Space Cowboys would take the lead with four runs in the home second, and another in the third. Scott Manea (bases loaded ground rule double) and Korey Lee (single) each drove in multiple runs, and Pedro Leon tacked on an RBI groundout for a 5-2 Sugar Land advantage.
Sugar Land extended their lead to five runs in the fourth, with an Alex De Goti RBI single, and a Yainer Diaz sac fly. Rainiers RHP Daniel Ponce de Leon pitched four innings, and allowed seven runs on eight hits and two walks (4 K).
The Rainiers would rally in the sixth though, after Sam Haggerty led off with a walk. Jarred Kelenic followed and shot an opposite field double into the left field corner, scoring Haggerty from first. It was a multi-run frame when Mejia's second hit, a two-out single to right, scored Kelenic and reduced the Space Cowboys lead to 7-4. Kelenic's night ended with a pair of opposite field doubles.
Space Cowboys starter Peter Solomon pitched six innings and threw 92 pitches. Tacoma touched him for four hits and four walks, the four runs he allowed were all earned (6 K).
Patrick Weigel, Jacob Barnes and Wyatt Mills each worked a scoreless inning out of Tacoma's bullpen; for Barnes it was his Rainiers/Mariners organization debut after joining Seattle as a free agent earlier in the week.
Sugar Land scored twice more in the eighth, and would end up needing all of that insurance. Lee drove in his third of the night (single), and a De Goti double play ball tallied the home side's ninth and final run.
Mejia led off the final frame his third hit and second RBI, lifting his ninth home run of the year out to left field. With two out and nobody on, the Rainiers scratched out three more runs and brought the potential go-ahead run to the plate. Mason McCoy singled, Alex Blandino walked, and then Haggerty tripled into the left field gap to score both runners. Haggerty trotted home on Kelenic's third hit and second RBI, a single to center, before Sugar Land squelched the rally and won it by the slimmest of margins.
The finale of this weeklong series will begin with a 6:05 p.m. CT/4:05 p.m PT first pitch on Sunday, at Constellation Field in suburban Houston. RHP Darren McCaughan will start for Tacoma, against Sugar Land RHP Chad Donato.
Rainiers broadcaster Mike Curto will have full coverage on TacomaRainiers.com. All 2022 Rainiers games, home and away, can also be heard for free on the MiLB First Pitch app. HD video broadcasts of every home game can be viewed with a MiLB.TV subscription.
About the Tacoma Rainiers
The Tacoma Rainiers are the Triple-A affiliate of the Seattle Mariners. The Rainiers are a member of the Pacific Coast League and have been a Mariners affiliate since establishing the Rainiers moniker in 1995.
The most up-to-date news and notes about the Tacoma Rainiers and Cheney Stadium can be found at WeRTacoma.com, or by following the Rainiers on Twitter (@RainiersLand), Instagram (@tacomarainiers) and liking the team on Facebook.