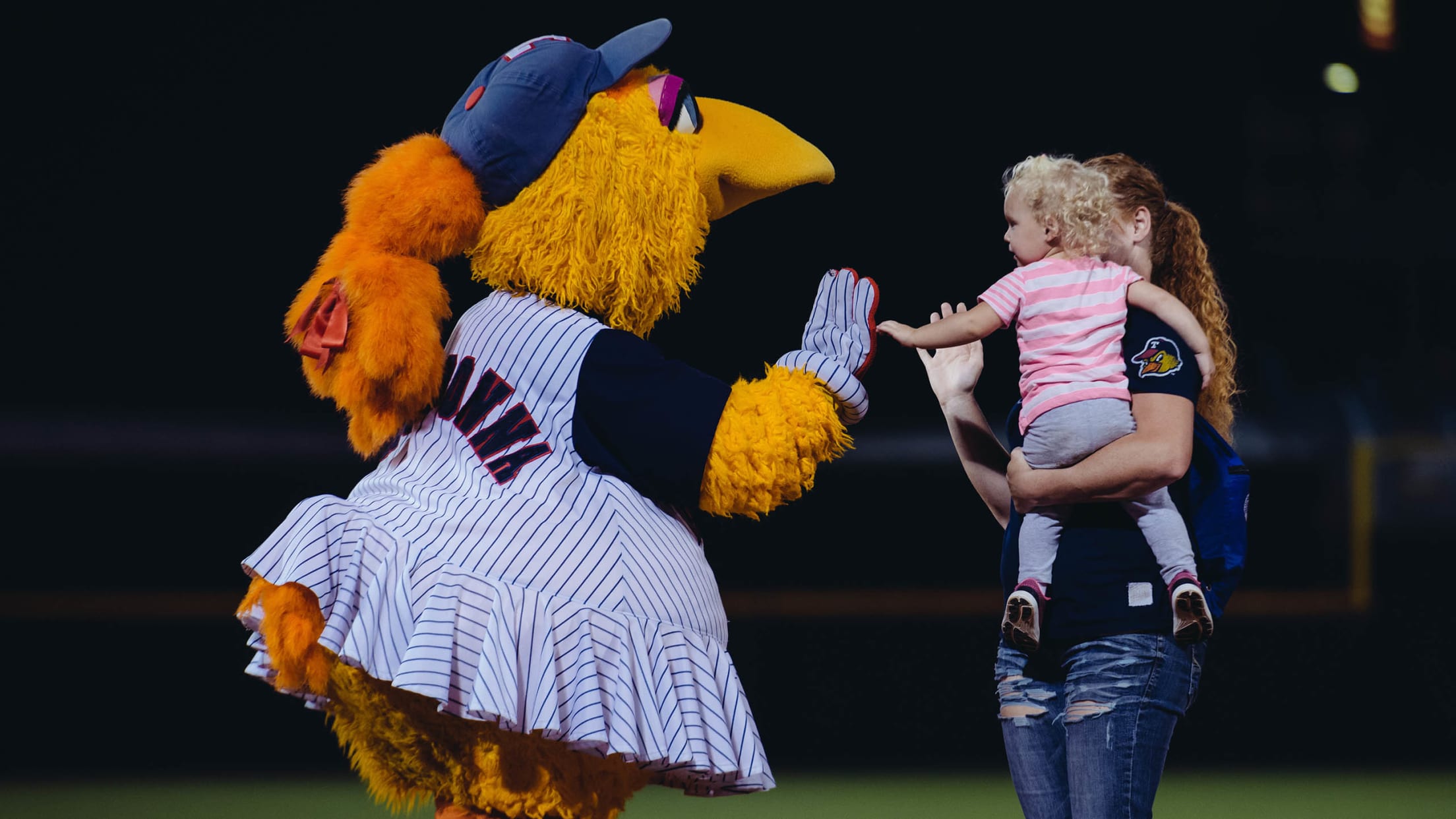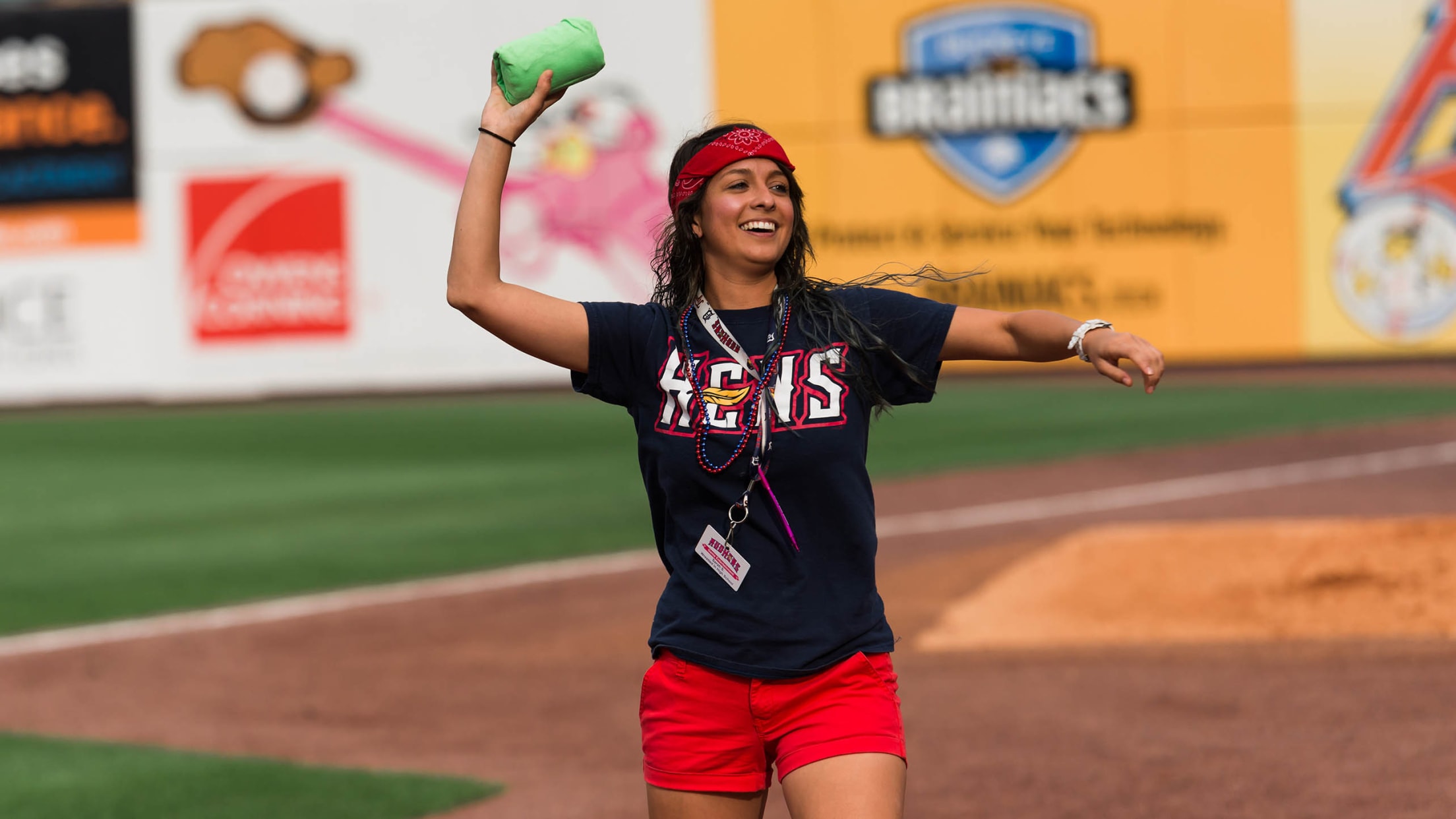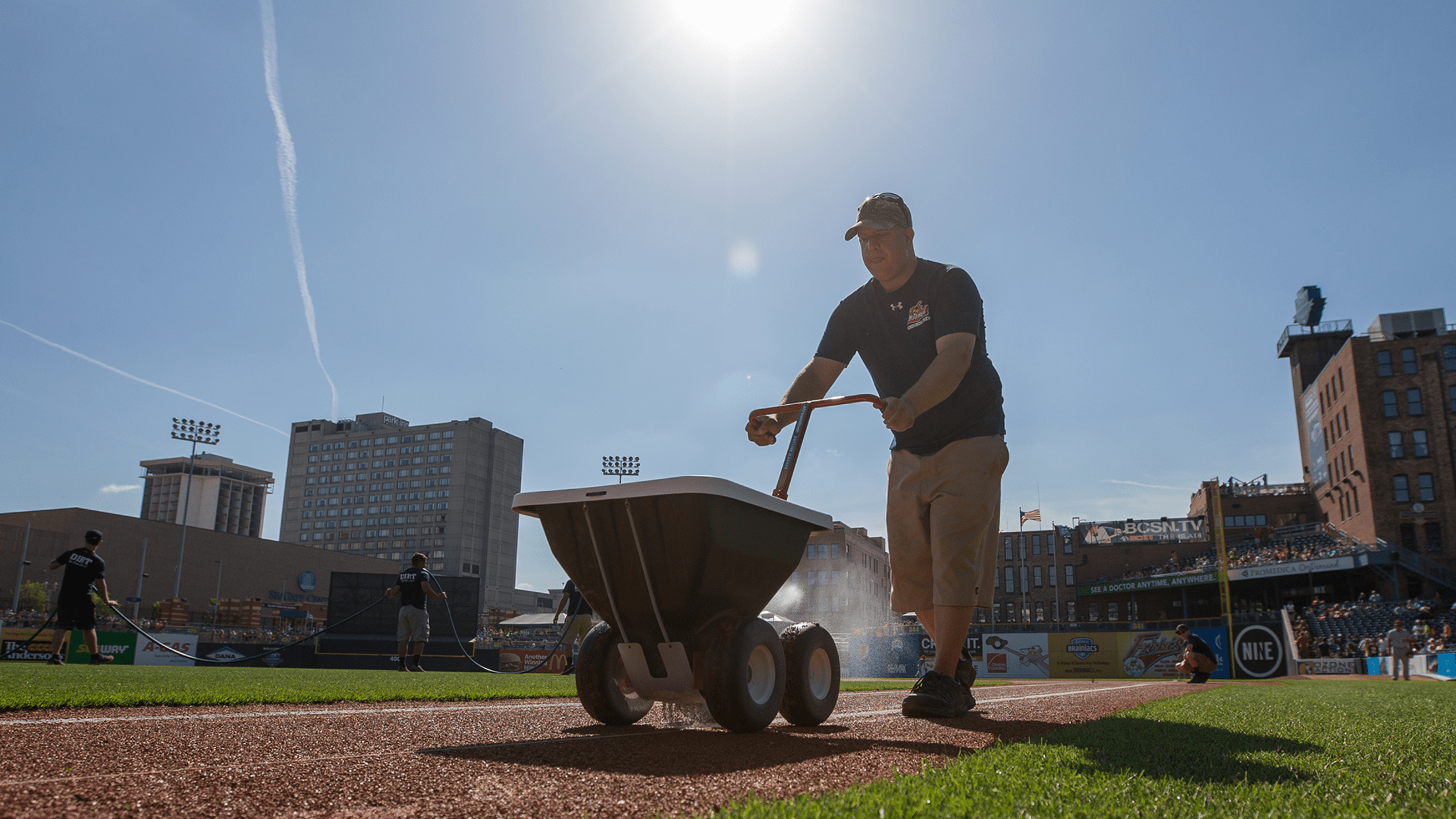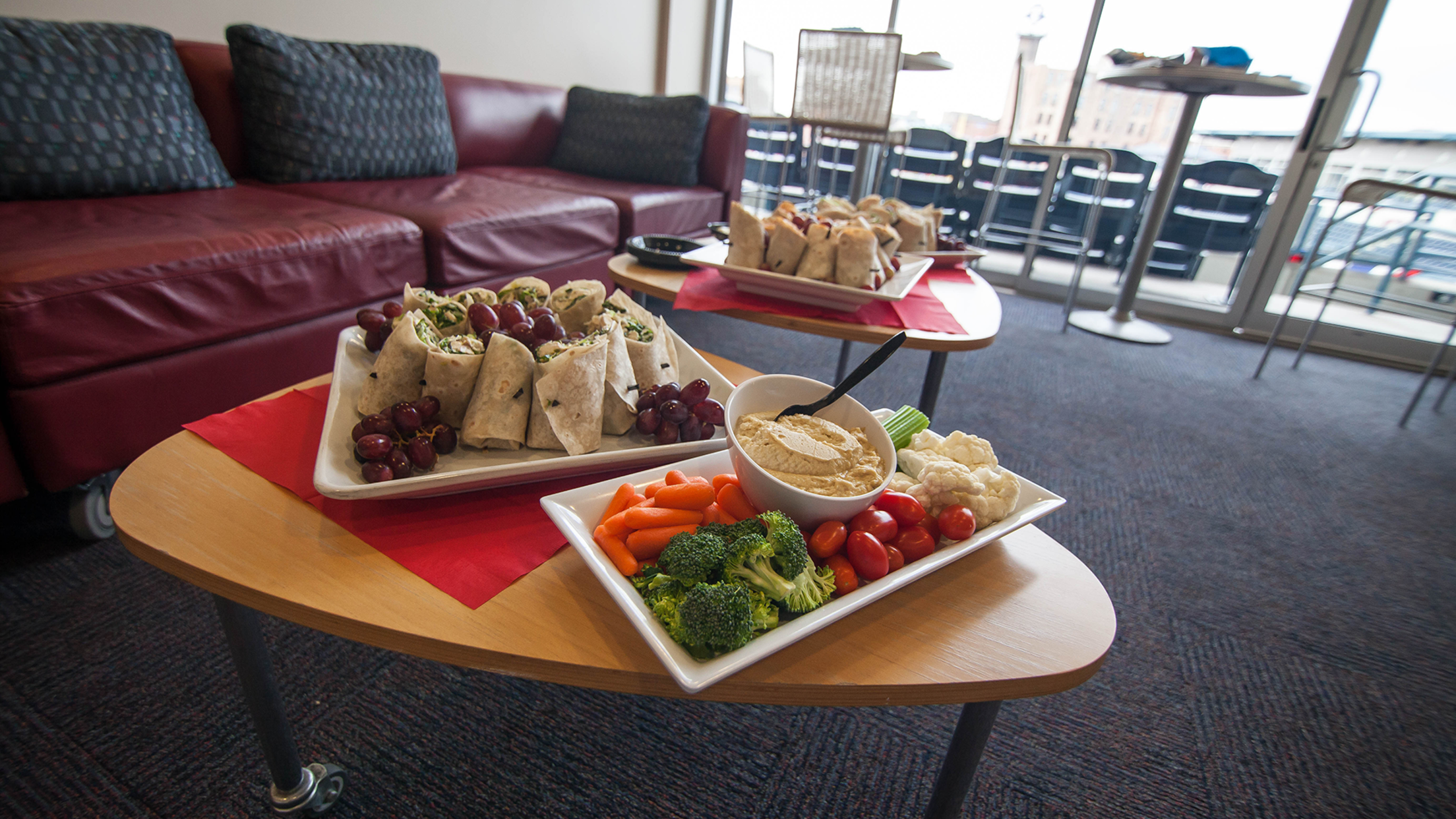 The Toledo Mud Hens and Toledo Walleye are here to provide world-class family sports entertainment in premier settings. Our teams are committed to present an ever-evolving series of experiences to keep fans engaged and deliver an exceptional entertainment value. Full time, part time, gameday, and internship opportunities are available.
Current Opportunities
POSITION SUMMARY
The Toledo Mud Hens and Toledo Walleye are in search of a creative, energetic and talented graphic designer to join our creative team. As a member of our team, you will have the opportunity to work on a wide variety of design orientated projects from innovative sales and marketing materials, to video board graphics, animations, and entertainment materials for both organizations. The position requires the capability to work collaboratively with various departments to provide creative solutions in an exciting fast-paced environment.
If this sounds like you, send us a sample portfolio that demonstrates your ability to create cutting-edge graphics, logos, animations and illustrations.
KEY RESPONSIBILITIES
Serve multiple departments as an in-house graphic artist and marketing specialist
Assist the Creative Director in results-driven strategic marketing and creative initiatives
Conceptualize, design, and implement creative content for game entertainment and presentation
Manage and prioritize design, production, and installation of numerous tasks
Assist with digital asset management
Be an internal advocate for continuous creativity and improvement
WORKING CONDITIONS
REQUIRED EXPERIENCE
BA/BS design-related degree required
2+ years of experience in a design position.
Exceptional design, time management, and communication skills
Superior capabilities and troubleshooting skills with Adobe Creative Suite design software is a must.
Detail-oriented and organized
Ability to work smoothly with a fast-paced interdisciplinary team
Ability to handle change while remaining flexible and focused on the end goal
Must possess a complete functional understanding of digital file preparation for all output targets including but not limited to: CMYK files for press; spot colors for press; and file optimization for web use
Must possess the ability to manage project timelines and meet all deadlines
Passion for the exploration of trends in design, marketing, and graphics
APPLICANTS MUST HAVE PORTFOLIO TO BE CONSIDERED
Join the Toledo Mud Hens, Toledo Walleye, and Hensville! Become immersed in our culture and business operations - all while gaining hands-on experience in the sports and entertainment industry. Our internship program is designed for college students from an accredited institution pursuing a degree in Sports and Business Management, Marketing and Communications, Multimedia, Accounting, Hospitality and Tourism Management, or Entertainment and Recreation Industries.
AVAILABLE POSITIONS
POSITION SUMMARY
The Communications & Digital Content Intern would report to the Social Media Coordinator and be responsible for assisting the Marketing department in areas such as, but not limited to, social media marketing, email marketing, and website marketing.
RESPONSIBILITIES
Website: Assist in content creation for the Mud Hens, Walleye, and Hensville websites. Develop new pages and update current ones as needed.
Email: Assist in the creation of sales and communication emails.
Social Media: Assist Social Media Coordinator in day-to-day social media messaging for the Mud Hens, Walleye, Hensville, and Swamp Shop social media accounts. Help to monitor and research trends for new opportunities. Assist in responding to follower questions on the platforms.
Creative Input: Provide creative input to staff regarding digital marketing and communications projects. Present new ideas to the staff on a regular basis.
QUALIFICATIONS
Must understand and know how to use Facebook, Twitter, YouTube, Instagram, TikTok, and Snapchat with an enthusiasm for social media and emerging platforms
Exceptionally organized and capable of prioritizing and handling multiple projects in a fast-paced environment
Excellent written and verbal communication skills
Demonstrate a strong work ethic
Must posses a degree, or working toward a degree, in Marketing, Sports Management, Communications, or a related field
Must have proficiency with Microsoft Word and Microsoft Excel
Basic knowledge of Adobe Photoshop is a plus
RESPONSIBILITIES
Assist with the supervision of the cleaning crew
Assist with maintenance issues and work orders
Assist with gameday setup
Daily cleaning of office and maintenance shop
Assist with special events
Assist with supervising security
Supervise outside contractors within the building
Attend meetings as scheduled
Assist with departmental reports
Conduct homestand walk throughs and take care of problems
Assist with nightly duties on gamedays (lock stadium, turn off all lights, turn off AD panels)
Assist with closing roads on gamedays and special events
Assist with Kids Run the Bases
Assist with keeping things neat and orderly
Assist with all other departments when necessary (School Celebration Days, Scout Sleepovers, Giveaways, etc.)
Create or setup anything that would better the stadium to operate more efficiently or run smoothly
Assisting with any other duties specified by the Toledo Mud Hens
WORKING CONDITIONS
Fast-paced environment
Interns can be expected to work up to 15-20 hours/week during a homestand, 10-15 hours/week during road trips, some holidays and weekends when there are home games
Business casual dress as interns are expected to work in both the office and in the ballpark
Office environment, hands-on
REQUIRED EXPERIENCE
College degree or student working towards college degree (Most of our interns are college juniors or seniors who use our program for college credits in order to graduate)
If attending high school, student should be working towards completion of required credit hours in order to graduate
If working to gain more experience, applicant should have prior sales knowledge and experience. Work experience within the sporting industry is preferred, but not essential
Each applicants' hire is contingent upon providing a background check to the organization
Basic knowledge of general maintenance
POSITION SUMMARY
This is an entry-level position providing hands-on experience in retail sales and box office operations for both minor league hockey and baseball.
RESPONSIBILITIES
· Service customers, vendors, promoters, and staff in a professional manner
· Obtain general knowledge of Tickets.com and Point of Sale systems
· Service and interact with customers on a regular basis to help resolve ticketing questions and concerns through all our various communication avenues including phone and email
· Process ticket exchanges in accordance with the organization's Exchange Policy
· Ensure guest's needs are met by providing accurate information regarding directions, ballpark and arena information, event details, etc.
· Fulfill online sales orders
· Create displays in Team Store to showcase Walleye and Mud Hens merchandise
· Achieve sales, productivity, and incentive goals
· Assist the Managers with day-to-day operations and game day operations
· Maintain above average mystery shop scores
· Reconcile and appropriately closeout assigned workstation at end of each shift
· Assist in maintaining the organization and cleanliness of assigned area(s)
QUALIFICATIONS
· Demonstrate a strong work ethic with an innate sense of urgency and tenacity
· Ability to communicate in a polite and friendly manner with a wide variety of customers
· Comfortable with extensive guest contact in a fast-paced environment
· Possess the ability to multi-task and adjust to rapidly changing business conditions
· Able to work a flexible schedule including evenings, weekends and some holidays
· Strong money handling abilities
· Computer skills required: experience with Microsoft Office (Word, Excel, and Outlook)
· Ability to work well on a team and independently
· Strong creative, organizational, written, and verbal communication skills
· Maintain professional appearance and demeanor
Employment is contingent upon the successful completion of a background check.
RESPONSIBILITIES
Fill water coolers and take them to the dugouts
Take seeds, gum, cups, and towels to the dugouts
Take helmets out to the dugouts
Collect home run and foul balls during batting practice
Refill water as needed
Collect all broken bats from batting practice
Must be dressed before walking on field or dugout
Take any additional training equipment to the dugout
Rub 8-9 dozen balls for the game
Fill bullpen bag with 10 unrubbed balls
Collect all broken bats and equipment from the game
Never give away balls to the fans, absolutely no exceptions
Run balls to the umpire as needed
Collect bats and refill them in the dugouts
Refill water in the dugouts as needed
Bring in all of the equipment from the dugout and field
Bring in all training equipment from dugout
POSITION SUMMARY
The Grounds Crew position is responsible for performing field maintenance work at Fifth Third Field. Under the direction of the Grounds Department, this position will be responsible for the execution of all field and landscape maintenance tasks in order to ensure safe and pristine playing.
RESPONSIBILITIES
· Perform turf maintenance including mowing, divot repair and edging
· Maintain clay areas on plate, mound and infield
· Prepare Fifth Third Field for batting practice, games or other events
· Assist in maintaining landscape areas
· Prepare tools needed for batting practice and setting up field for the game
· Assist in dragging infield and warning track
· Repair plate and mounds
· Must be able to contribute to all infield tarp placement and removal
QUALIFICATIONS
· Excellent work ethic
· Strong sports turf interest
· Work with a positive attitude in any and all weather conditions
· Must be able to work extended hours and/or weekends
· Prior experience working on baseball fields preferred but not required
Employment is contingent upon the successful completion of a background check.
AVI Foodsystems is looking for energetic and optimistic team members to fill various roles.
Founded in 1960, AVI Foodsystems has evolved into one of the most respected and trusted food service companies in the nation. Providing comprehensive food services with a focus on the highest quality and freshest ingredients, impeccable service, and total value is the reputation we have earned and live up to every day.
OPEN POSITIONS
SCHOLARSHIP PROGRAM
The Toledo Mud Hens, Toledo Walleye, and Hensville have established an internship program to increase opportunities for college students to help defray the costs of school. These costs include school tuition, housing and other academic costs. One scholarship of $2,000 will be awarded each summer. Click to learn more about the scholarship program.
Join the fundraising team at Fifth Third Field to meet your organization's financial goals. Our program is an exciting way to raise funds for your organization's cause. If your non-profit group consists of energetic and enthusiastic people who enjoy working with the public and meeting new people, you should be part of our concessions team.
Click to apply, or visit the Group Fundraising Opportunities page for more info.
NOW HIRING SERVERS AND BARTENDERS
Join the team at Holy Toledo! Tavern or Fleetwood's Tap Room. Located in the Hensville entertainment district, these restaurants provide excellent opportunities for qualified individuals looking to gain experience in a fast paced and exciting work environment.
Under the general supervision of the General Manager, servers provide positively outrageous guest service to patrons at the restaurants at all times. They will assist with opening, inventory management, responsible for taking and fulfilling guest orders and cleanup at closing. As one of the front-line guest service employees, servers and bartenders must be professional, helpful, and enthusiastic to excel at this job.
Duties and Responsibilities:
Accurate and quick service for all guests
Ensure that the guest's menu is properly served at the designated time
Follow policies and procedures set forth by PCS, as well as, guidelines set by the Health Department
HIRING PROCESS
Please email your resume to Jim Pearce at [email protected] No phone calls, please. Qualified candidates will be contacted for an interview.
Equal Opportunity
The Mud Hens organization is committed to creating a diverse environment and is proud to be an equal opportunity employer. All qualified applicants will receive consideration for employment without regard to race, color, religion, gender, gender identity or expression, sexual orientation, national origin, genetics, disability, age, or veteran status.