Drillers to Open Season on Thursday, April 6 at ONEOK Field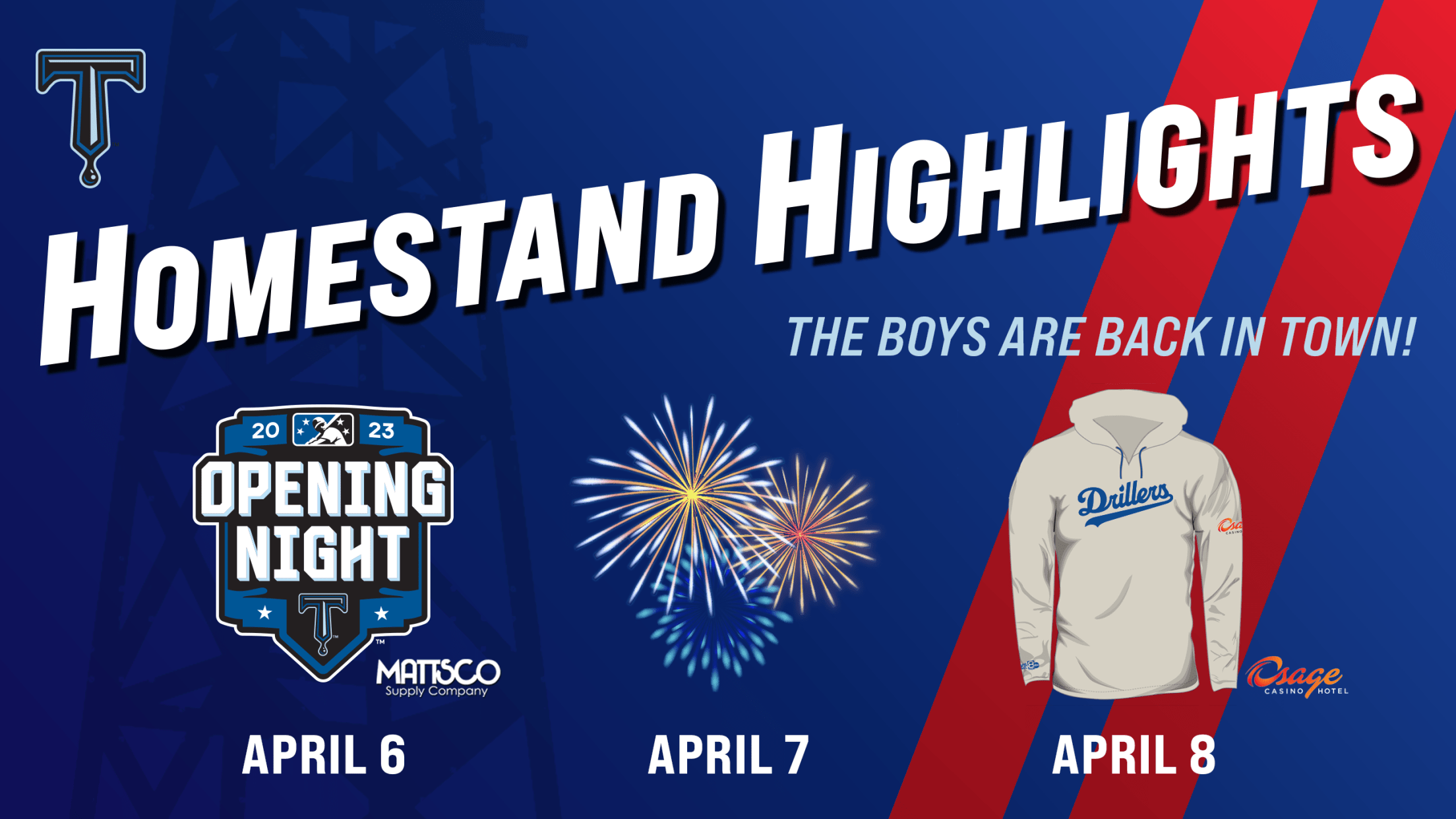 Baseball is officially back with the Tulsa Drillers opening the 2023 season at home against the San Antonio Missions (San Diego Padres) in a three-game series at ONEOK Field. Opening Night of the season will take place on Thursday, April 6 when the Drillers and Missions will begin play at
Baseball is officially back with the Tulsa Drillers opening the 2023 season at home against the San Antonio Missions (San Diego Padres) in a three-game series at ONEOK Field. Opening Night of the season will take place on Thursday, April 6 when the Drillers and Missions will begin play at 7:05 p.m. The two teams will also meet at 7:05 p.m. on both Friday and Saturday nights in downtown Tulsa.
It will mark the beginning of the 110th season of professional baseball in the city of Tulsa, dating back to 1905 and before Oklahoma statehood. It will be the 46th season of play for the Drillers franchise.
The brief three-game series will be a National League West battle as the Drillers are an affiliate of the Los Angeles Dodgers and the Missions an affiliate of the San Diego Padres.
Opening Night will include a number of festivities, highlighted by an Opening Night parade starting at 6:00 p.m. Fans will receive special Drillers "Fire It Up" rally towels to wave during the game and a 2023 schedule magnet when they exit the stadium. In addition, Dodgers legend Bill Russell will be on hand to throw out the season's ceremonial first pitch and to sign autographs.
Friday's game will feature the first Friday Night Fireworks Show of the season. For Saturday's series finale, the first 1,500 fans to enter ONEOK Field with paid admissions will receive Drillers hooded sweatshirts.
A complete list of promotions for the first home stand is below.
Recent Opening Night history has not been good for the Drillers as they have lost three straight home openers and five of their last six. The only victory in that stretch came in the 2018 opener with a 4-3 win over Frisco in 11 innings at ONEOK Field. Tulsa has lost its last two home openers by identical 4-3 scores to Amarillo.
April 6 will mark the third earliest home opener in ONEOK Field history.
HOME OPENERS AT ONEOK FIELD
April 12, 2022: L vs. Amarillo 3-4
May 4, 2021: L vs. Amarillo 3-4
April 4, 2019 L vs. Arkansas 4-6 (10 Innings)
April 12, 2018: W vs. Frisco, 4-3
April 13, 2017: L vs. Midland, 5-7
April 14, 2016: L vs. Corpus Christi, 5-10
April 10, 2015: W vs. San Antonio, 10-4
April 3, 2014: W vs. Corpus Christi, 5-4
April 11, 2013: W vs. San Antonio, 6-2
April 12, 2012: L vs. San Antonio, 1-2
April 7, 2011: W vs. Corpus Christi, 3-2
April 8, 2010: L vs. Corpus Christi, 0-7
Individual tickets for Opening Night and the other two dates in the home stand are available for purchase online at TulsaDrillers.com or in person at the ONEOK Field Ticket Office (201 N. Elgin Avenue).
TULSA DRILLERS SCHEDULE & PROMOTIONS
April 6-8 vs. San Antonio Missions
Thursday, April 6 First Pitch at 7:05 PM / Gates Open at 5:30 PM
OPENING NIGHT 2023
The Tulsa Drillers make their 2023 ONEOK Field debut as they face the San Antonio Missions. To get Opening Night started, we will have a Happy Hour from 5:30-6:30 p.m. where fans can enjoy $4 domestic beers at the main concessions and at the Busch Scoreboard Bar. Plus, High Noon cans will be available for $6 each at all stadium bars. In addition, a face painter and a balloon artist will be on the concourse from 6:00-8:00 p.m. Many more Opening Night activities are below, and they are all made possible by Mattsco Supply Company, My41 and 97.5 KMOD.
MY41 $2 THURSDAY
New for the 2023 season are $2 Thursdays. Fans can enjoy beer, sodas and hot dogs for just $2 each at every Thursday game! The $2 beers will be served behind home plate, on the right field concourse and at The Backyard on the 3rd base concourse. The $2 sodas and hot dogs will be served at any of the main concession stands. The Backyard is the place to be on Thursdays, as fans ages 21 and older can enjoy yard games, drinks and live music! Chris Hyde will be in The Backyard for this game, performing an acoustic set.
OPENING NIGHT PARADE
The 2023 Opening Night Parade will begin at 6:00 p.m. and participants are asked to meet at the OETA parking lot north of I-244 on Greenwood Ave. Youth baseball and softball players and others will lead a parade down Greenwood Avenue and across Archer Street, eventually arriving at the ONEOK Field Oil Derrick Entrance to celebrate Opening Night.
DRILLERS RALLY TOWELS
The first 5,000 people to enter any gate at ONEOK Field will receive a Drillers "Fire It Up" Rally towel courtesy of Mattsco Supply Company.
BILL RUSSELL APPEARANCE
Former Los Angeles Dodgers great Bill Russell, a two-time World Series champion and a two-time All-Star, will be at ONEOK Field to throw out the first pitch of the season! During the game, Russell will be available for photos and autographs on the concourse behind home plate.
2023 SCHEDULE MAGNETS
All fans will receive a 2023 Drillers Schedule Magnet when they exit the stadium, compliments of Mazzio's.
Friday, April 7 First Pitch at 7:05 p.m. / Gates Open at 6:00 p.m.
FOX23 FRIDAY NIGHT FIREWORKS
Fans will want to attend our first Friday Night Fireworks Show as we kick off the first of 23 Fireworks Shows for 2023, presented by FOX23 and K95.5. To begin the night, we are introducing a new Happy Half Hour for all 69 home games. During Happy Half Hour from 6:00-6:30 p.m., fans can purchase domestic beers at the main concession stands and at the Busch Scoreboard Bar for just $4 each. In addition, High Noon cans will be available at the stadium bars for only $6 each. Following the game, we will light up the downtown Tulsa sky with a huge Fireworks display!
Saturday, April 8 First Pitch at 7:05 p.m. / Gates Open at 6:00 p.m.
NEWSCHANNEL 8 GRAND SLAM SATURDAY
We conclude the opening home stand against the Missions with the first Grand Slam Saturday of the year! To get the night started, fans can enjoy a Happy Half Hour from 6:00-6:30 p.m. The first Grand Slam Saturday of the season is made possible by the Osage Casino Hotel, NewsChannel 8, Z104.5 The Edge and 97.1 The Sports Animal.
DRILLERS HOODIE GIVEAWAY
The first 1,500 fans to enter the Union Home Mortgage, Oil Derrick or Osage Casino Hotel/Greenwood Gates will receive Drillers hoodies courtesy of Osage Casino Hotel. This giveaway will be available in adult medium, XL, XXL & XXXL and youth large sizes.
TULSA'S GOT TALENT NATIONAL ANTHEM CONTEST WINNER
After over 100 entries, Jace Bryant is the winner of the Tulsa's Got Talent National Anthem contest presented by the Tulsa World. Catch Jace giving his award-winning performance of the Star Spangle Banner before the game!
To purchase tickets for Opening Week or any other of the 69 home games at ONEOK Field click HERE.