ONEOK Field to Host Black Wall Street Diamond Classic on Saturday
Philander Smith College and Dillard University to play a doubleheader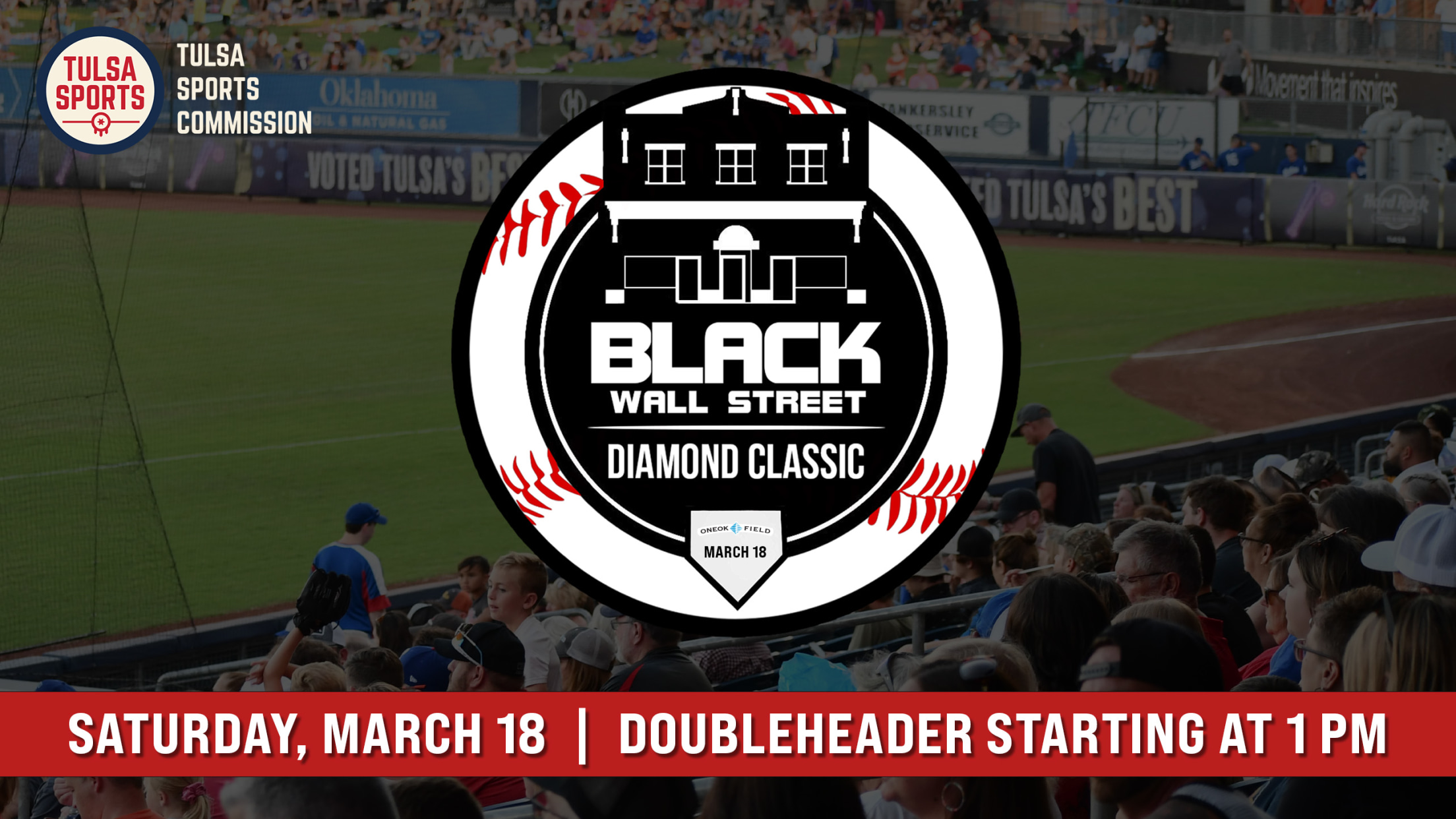 ONEOK Field and the Historic Greenwood District will host a special HBCU baseball event on Saturday when Philander Smith College (Little Rock, AR) and Dillard University (New Orleans, LA) will meet in the first-ever Black Wall Street Diamond Classic. The teams will play a doubleheader with the first game starting
ONEOK Field and the Historic Greenwood District will host a special HBCU baseball event on Saturday when Philander Smith College (Little Rock, AR) and Dillard University (New Orleans, LA) will meet in the first-ever Black Wall Street Diamond Classic. The teams will play a doubleheader with the first game starting at 1:00 p.m. Each game is scheduled to consist of seven innings.
Hosted by the Tulsa Drillers in partnership with BCSG 360 and the Tulsa Sports Commission, the Black Wall Street Diamond Classic is slated to be an annual event with participating teams changing each season.
Philander Smith College is located in Little Rock, Arkansas and was founded in 1877, while Dillard University is in New Orleans, Louisiana and was founded in 1930 and has incorporated institutions dating to as early as 1869.
The inaugural Black Wall Street Diamond Classic will feature general admission seating, with tickets in the seating bowl costing $15 each. Individual tickets for the outfield lawn and standing room only areas will be $10 each. There are also club seat tickets behind home plate available for $25 each. Tickets can be purchased by clicking HERE.
All fans will enter the stadium through the Union Home Mortgage First Base Entrance with gates opening at 12:00 p.m. Free parking will be available at OSU-Tulsa to the north of ONEOK Field.
In addition to the baseball games, there will also be a college fair taking place within the stadium.
About the Tulsa DrillersThe Drillers are Tulsa's oldest professional sports franchise and play their home games at beautiful ONEOK Field in the Historic Greenwood District of downtown Tulsa. The Drillers are the Double-A affiliate of the Los Angeles Dodgers. Many current and past major league stars have played for the Drillers, including Ivan Rodriguez, Sammy Sosa, Corey Seager, Julio Urias, Nolan Arenado, Matt Holliday and Clayton Kershaw.
About BCSG 360
BCSG 360 is the nation's largest organization exclusively representing the Black College Community. Through scholarships, capacity building and research initiatives, innovative programs and strategic partnerships, BCSG 360 is a vital resource in the PK-12 and higher education space. The organization is also the source of top employers seeking top talent for competitive internships and good jobs. BCSG 360 is a 501(c)(3) tax exempt, charitable organization.
About the Tulsa Sports Commission
In 1993, the Tulsa Sports Commission (TSC) was created to attract and develop sporting events and conventions for economic impact on the Tulsa community. Since its inception, the TSC has accounted for more than $500 million in economic impact to the Tulsa region by helping attract, market and host championships and sports-related events and conventions to the region. The TSC is a founding member of the National Association of Sports Commissions and lives within the Tulsa Regional Tourism umbrella organization. Learn more at visittulsa.com/sports.
About Tulsa Regional TourismTulsa Regional Tourism is northeast Oklahoma's premier accredited destination marketing organization. Housed at the Tulsa Regional Chamber, it includes Visit Tulsa for leisure travel, Tulsa Convention & Visitors Bureau for meetings & conventions, Tulsa Sports Commission for amateur & pro sports and the Tulsa Office of Film, Music, Arts & Culture (FMAC) for creative industries and accredited film commission. Tulsa Regional Tourism leads the community's bidding for and hosting of signature events like the NCAA men's basketball tournament, the Big 12 Wrestling Championship, USA BMX Grand Nationals, the Arabian Horse Association's U.S. Nationals and more. For more information, visit visittulsa.com.