Fan Food Idea Submission is BACK!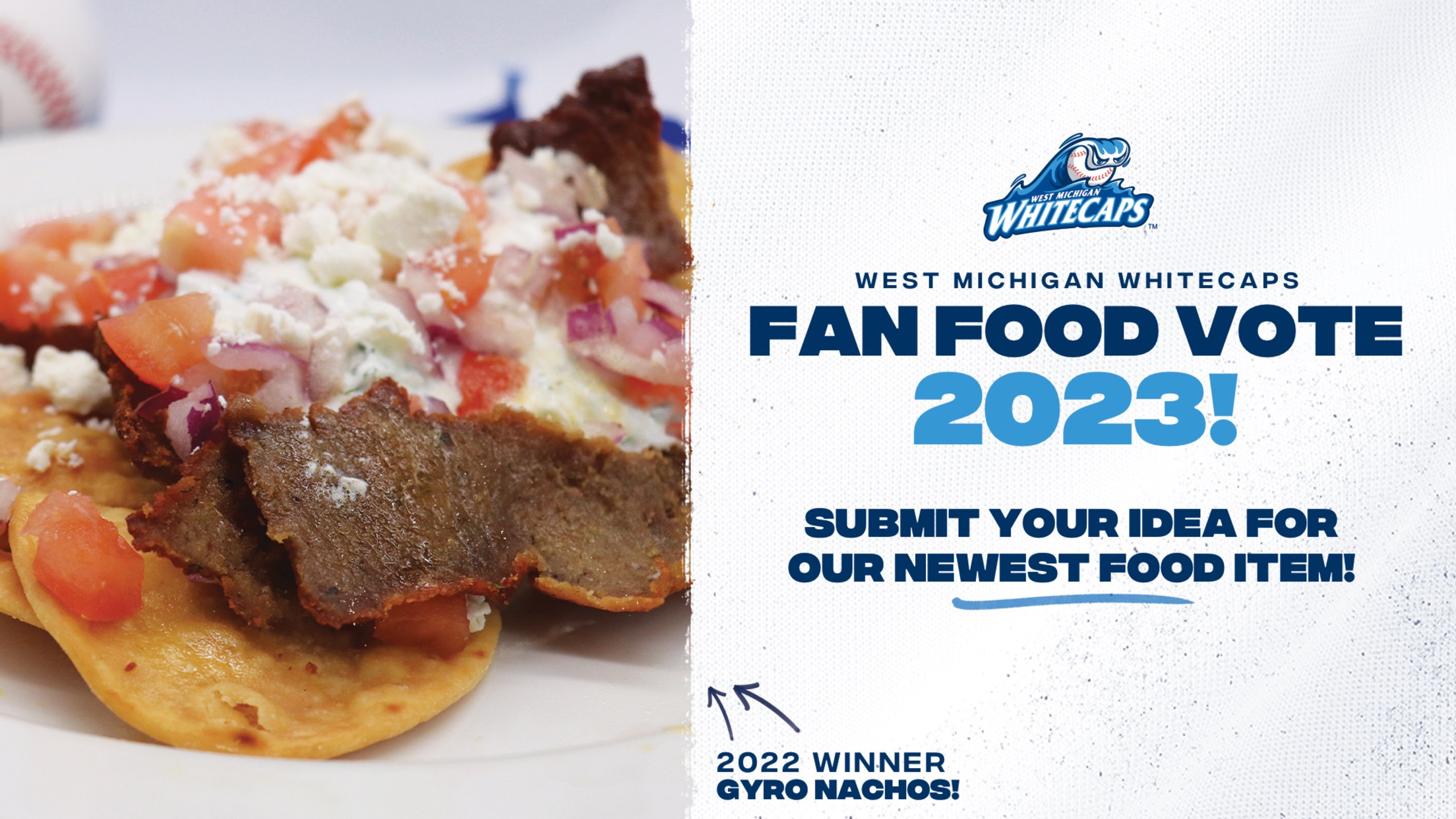 COMSTOCK PARK, MI - Tigers pitchers and catchers report to Lakeland in 20 days, which means baseball and warmer temperatures are getting close! When you think of baseball in West Michigan, you think of summers at LMCU Ballpark and the smell of hot dogs, peanuts, and the wide variety of
LMCU Ballpark, home of the West Michigan Whitecaps, to undergo multi-phase modernization construction project.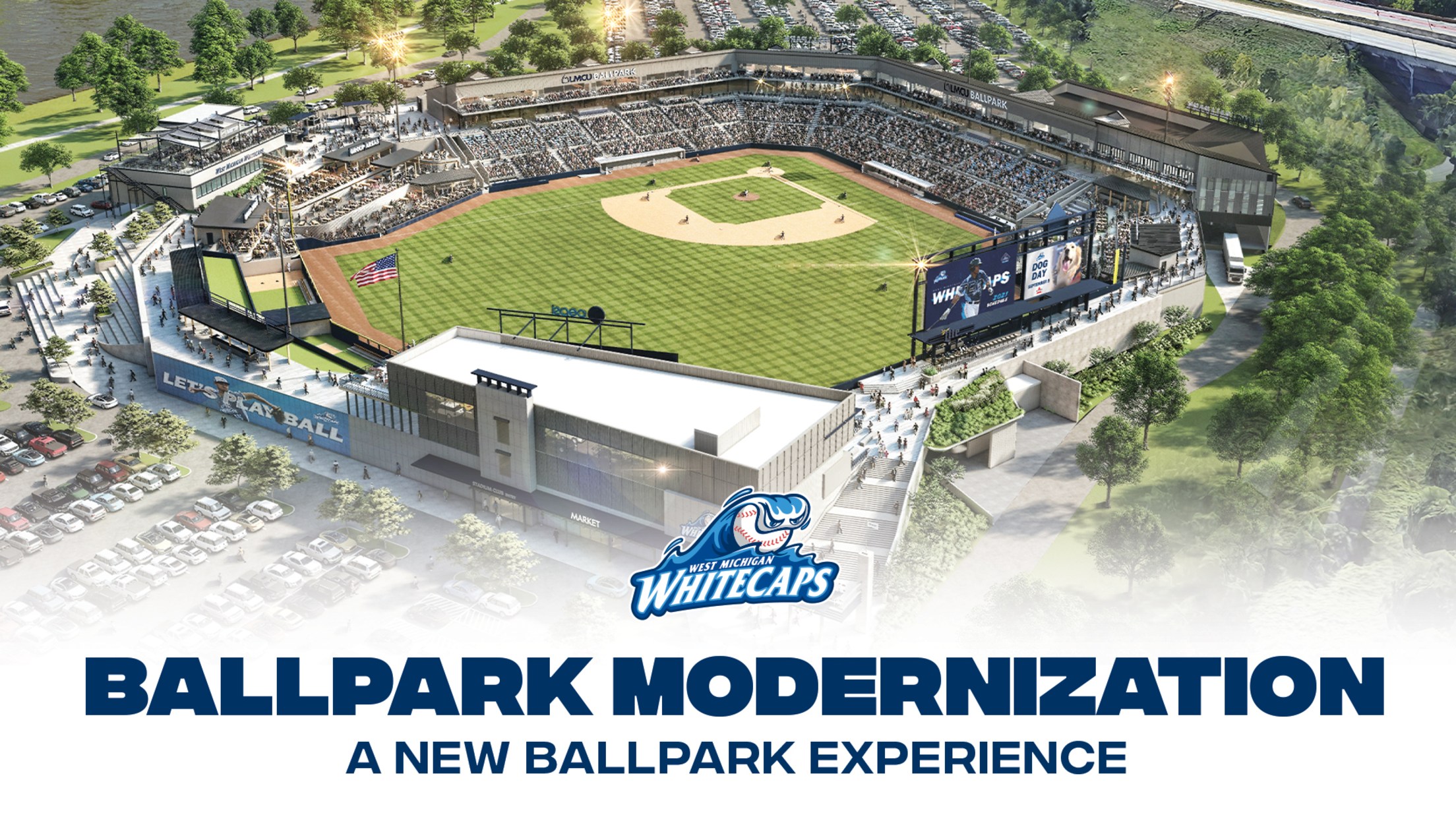 COMSTOCK PARK, MI – For 30 years, LMCU Ballpark has hosted countless milestones and events that have left a lasting impression on the West Michigan community and the game of baseball. The home of the West Michigan Whitecaps has hosted more than 11 million fans, sent dozens of players to
Peña Returns to Whitecaps Dugout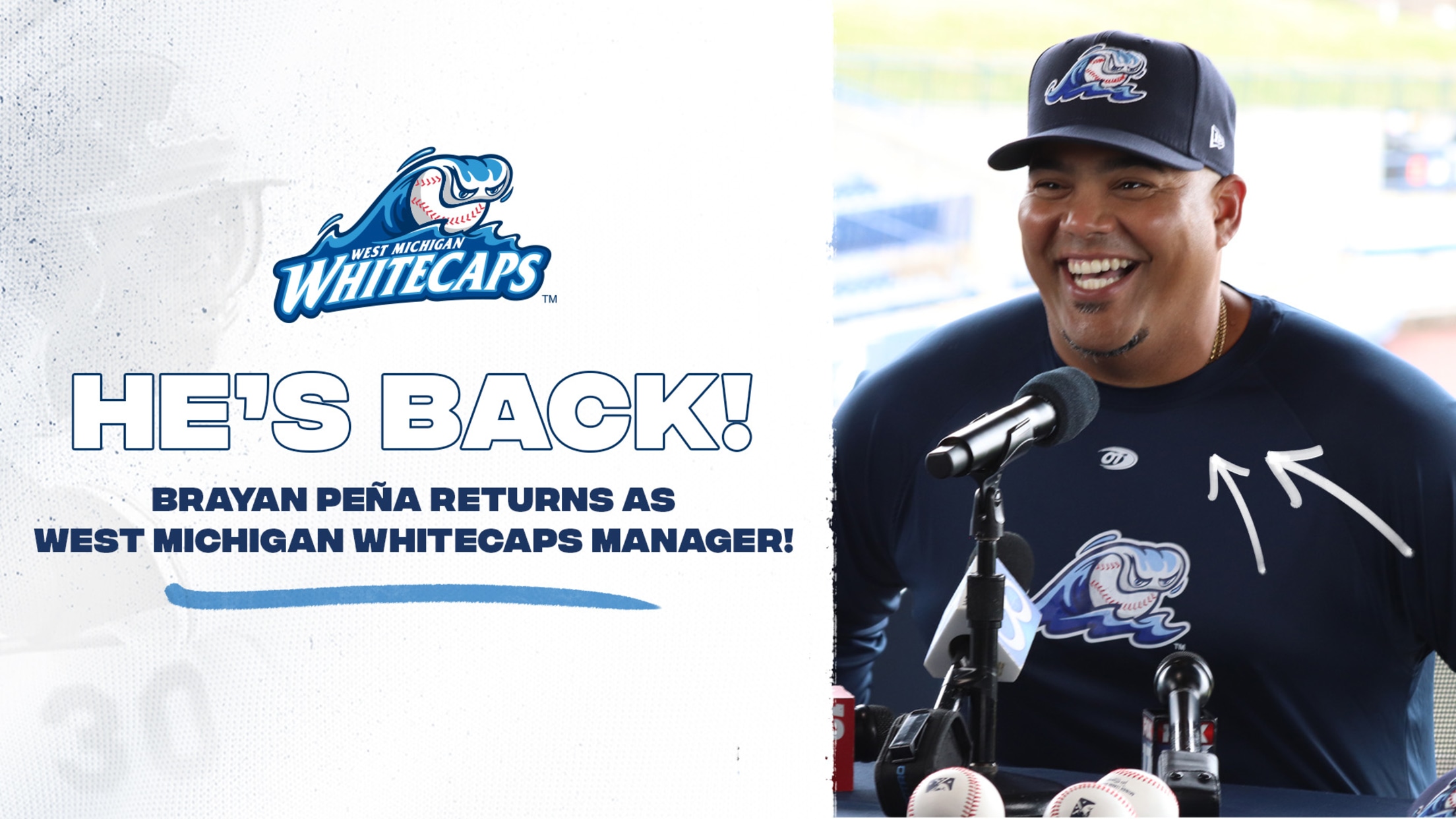 COMSTOCK PARK, MI (JANUARY 9, 2023) - West Michigan Whitecaps manager Brayan Peña is headed back to LMCU Ballpark, returning for his third season at the helm in 2023 with an all-new coaching staff, in a move announced in conjunction with the Detroit Tigers on Monday. The former Detroit Tigers
Upgraded LED stadium lights at LMCU Ballpark to provide a whole new experience in 2023!
COMSTOCK PARK, MI – The West Michigan Whitecaps' 2022 season came to a close back on September 11, but that didn't mean activity at LMCU Ballpark ground to a halt. The day after the baseball season ended, electrical crews got to work upgrading the ballpark's field lights to state-of-the-art LED
West Michigan Whitecaps 2023 Baseball Schedule Released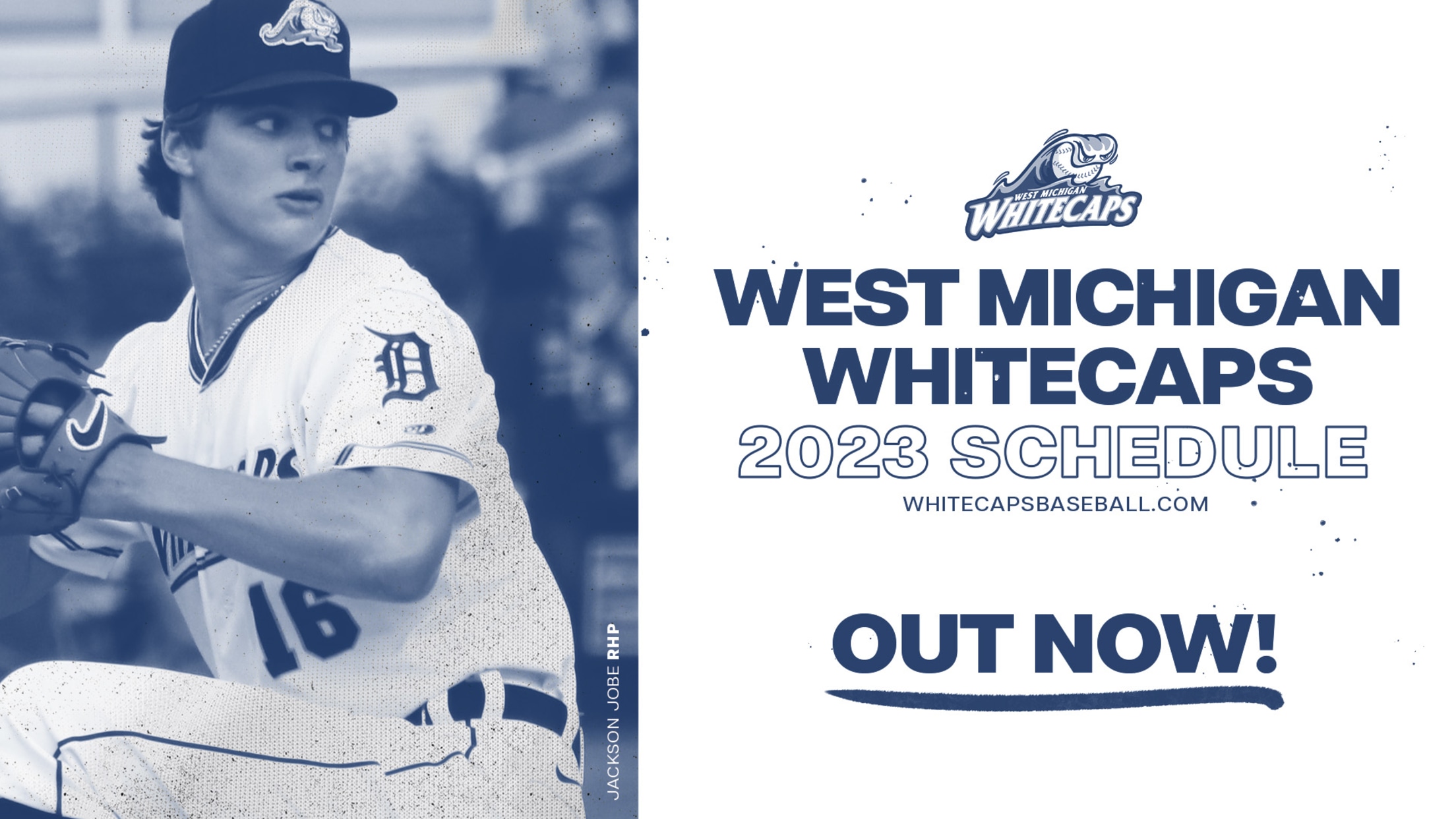 *WEST MICHIGAN WHITECAPS 2023 BASEBALL SCHEDULE RELEASED * Opening Day 2023 will be Thursday, April 6 Comstock Park, MI –Tuesday, September 13th, 2022-- The countdown to the West Michigan Whitecaps 2023 baseball season has already begun as the Whitecaps, Detroit Tigers, and Major League Baseball announced the release of the
'Caps Season Ends with Rainout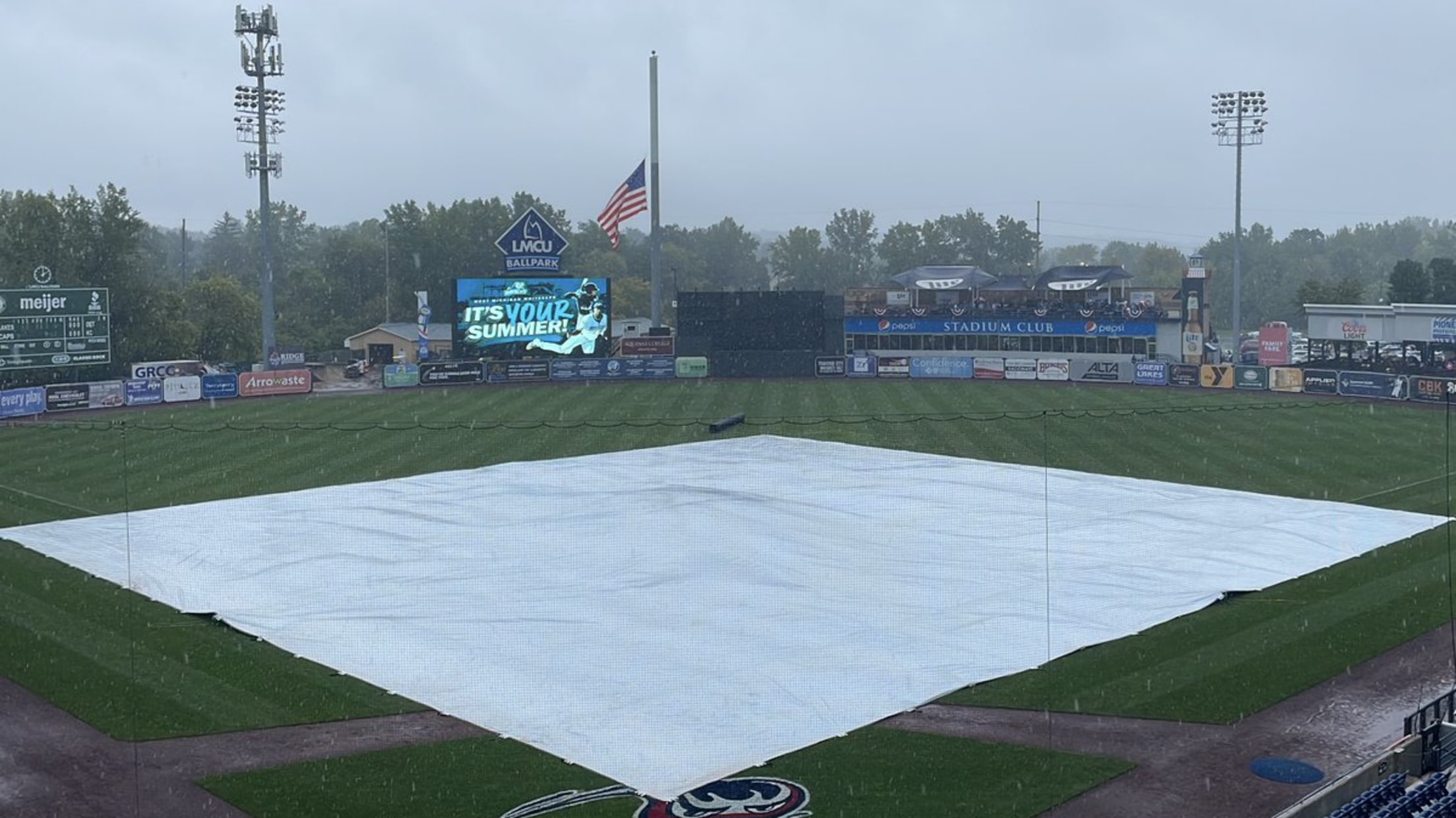 COMSTOCK PARK, MI – The West Michigan Whitecaps ballgame against the Great Lakes Loons to end the 2022 regular season on Sunday afternoon has been canceled due to inclement weather at LMCU Ballpark. Consistent thunderstorm showers in the West Michigan area came down throughout Sunday afternoon, leading to the decision
'Caps Rally for Win, but Eliminated from Postseason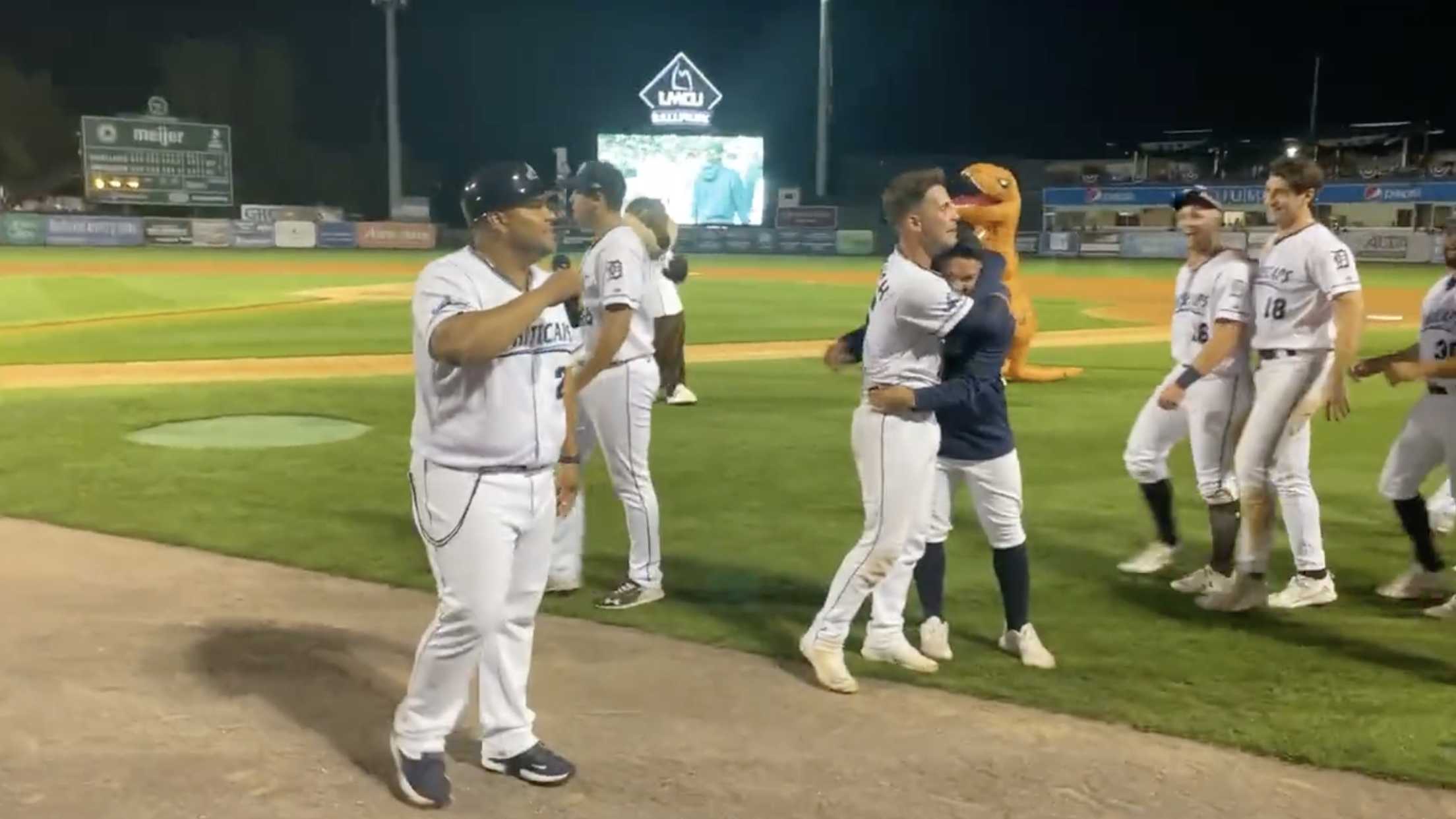 COMSTOCK PARK, MI – Down to their final strike, the West Michigan Whitecaps rallied for five runs in the final two innings to walk off the Great Lakes Loons 5-4 in the 10th inning in front of 7,471 fans Saturday night at LMCU Ballpark. Down 4-0 with three outs to
Smith Stymies Loons in Bittersweet Shutout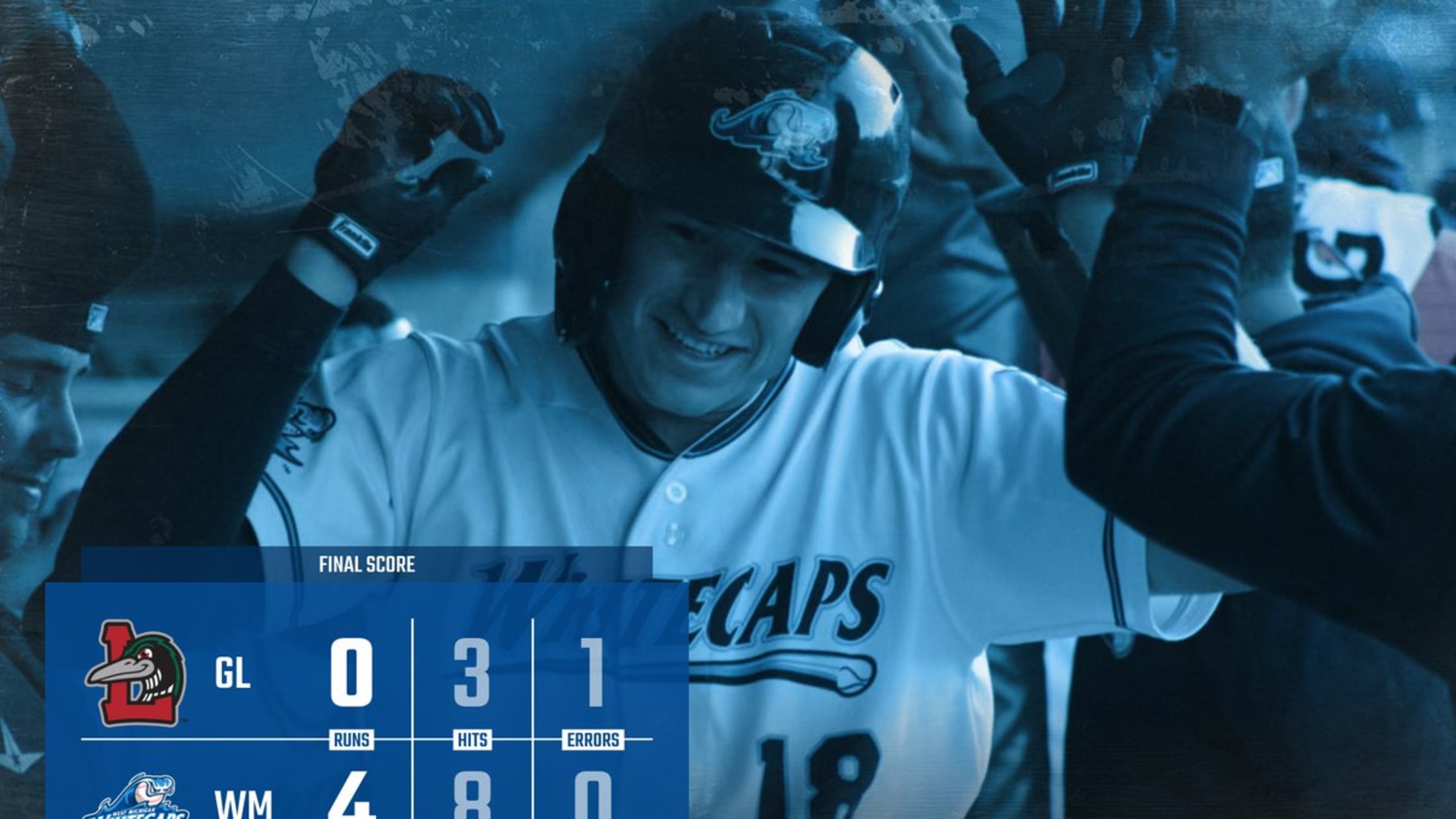 COMSTOCK PARK, MI – Pitcher Dylan Smith enjoyed his best start of the season as one giant swing helped propel the West Michigan Whitecaps past the Great Lakes Loons 4-0 in front of 6,608 fans Friday night at LMCU Ballpark. Smith posted six innings of shutout baseball with six strikeouts
Justice is Served in 7-6 Win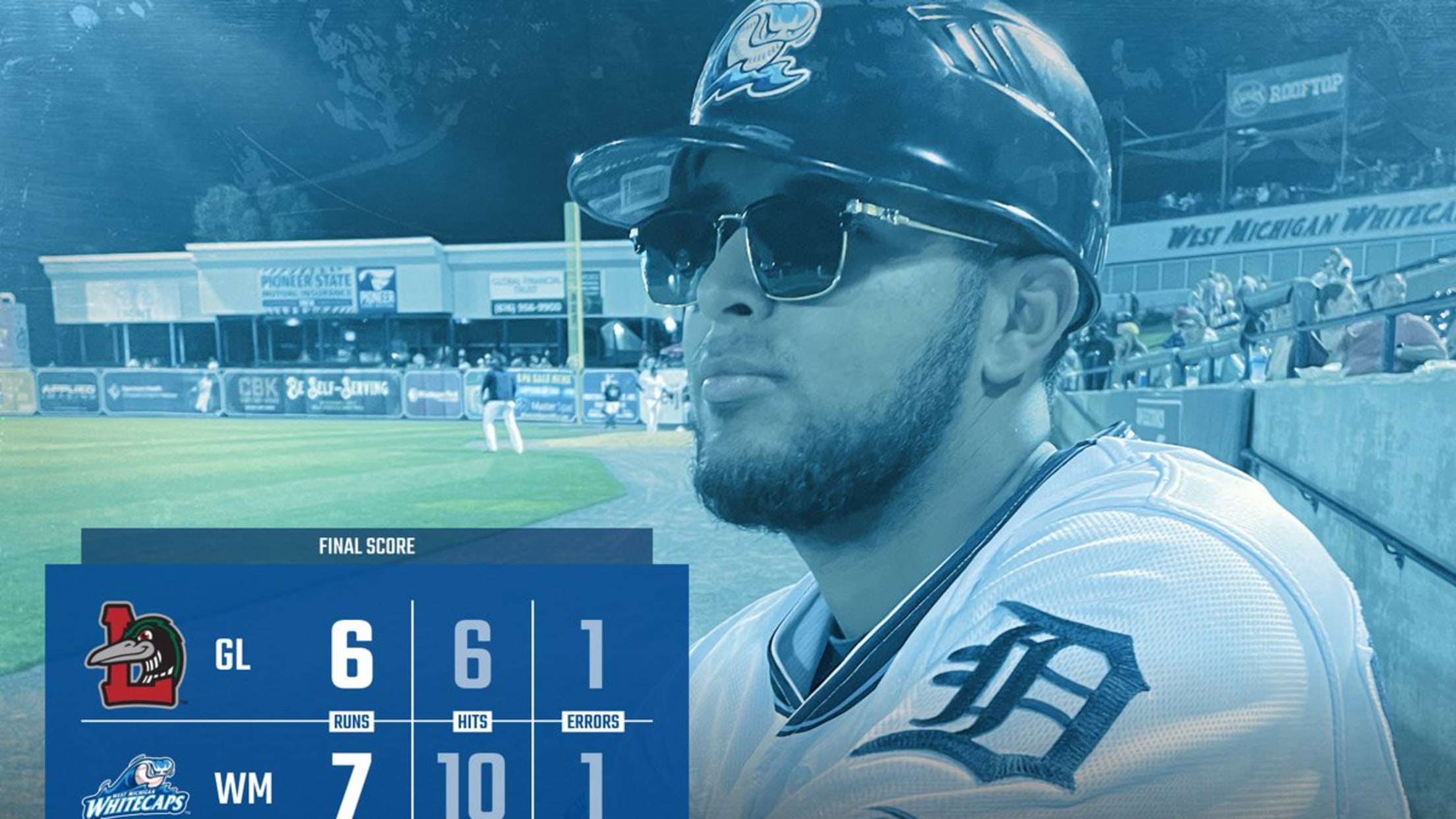 COMSTOCK PARK, MI – A wild scene saw first baseman Justice Bigbie circle the bases with an empty playing field, as an overturned call resulted in a potential season-saving go-ahead homer, propelling the West Michigan Whitecaps to a 7-6 victory over the Great Lakes Loons. WATCH: BIGBIE'S CONTROVERSIAL HOMER The
'Caps Pushed to Brink in 3-0 Loss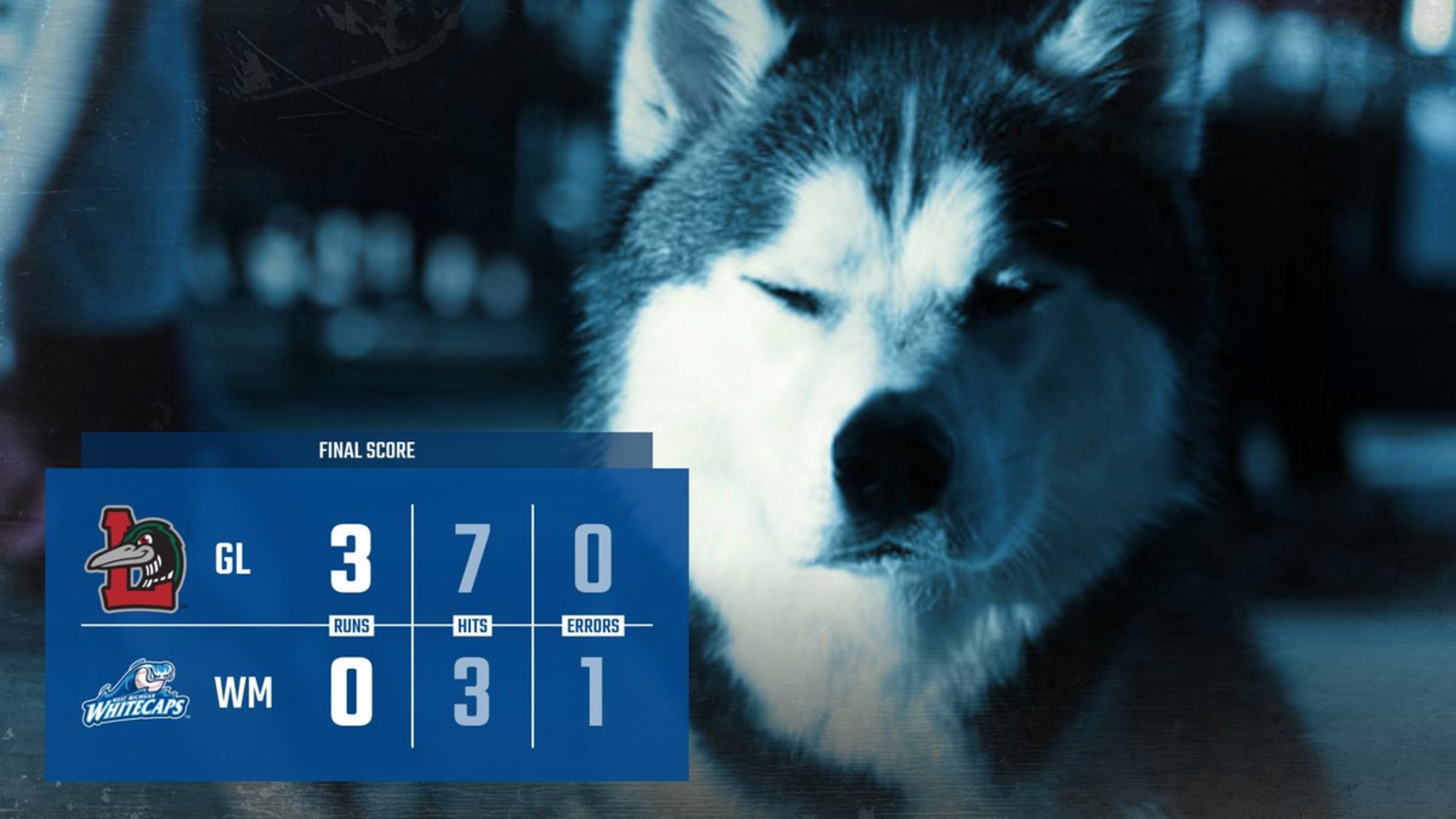 COMSTOCK PARK, MI - Pitching dominated, but the offense couldn't respond as the Great Lakes Loons blanked the West Michigan Whitecaps 3-0 in front of 5,240 fans Wednesday night at LMCU Ballpark. 'Caps pitching compiled 14 strikeouts while holding the Loons to an 0-for-9 mark with runners in scoring position.
Guzman Gaslights Great Lakes in Shutout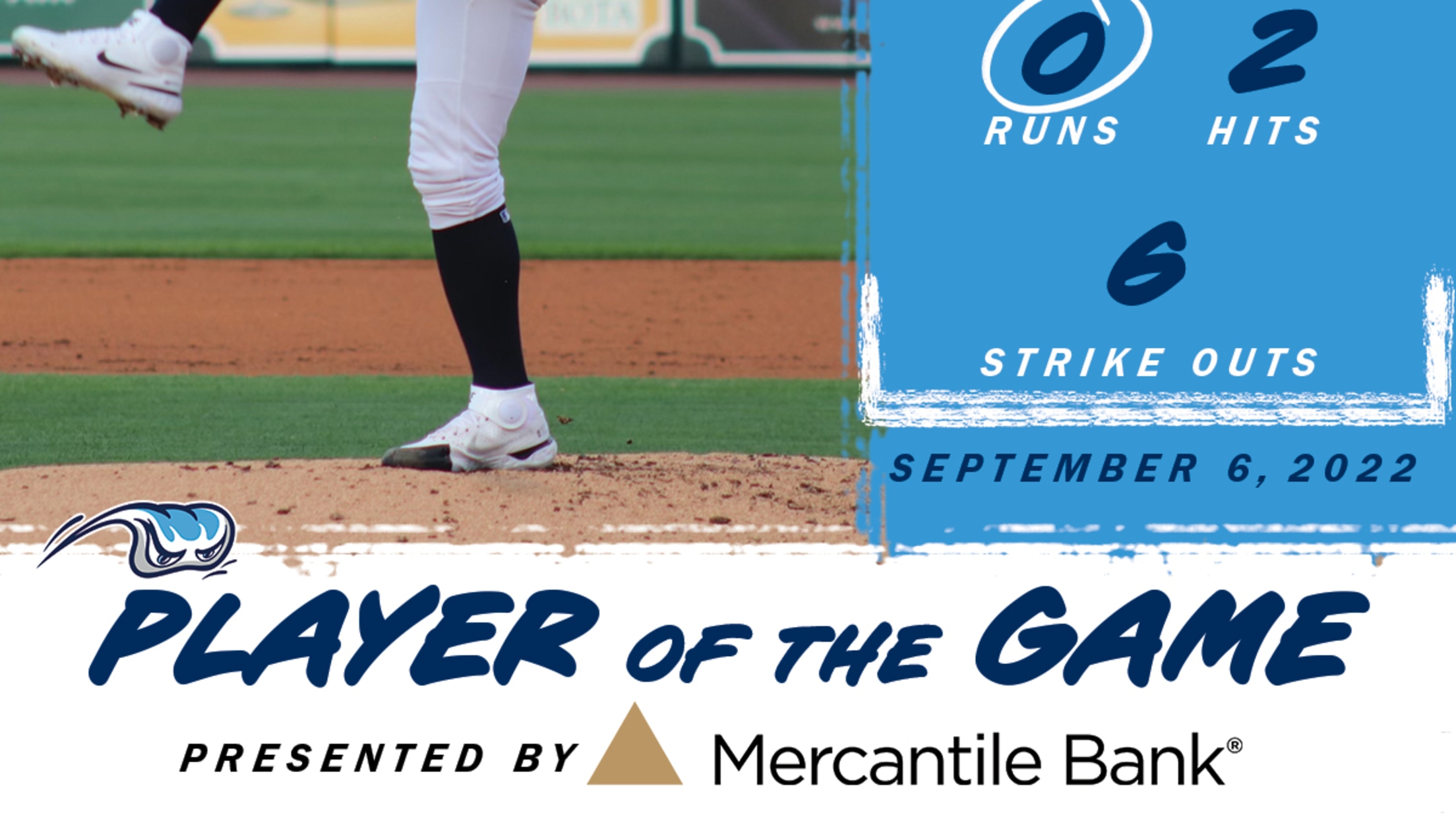 COMSTOCK PARK, MI - The West Michigan Whitecaps inched closer to their first postseason appearance since 2018 as pitcher Carlos Guzman dominated in a 3-0 shutout win over the Great Lakes Loons in front of 4,938 fans Tuesday night at LMCU Ballpark. Guzman matched his longest outing and a Whitecaps
'Caps Deficit Shrinks in 9-4 Win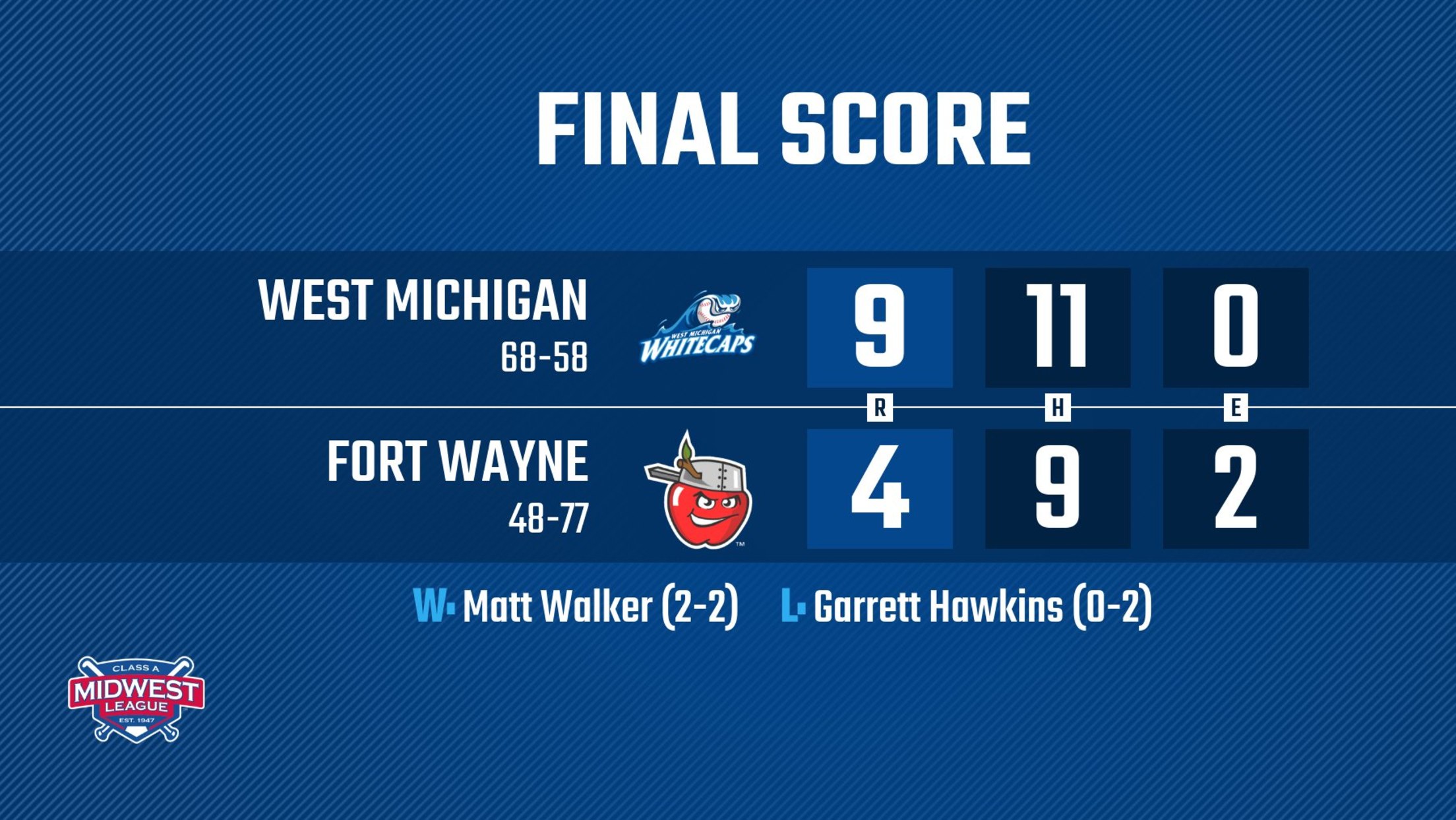 FORT WAYNE, IN - The West Michigan Whitecaps enjoyed a five-run third inning and a rare opportunity to trim their postseason deficit as part of a 9-4 win over the Fort Wayne TinCaps on Sunday night in front of 7,048 fans at Parkview Field. The Whitecaps deficit now sits at
Jobe, Schoop Lead 'Caps to Big Win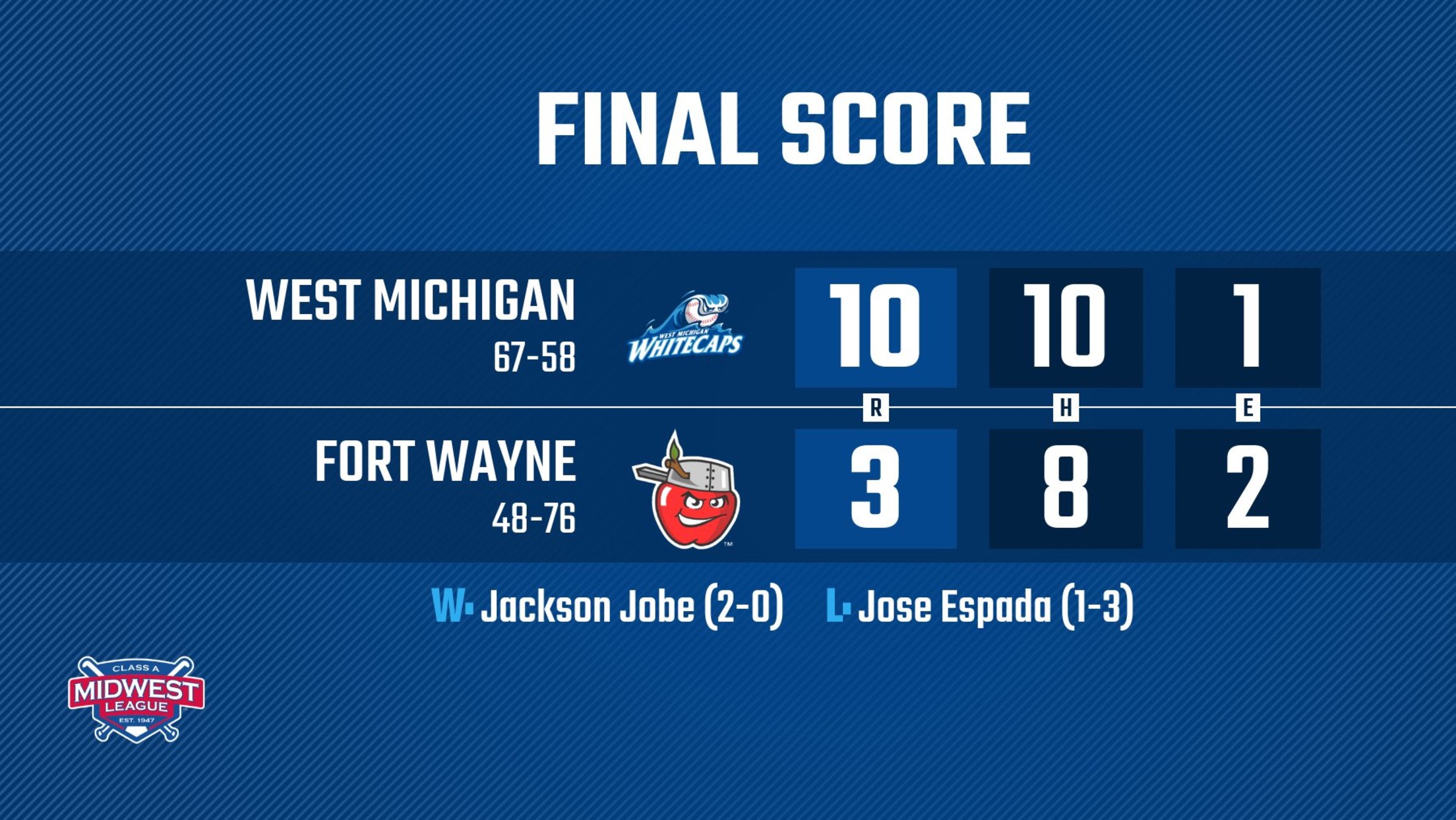 FORT WAYNE, IN - The West Michigan Whitecaps enjoyed excellent performances from Jackson Jobe and rehabbing Detroit Tigers second baseman Jonathan Schoop as part of a 10-3 win over the Fort Wayne TinCaps Saturday night in front of 7,094 fans at Parkview Field. Jobe, the Detroit Tigers Top Prospect, tossed
Bullpen Struggles in 5-2 Loss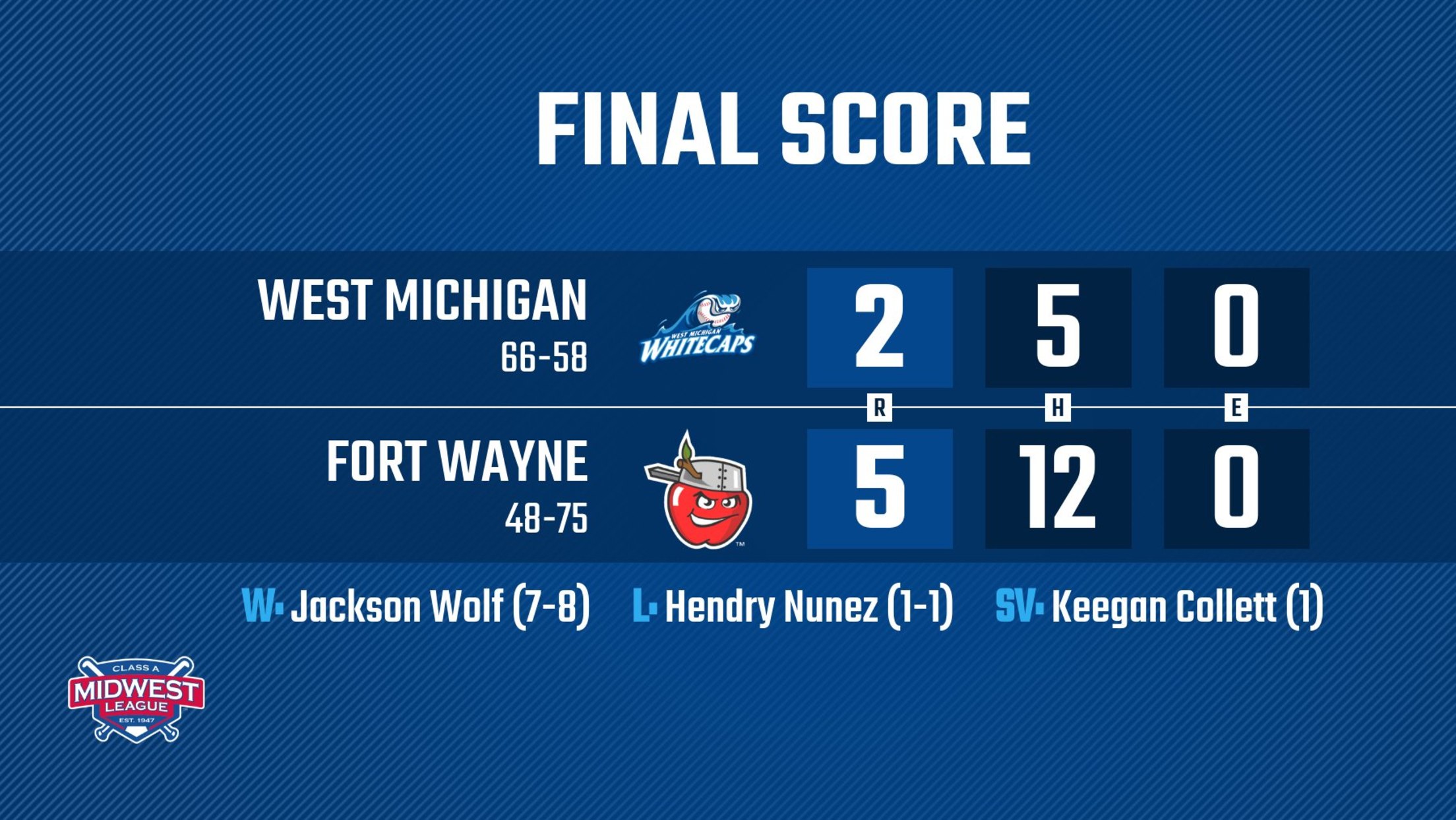 FORT WAYNE, IN - The West Michigan Whitecaps were dealt a small blow to their 2022 postseason chances as the bullpen struggled in a 5-2 loss to the Fort Wayne TinCaps on Friday night in front of 7,042 fans at Parkview Field. West Michigan's bullpen surrendered four of the five
'Caps Win, Still Three Games Behind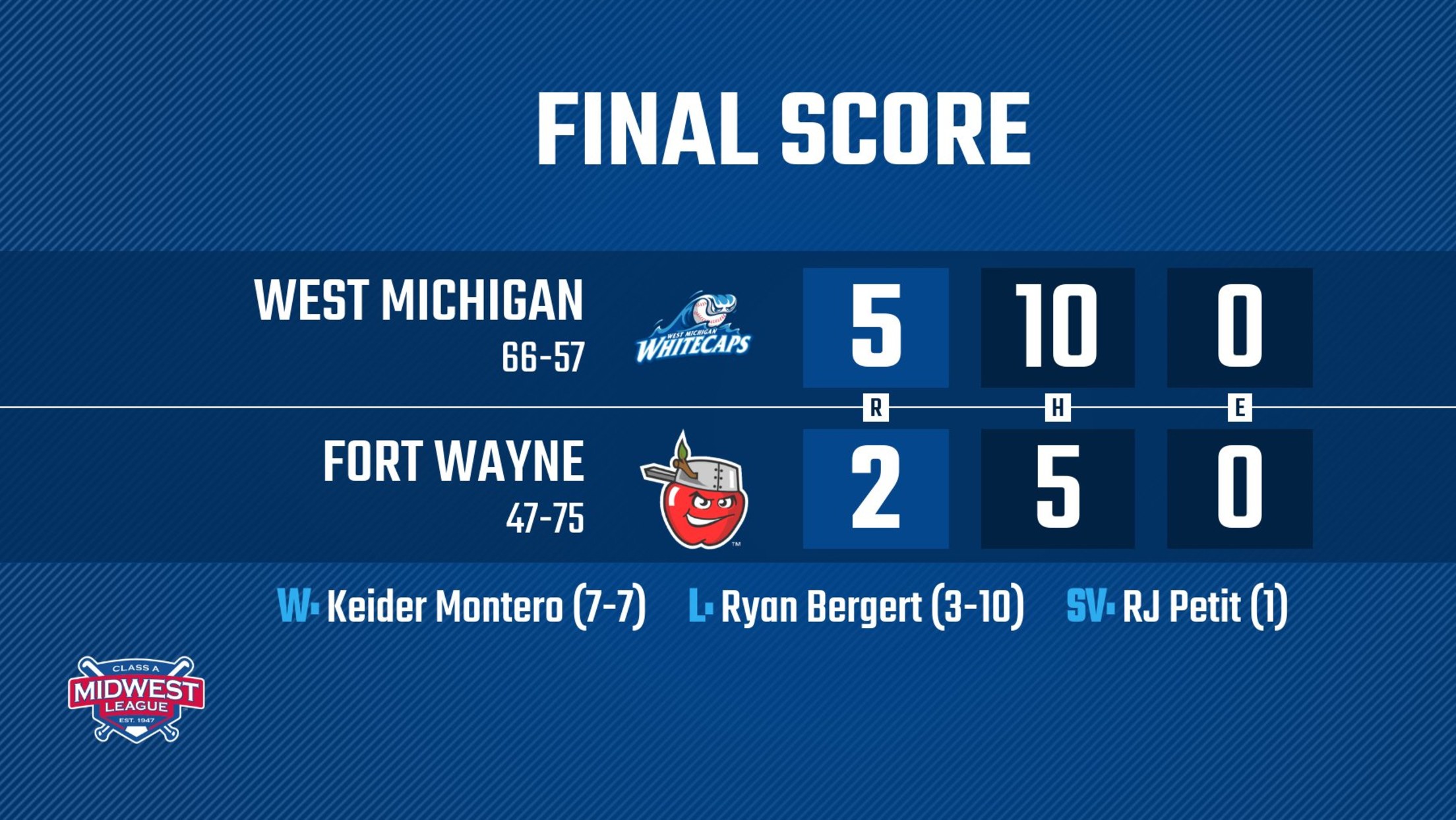 FORT WAYNE, IN - The West Michigan Whitecaps enjoyed great pitching as Keider Montero led the charge in a 5-2 victory over the Fort Wayne TinCaps on Thursday night at Parkview Field. The Whitecaps have now won each of the first three games of this series but have been unable
Whitecaps Hang on, Remain Three Back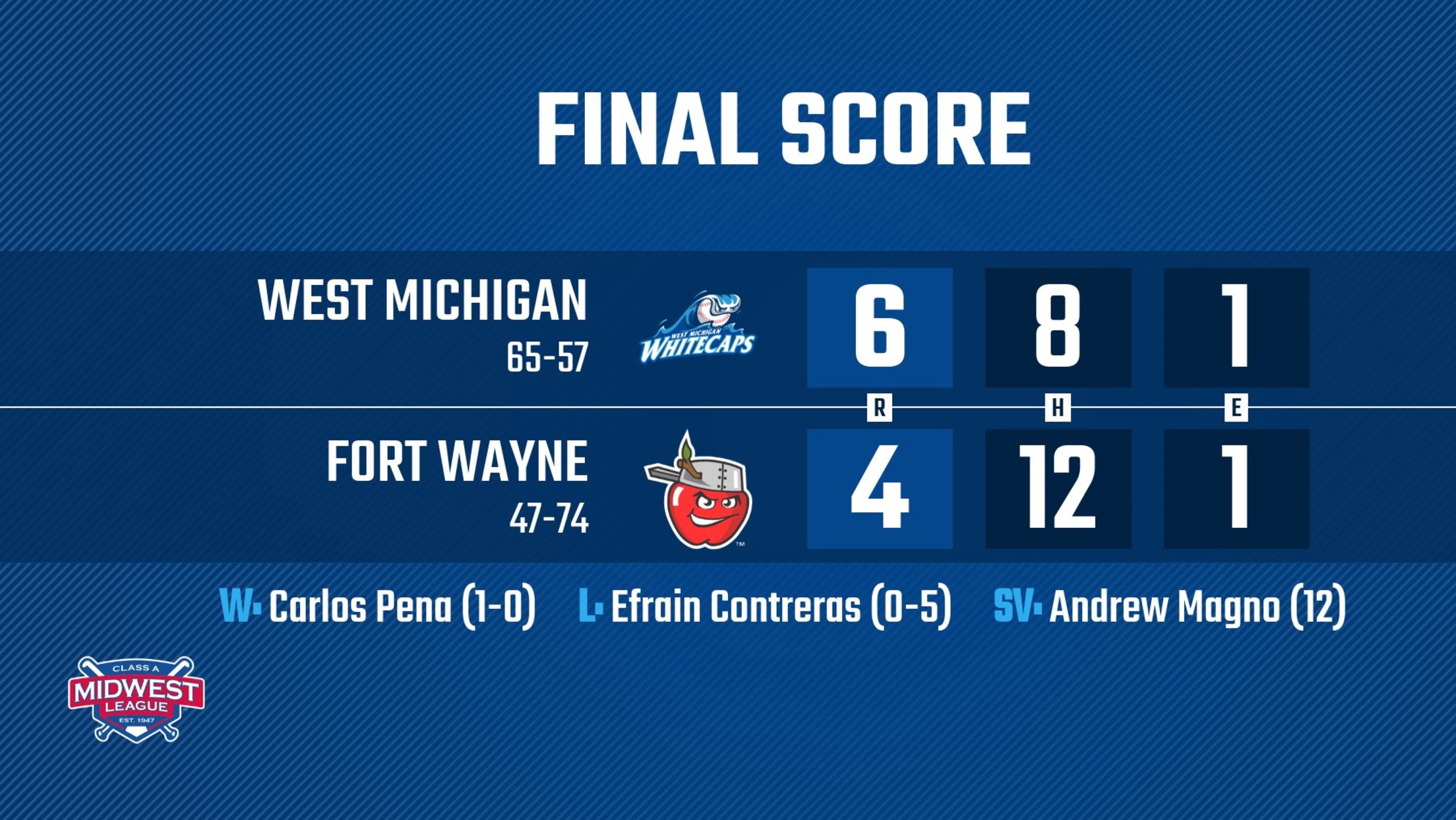 FORT WAYNE, IN - The West Michigan Whitecaps bullpen gave up just two runs over the final six innings as they defeated the Fort Wayne TinCaps on Wednesday night at Parkview Field by a score of 6-4. After starting pitcher Garrett Burhenn tossed just three innings, six pitchers combined to
'Caps Come Through Late in 5-1 Win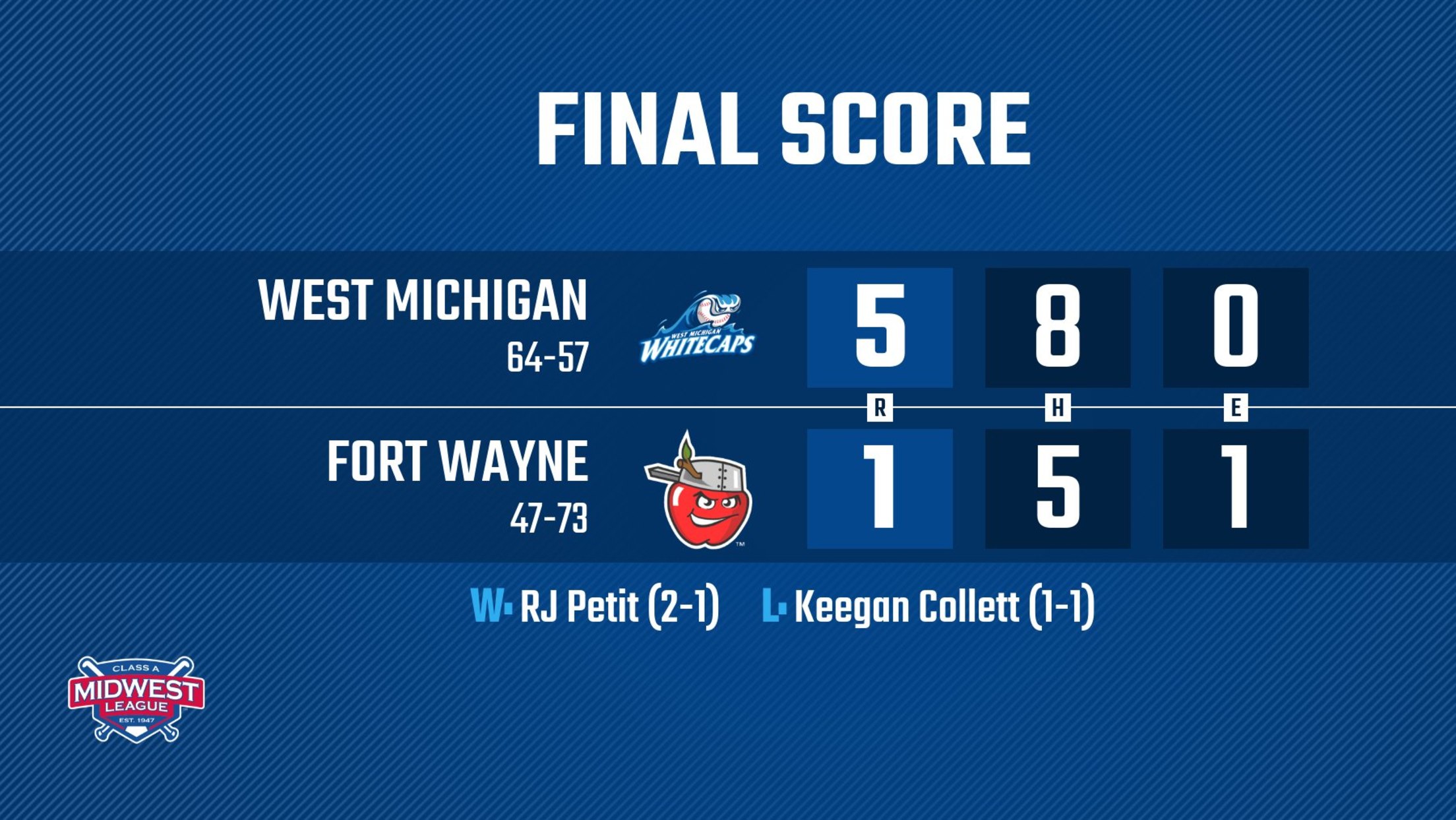 FORT WAYNE, IN - Jace Jung's go-ahead two-run double broke an eighth-inning tie as the West Michigan Whitecaps defeated the Fort Wayne TinCaps on Tuesday night at Parkview Field by a score of 5-1. Jung, the Detroit Tigers first-round pick in the 2022 MLB Draft, was involved in all four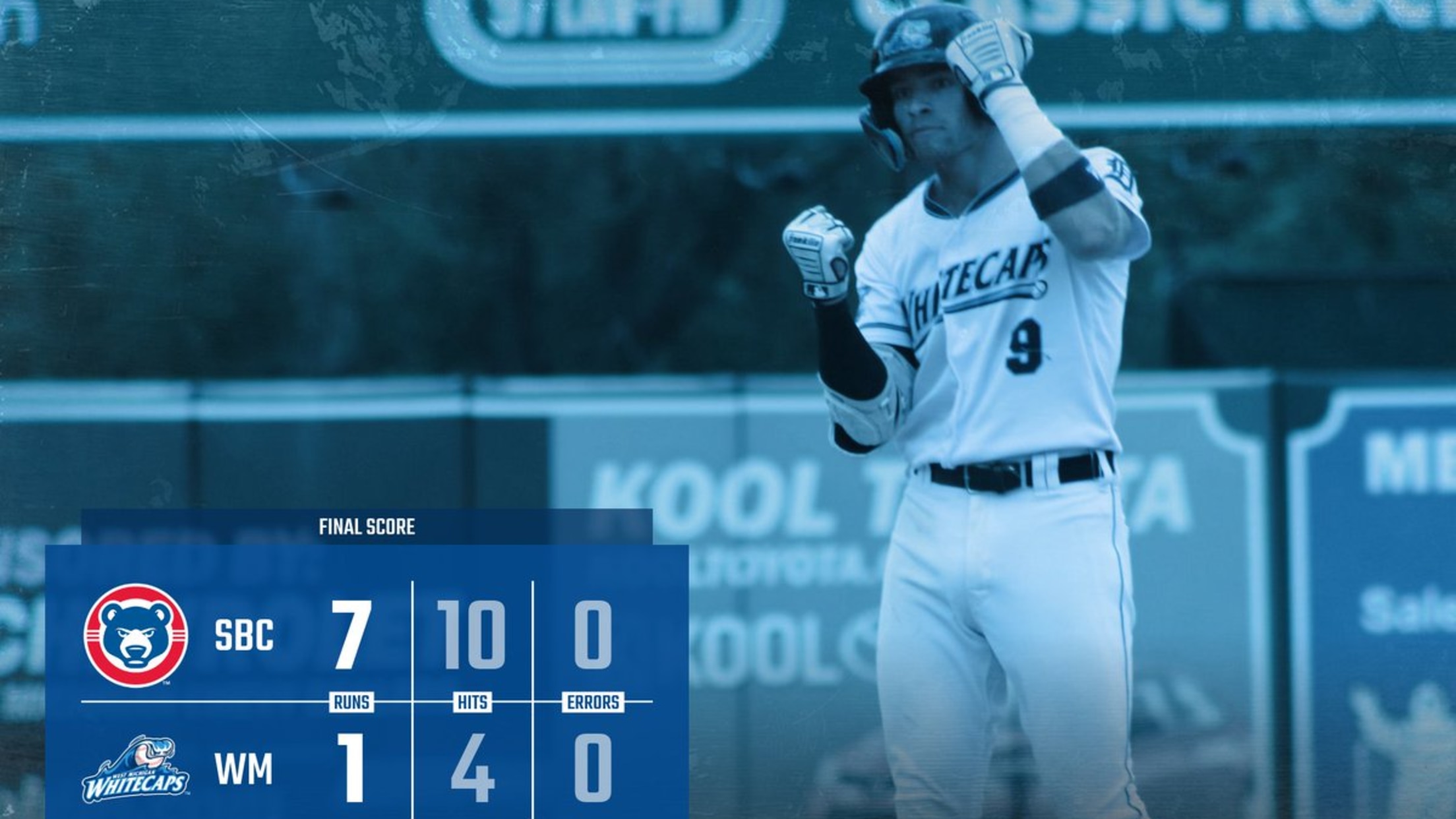 COMSTOCK PARK, MI - The West Michigan Whitecaps settled for a six-game series split as part of a 7-1 loss to the South Bend Cubs in front of 7,624 fans Sunday afternoon at LMCU Ballpark. The Whitecaps finished with just four hits and an 0-for-6 mark with runners in scoring
COMSTOCK PARK, MI - Pitcher Jackson Jobe dominated in his Midwest League debut as the West Michigan Whitecaps downed the South Bend Cubs 3-1 in front of the largest crowd of the season, 8,524 fans, Saturday night at LMCU Ballpark. Jobe, the Tigers No 1. overall prospect, allowed just one
'Caps Defend the Diamond in 5-4 Win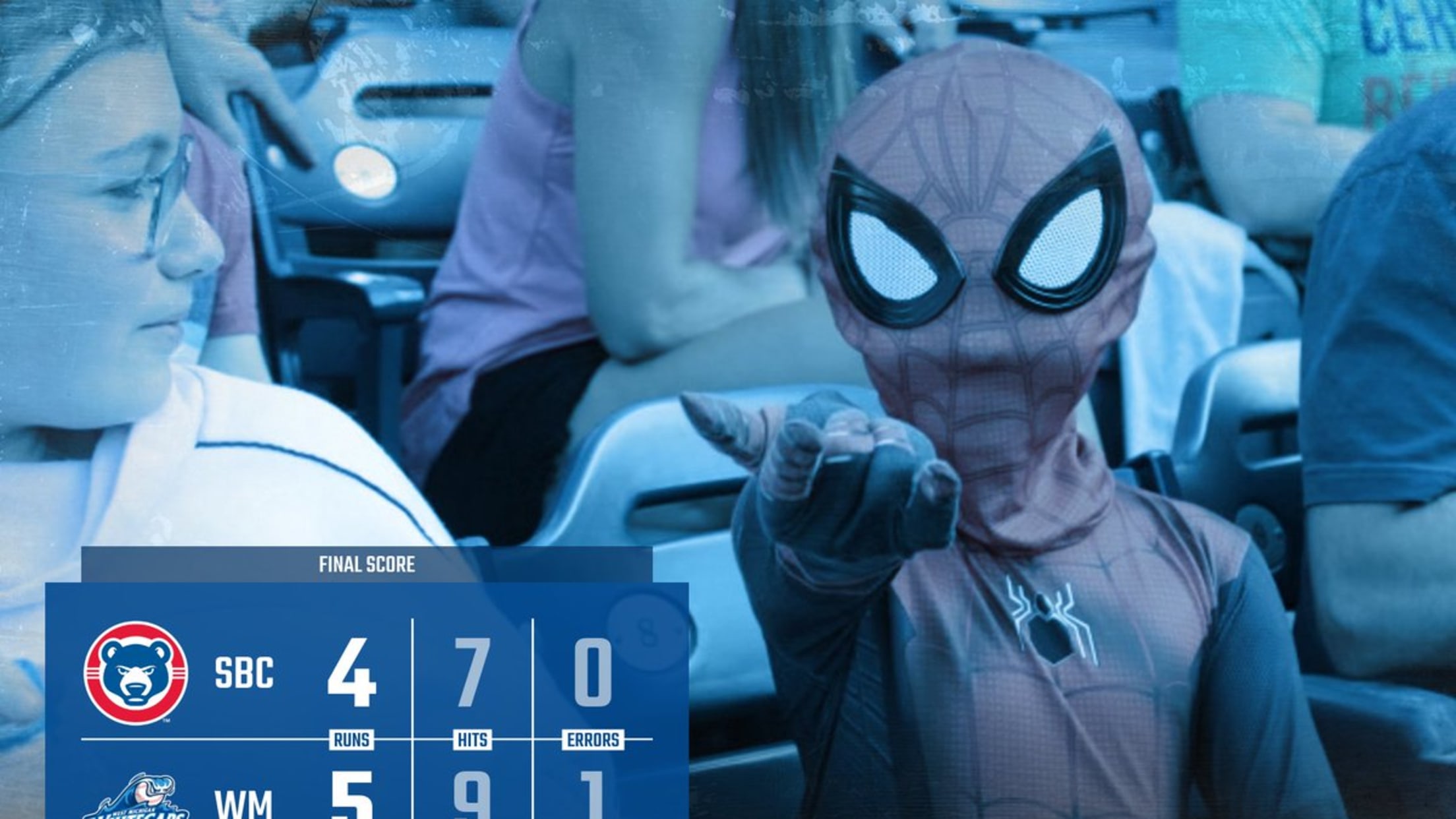 COMSTOCK PARK, MI - Strong pitching and a heroic catch made the difference as the West Michigan Whitecaps snuck past the South Bend Cubs 5-4 on Guardians of The Galaxy night in front of 6,767 fans at LMCU Ballpark. Whitecaps pitchers held the Cubs to a 2-for-12 mark with runners
'Caps Fall to Nwogu, Cubs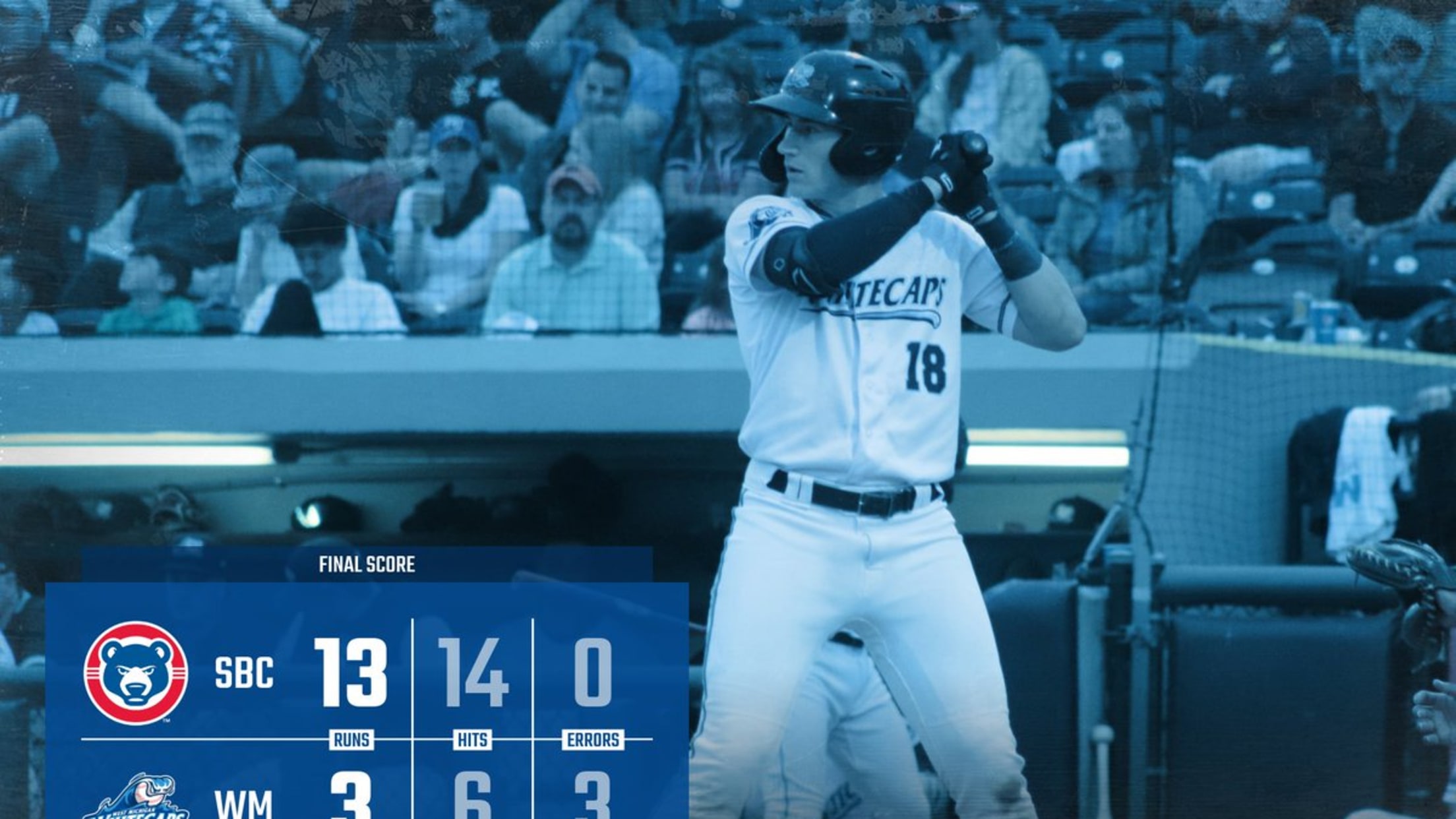 COMSTOCK PARK, MI - The West Michigan Whitecaps witnessed a performance not seen in Comstock Park in more than a decade, as outfielder Jordan Nwogu blasted three home runs as part of a 13-3 loss to the South Bend Cubs on Thursday night in front of 5,580 fans at LMCU
Whitecaps Turn Away Cubs in 2-1 Win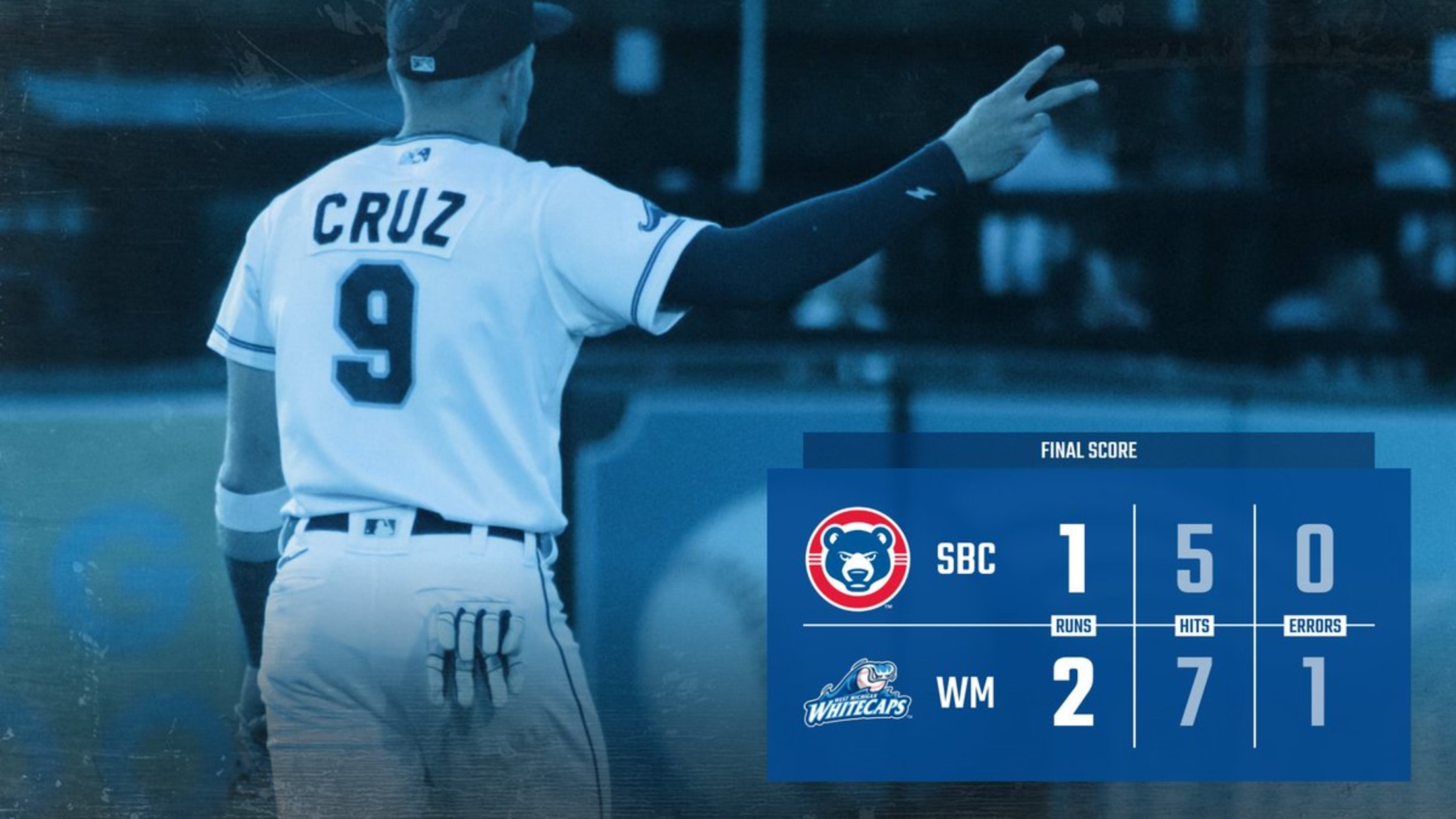 COMSTOCK PARK, MI - The West Michigan Whitecaps stepped up in the biggest moments, as a play at the plate in the ninth inning served as the key moment in a 2-1 win over the South Bend Cubs on Wednesday night in front of 6,986 fans at LMCU Ballpark. Leading
'Caps Come Up Short in Extras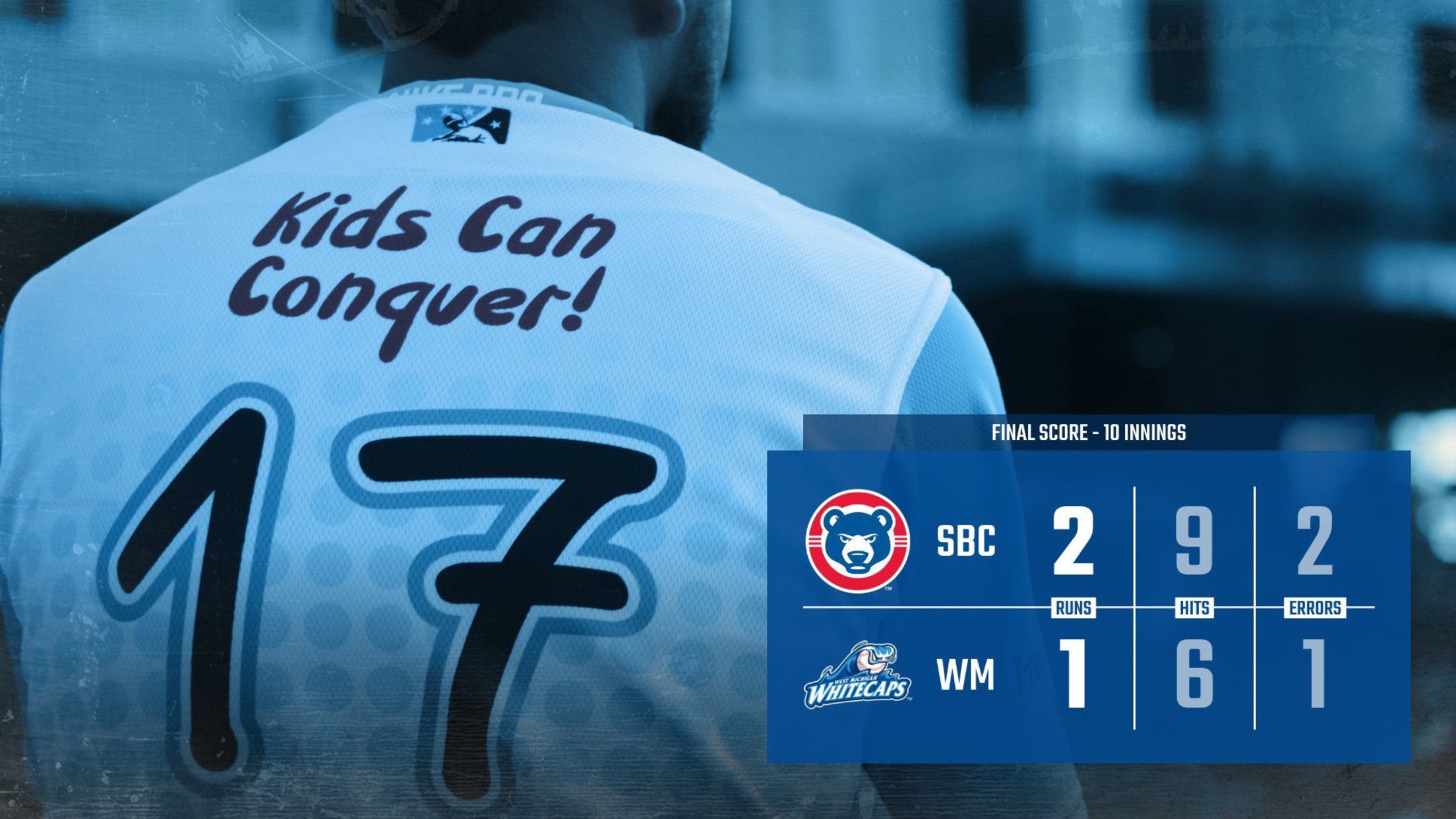 COMSTOCK PARK, MI - The West Michigan Whitecaps couldn't take advantage of dominant pitching as they fell to the South Bend Cubs 2-1 in extra innings Tuesday night in front of 4,754 fans at LMCU Ballpark. West Michigan pitching compiled 13 strikeouts while allowing just two runs through ten innings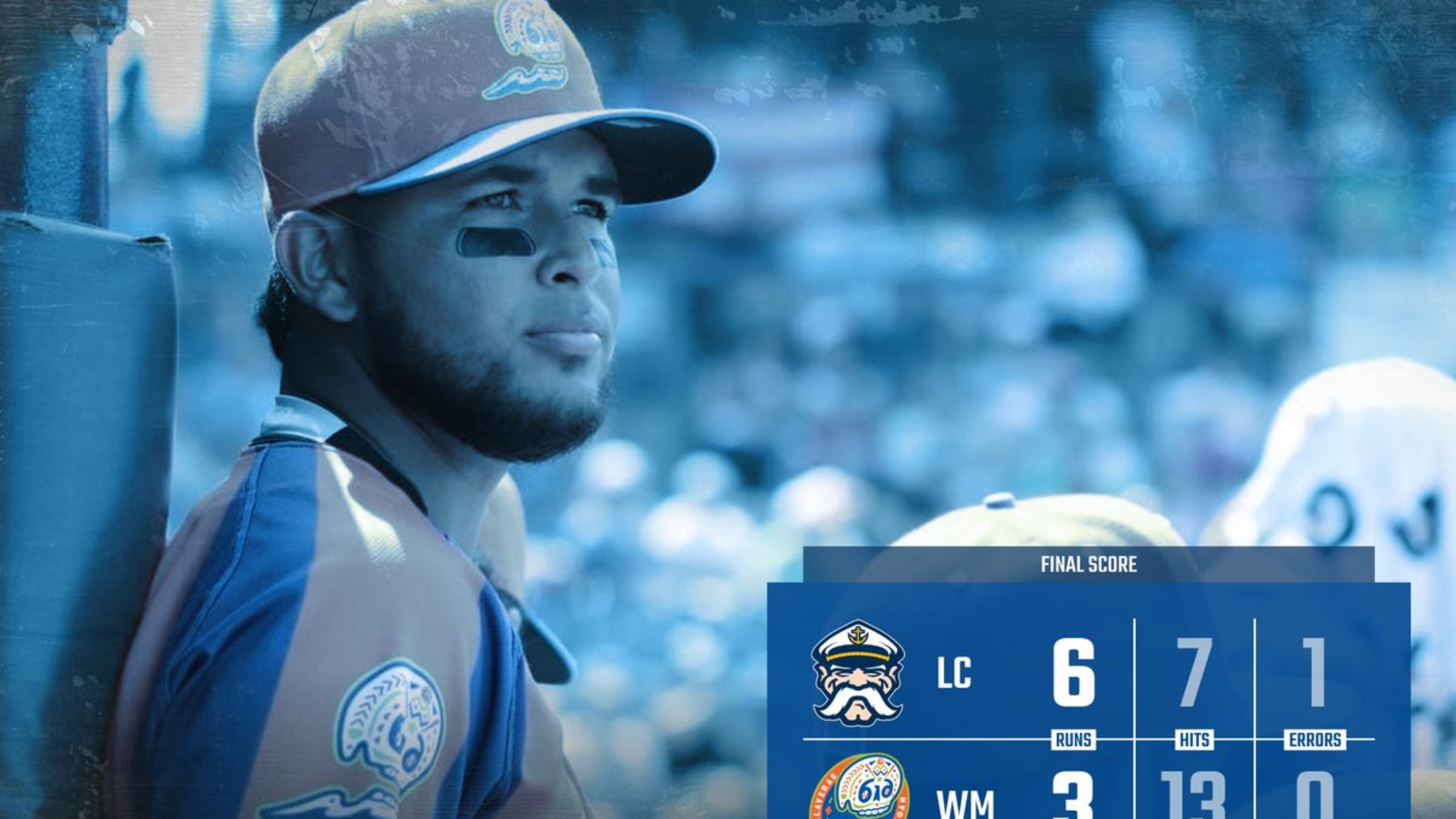 COMSTOCK PARK, MI - Walks hurt the West Michigan Whitecaps as the bats fell silent, losing the suspended contest from Saturday 7-4 before falling 6-3 to the Lake County Captains in the series finale in front of 6,632 fans Sunday evening at LMCU Ballpark. The Whitecaps surrendered seven walks and
Rain Hammers Beer City, Play Suspended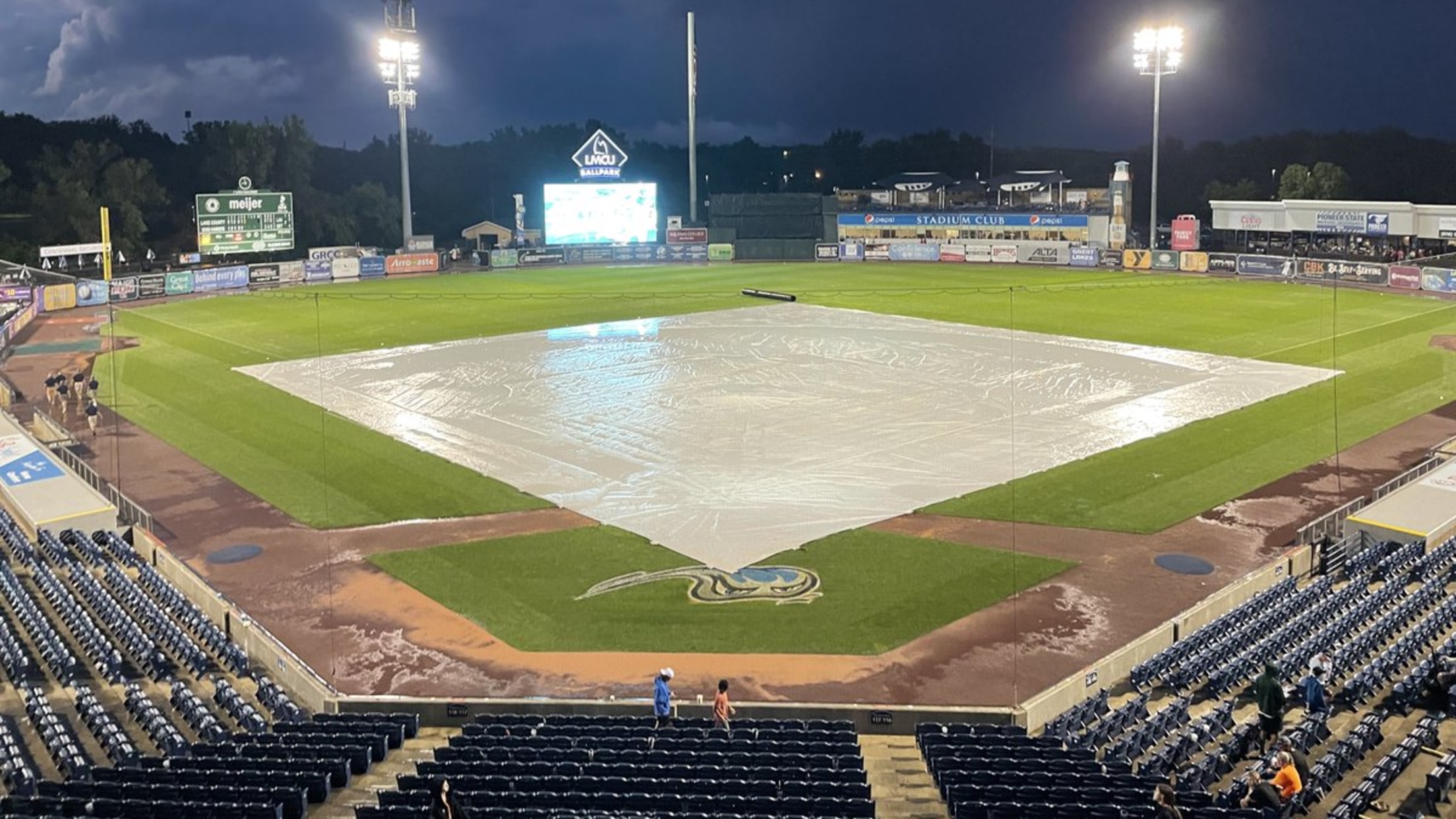 COMSTOCK PARK, MI - One big swing and some help from mother nature forced the game to stop in the top of the sixth inning as the Lake County Captains took a 5-2 lead over the West Michigan Whitecaps Saturday night at LMCU Ballpark. The Captains compiled six extra-base hits,