Bullpen Struggles in 5-2 Loss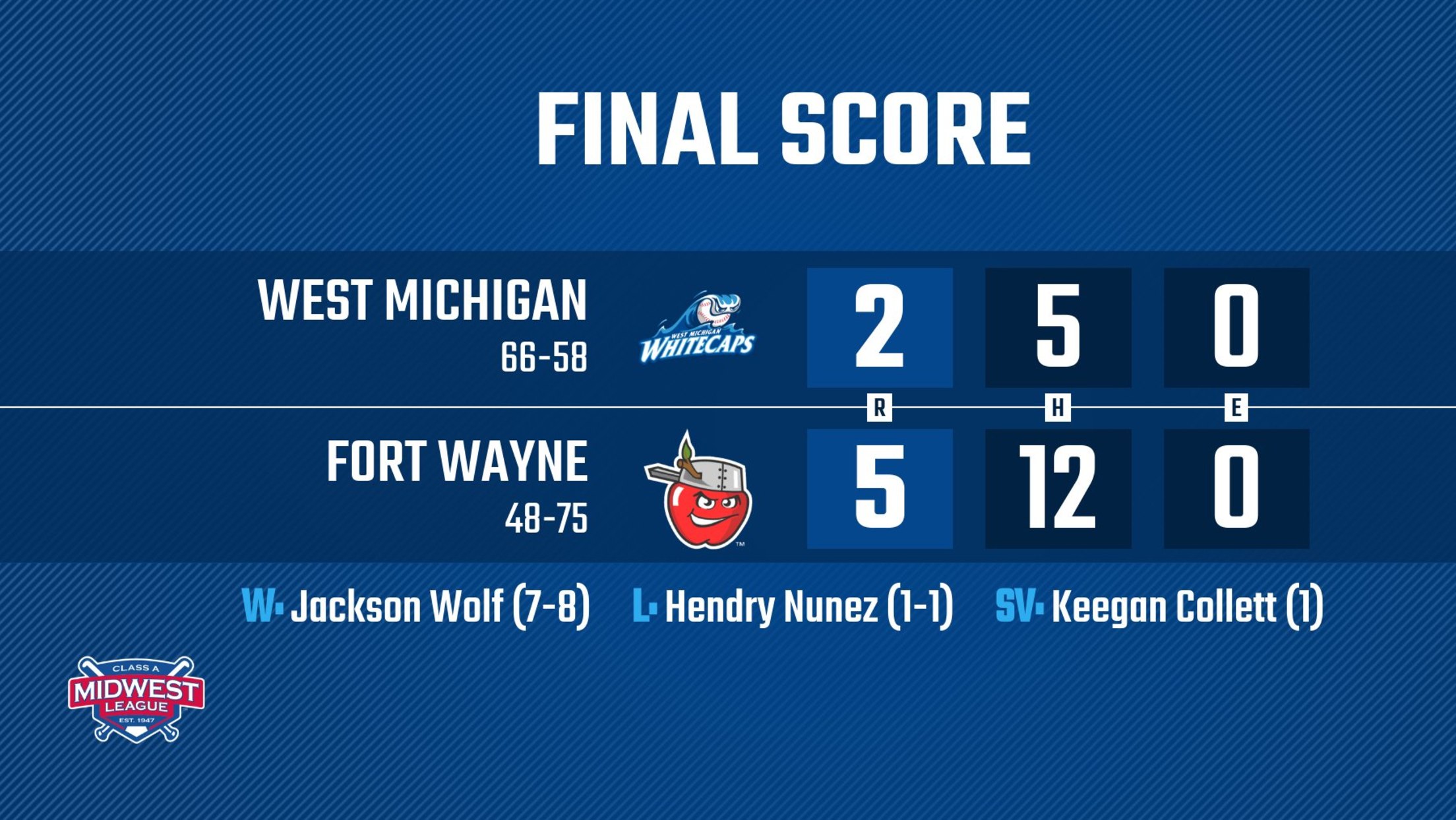 FORT WAYNE, IN - The West Michigan Whitecaps were dealt a small blow to their 2022 postseason chances as the bullpen struggled in a 5-2 loss to the Fort Wayne TinCaps on Friday night in front of 7,042 fans at Parkview Field. West Michigan's bullpen surrendered four of the five
FORT WAYNE, IN - The West Michigan Whitecaps were dealt a small blow to their 2022 postseason chances as the bullpen struggled in a 5-2 loss to the Fort Wayne TinCaps on Friday night in front of 7,042 fans at Parkview Field.
West Michigan's bullpen surrendered four of the five Fort Wayne runs in the defeat, but the Whitecaps enjoyed a bit of good news after the game. The 'Caps managed to retain their three-game deficit behind Midwest League Eastern Division leading Lake County Captains in the second-half playoff standings after Lake County fell to Great Lakes by a score of 1-0 on Friday at Dow Diamond. Only eight games remain in the 2022 regular season.
West Michigan opened the scoring for the fourth straight game when Justice Bigbie launched a run-scoring double to give the 'Caps a 1-0 lead. Fort Wayne responded with a run in the bottom of the frame, which became a trend throughout the contest. An RBI-single from Albert Fabian knotted the game at one after two innings. In the fifth, the teams traded runs again, as Bigbie logged his second run-scoring double before Brandon Valenzuela stroked an RBI-single to even the score again. The TinCaps pulled away in the sixth when Fabian delivered his second hit of the night with a run-scoring, go-ahead double to give Fort Wayne a 3-2 lead. The TinCaps found some much-needed insurance with RBI-singles by Carlos Luis and Jarryd Dale to extend the lead to 5-2 and end the scoring in the contest.
Lefty Jackson Wolf (7-8) tossed 6.1 innings of two-run baseball to collect his seventh win, while 'Caps reliever Hendry Nunez (1-1) allowed the go-ahead run in the sixth in suffering his first loss. TinCaps reliever Keegan Collett pitched a scoreless 2.2 innings out of the bullpen in earning his first save with Fort Wayne. The 'Caps record falls to 66-58 and 35-23 overall, while the TinCaps improve to 21-36 in the second half and 48-75 this season.
UP NEXT
The Whitecaps play their penultimate road game of the 2022 regular season as they face the TinCaps from Parkview Field on Saturday at 7:05 pm. Detroit Tigers top prospect Jackson Jobe gets the start on the mound against fellow righty Jose Espada. Broadcast coverage with Dan Hasty starts on the Whitecaps Baseball Network at 6:50 pm. Get your tickets for all 2022 home games now at www.whitecapsbaseball.com.