Guzman Gaslights Great Lakes in Shutout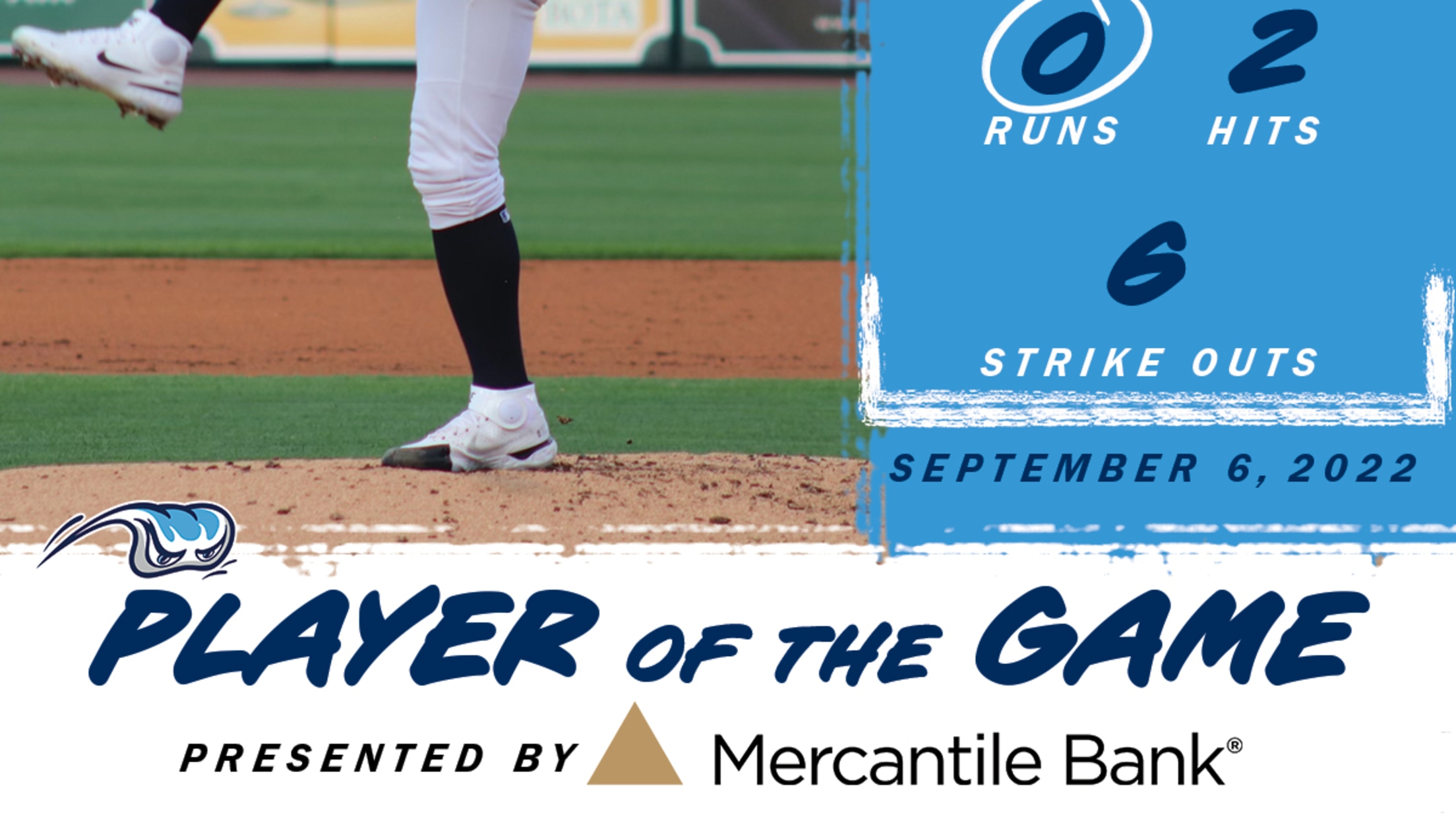 COMSTOCK PARK, MI - The West Michigan Whitecaps inched closer to their first postseason appearance since 2018 as pitcher Carlos Guzman dominated in a 3-0 shutout win over the Great Lakes Loons in front of 4,938 fans Tuesday night at LMCU Ballpark. Guzman matched his longest outing and a Whitecaps
COMSTOCK PARK, MI - The West Michigan Whitecaps inched closer to their first postseason appearance since 2018 as pitcher Carlos Guzman dominated in a 3-0 shutout win over the Great Lakes Loons in front of 4,938 fans Tuesday night at LMCU Ballpark.
Guzman matched his longest outing and a Whitecaps team-high, toss six shutout innings with two hits while compiling six strikeouts as 'Caps pitching held Great Lakes to an 0-for-5 performance with runners in scoring position and ten strikeouts in the victory.
West Michigan scored in the first inning as Jace Jung plated Carlos Mendoza with an RBI-single before Izaac Pacheco lifted a sacrifice fly, taking the 2-0 lead. Great Lakes advanced runners into second and third base with just one out in the second inning before Guzman recorded back-to-back strikeouts (four total in the inning) to end the frame. Austin Murr reached on a walk to open the fifth inning before coming home on a wild pitch, extending the lead to 3-0. The Loons had multiple base runners in the final two innings but couldn't take advantage, as closer Jack Anderson slammed the door with a scoreless ninth inning with two strikeouts to secure the shutout win.
Guzman (9-6) picks up his sixth win while Anderson collects his third save. Loons pitcher Carlos Duran (1-3) suffers his third loss, allowing three runs through five innings with five strikeouts in the defeat. The Whitecaps improve to 69-58 overall and 38-23 in the second half. The Loons fall to 75-52 and 35-26 in the second half. The Whitecaps sit just one game out of first place in the Midwest League East Division with five games remaining in the regular season. Carlos Mendoza enjoyed a two-hit performance at the plate while scoring one of the three 'Caps runs.
UP NEXT
The Whitecaps continue their final series of the 2022 regular season as they host the Loons for the second game of six on Wednesday at 6:35 pm. Lefty Carlos Pena is scheduled to make his first start as a Whitecap, while the Loons starter is righty Adolfo Ramirez. Broadcast coverage with Dan Hasty and Nate Wangler begins on the Whitecaps Baseball Network at 6:20 pm. Get your tickets for all 2022 home games now at www.whitecapsbaseball.com.