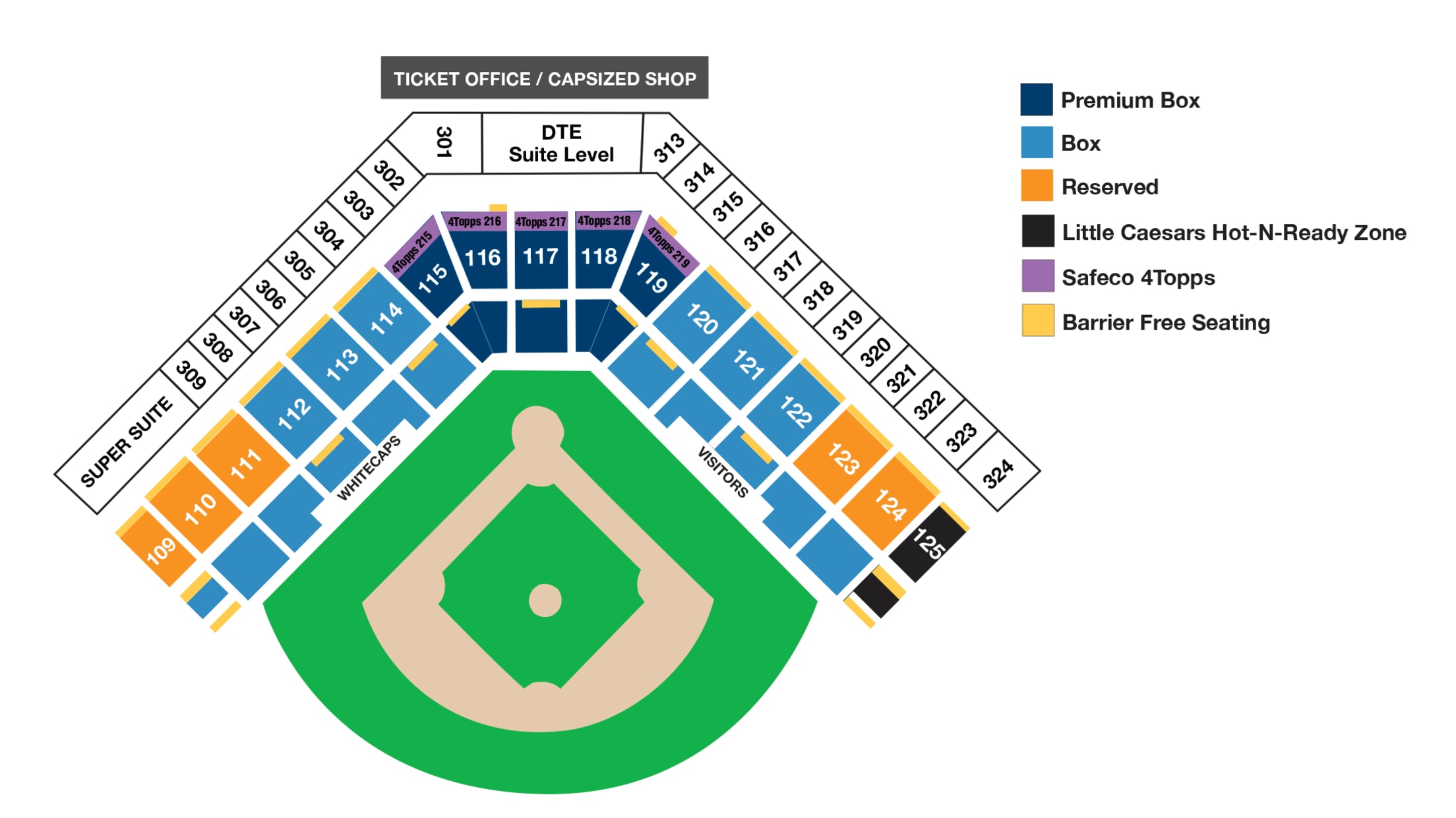 Ticket Prices
Premium Box Seats: $19.00
Box Seats: $17.00
Reserved Seats: $15.00
Little Caesars Hot-N-Ready Zone: $15.00/$17.00
Barrier-Free Seating: Prices same as above
Lawn Section: $10.00
Safeco 4Topps Premium Seating: $150.00 (Table of four)
Children 2 and under are free for all seating
Gates & Parking
Gates Open: One hour and fifteen minutes prior to game time
Parking Rates: Cars: $8 Busses & RVs: $10
Special Admission: Children 2 and under are FREE
- All bags will be checked before entry
- No food or beverage may be brought into LMCU Ballpark
- No Tailgating is allowed at LMCU Ballpark
- LMCU Ballpark is a smoke-free facility
- No E-cigarettes/no vape
How To Order Individual Tickets
Tickets may be ordered in the following ways:
In person ...
at the Whitecaps Ticket Office
4500 West River Drive
Comstock Park, MI 49321
Whitecaps Ticket Office Hours:
Gameday Hours: 10:00am to End of Game
Online ...
By phone* ...
(616) 784-4131 or 800-CAPS-WIN
By mail* ...
West Michigan Whitecaps
Ticket Office
P.O. Box 428
Comstock Park, MI 49321-0428
*Please include your name, daytime phone number, address, check (mail only) or credit card number with expiration date and security code, type of seats, number of seats, and game date. Your tickets will be waiting for you at the Will Call window when you arrive for the game. If you wish to have your tickets mailed to you, please allow five days. A $3.00 handling fee will be charged per order.
The Whitecaps accept VISA, MasterCard, American Express and Discover cards.
No Refunds / No Exchanges.
Ticket Policies and General Information
Barrier-Free Seating
Barrier-free seating for wheelchairs along with up to three companion seats are located in numerous areas throughout LMCU Ballpark. Barrier-Free seating may be ordered through both the Whitecaps Ticket Office or online through our website.
Gift Cards
Gift Cards are a great way to treat your employees and customers to souvenirs, tickets, and food at LMCU Ballpark. Whitecaps Gift Cards can be loaded with any amount with a minimum of $5.00. Gift Cards can be obtained by calling the Whitecaps Ticket Office at 616.784.4131 or 800.CAPS WIN.
Parking
The cost to park a car is $8.00. The cost for buses and RVs is $10.00. Reserved handicap parking is available to properly licensed vehicles.** TAILGATING is prohibited at LMCU Ballpark**.
Stadium Gates
Gates open one hour and fifteen minutes prior to the start time of each game. NO food or beverage may be brought into LMCU Ballpark (except for medical conditions).
Ticket Rain Out Policy
In the event that 5 innings of one game are not played, except when the Whitecaps are in the lead at the end of 4 1/2 innnings, tickets will be good for exchange for the same price ticket to any regular season or playoff home game, based on availability. Tickets cannot be replaced if lost or destroyed. Tickets are not redeemable for cash.
Group Tickets Rain Out Policy
In the event of a rainout, the options available to you and your group are as follows:
1. The group leader can collect the ticket stubs from group members and exchange them for another group outing to any home game during the current season. The Whitecaps Ticket Sales Department will issue tickets only for stubs returned, not for the total number of tickets purchased by your group. Please remember exchanges are based on availability.
-OR-
2. The members of the group may exchange tickets individually at the Whitecaps Ticket Office for any of the remaining home games during the current season. As with option 1, exchanges are based on availability.
If your outing is scheduled for a hospitality area and the game is officially cancelled prior to your scheduled meal start time, a Whitecaps representative will call to inform you. If the game is cancelled after your scheduled meal start time, you will be charged only for the number of people in your group who have eaten. In either case, the Whitecaps will make every effort to reschedule the outing.