Rattlers Offer Valentine's Day Packages
Choose from Sconnie Plans or Kids' Crew Membership with a few extras for your Valentine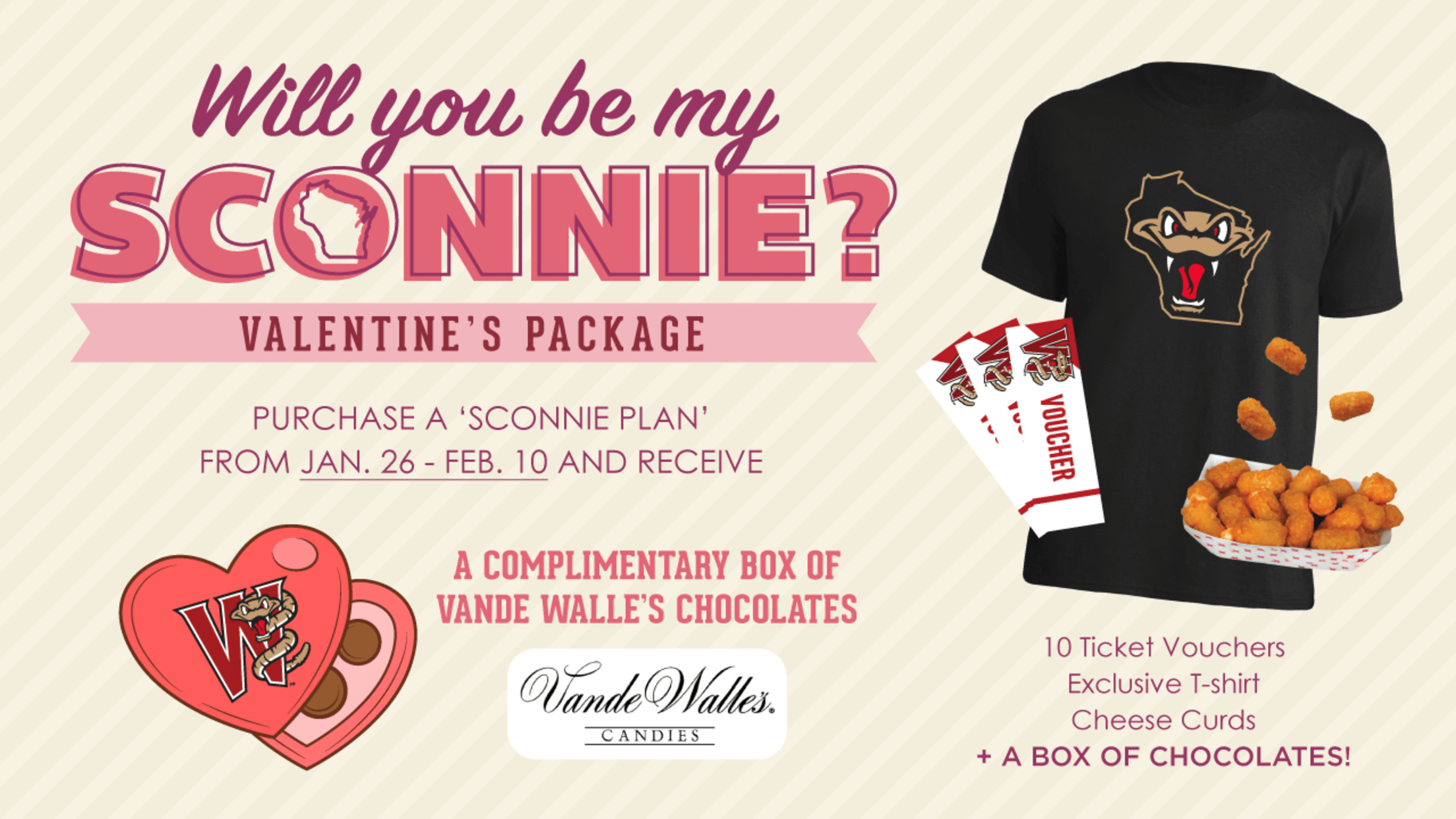 GRAND CHUTE, WI – The Wisconsin Timber Rattlers have assembled a pair of Valentine's Day packages that will warm the heart of the baseball fan in your life. Kids' Crew memberships are available for children ages twelve and under and a Sconnie Plan ticket package with a sweet extra benefit
GRAND CHUTE, WI – The Wisconsin Timber Rattlers have assembled a pair of Valentine's Day packages that will warm the heart of the baseball fan in your life. Kids' Crew memberships are available for children ages twelve and under and a Sconnie Plan ticket package with a sweet extra benefit is available for everyone. Place your order by Thursday, February 10 to guarantee delivery by Valentine's Day.
A Sconnie Plan is ten ticket vouchers that allow fans to select the games – in any combination they wish – to attend during the 2022 Timber Rattlers season. If the plan-holder wants to attend ten games throughout the season, they can do that. If they want to bring a friend to five games, they can do that. If they want to bring nine friends to one game, they can do that, too.
Extra benefits with this Sconnie Plan include an order of cheese curds, a limited-edition Wisconsin-themed t-shirt, and a box of Vande Walle's Chocolate. There isn't a better way to tell your Valentine how you feel than with baseball and cheese curds.
The reserved seat option of the plan is available for $99 (+shipping) and the box seat option is available for $129 (+shipping). To order the Valentine's Day Sconnie Plan, please call the Timber Rattlers ticket office at (920) 733-4152 or click this link before February 10 between 9:00 am and 5:00pm.
Fang's Kids' Crew presented by Jack's Pizza and Badger Sports Park is back for the 2022 season for just $30 (+shipping). Six general admission vouchers that may be used for any regular season home game this season, an official club t-shirt, a drawstring backpack, an autograph book, a membership card that can be used for a 15% discount in the team store, and lots of fun surprises during the season.
Kids' Crew memberships are available at this link or in the Snake Pit Team Store. Make sure to order before February 10 to guarantee delivery by February 14.
You can avoid shipping fees if you order any of these packages in person at the Timber Rattlers business office at the stadium during regular business hours.
The Wisconsin Timber Rattlers open the 2022 season on Friday, April 8 at Neuroscience Group Field at Fox Cities Stadium against the Peoria Chiefs at 6:40pm. Tickets are available now for season packages and groups of twenty or more. Individual game ticket packages will go on sale in March.