A FAN'S A-Z GUIDE OF POLAR PARK
Rare is the time in baseball history when a city gets to enjoy the debut of a brand new team and a brand new ballpark simultaneously. Yet here we are, in the Heart of the Commonwealth, celebrating the arrival of the Worcester Red Sox AND the birth of Polar Park in this city's resurgent Canal District. It took three years to make the journey up 146; thank goodness, it will only take fans about 45 minutes.
We hope we have a built a ballpark that you will enjoy year-in and year-out, a public and porous park designed for everyone. And while baseball is our true love and the centerpiece of Polar Park, we hope it will provide wonder and warmth in winter, sensation and sunshine in spring, serenity and sunsets in summer, and family fun and football in the fall. It's your park, so let's make sure you know all the ins and outs, from A to Z.
A
1. ADDRESS:
100 Madison St
Worcester, MA
01608
Phone: (508) 500-1000
Sales Office: (508) 500-8888
2. ADMINISTRATIVE OFFICES: The Worcester Red Sox offices are located at Polar Park, with the Ticket Office and primary Team Store on the Madison Street Level and the rest of the offices on the DCU Club Level. Click here for the Worcester Red Sox Staff Directory.
3. AMERICANS WITH DISABILITIES ACT (ADA) ACCESSIBILITY: Accessible seating, along with adjacent companion seating, are points of pride at Polar Park. Drop-off points on Madison Street and at the rounded corner of Washington and Ash streets provide some of the best proximity and accessibility in baseball.
Polar Park has seats that pivot to create space for fans in wheelchairs, while their companions sit in seats next to them. Another feature is at the end of select rows, where an armrest lifts up to create more space for someone to enter the row. And every seating category caters to those with special needs.
Guests with disabilities or who use mobility aids will find special accommodations in Sections 2, 3, 5, 6, 8, 12, 13, 101, and 202.
Additionally, we have Section 16, Row 20, with extraordinary legroom, dedicated to families with autistic individuals if they prefer this option.
Another innovative feature for autistic fans or others who seek a respite from the stimulation of ballpark entertainment is the Unum Sensory Friendly Room in our Country Bank Fan Services Center on the first base side of the main concourse.
Group and hospitality areas throughout Polar Park, such as concession and shopping locations, are also ADA accessible. Please visit the Ticket Office when you arrive, or if you're already at the ballgame, visit the Country Bank Fan Services Center to chat in person with a member of the WooSox.
Also, fans who bring service dogs can take them outside Gate C when the pups need to relieve themselves. Perhaps give a heads up to the nearby ticket-taker or security person, who will gladly re-admit you and your precious pooch
4. ANIMALS: Service animals, as defined by the Americans with Disabilities Act, are welcome at Polar Park, provided they are accompanied by the handler, trained to provide a service to the handler, and leashed at all times. Ordinary pets are not typically allowed at Polar Park, but they are welcome on special events such as "Bark in the Park" nights.
5. ATM: In the future, we expect to offer for your convenience a DCU Automated Teller Machine near the WooSox Shop on the Madison Street Level. And we will also soon be adhering to the practice of "contactless payment preferred".
6. AUDIO-VISUAL EQUIPMENT: Hand-held audio-visual equipment is permitted in the ballpark. However, flash photography and video reproduction of a game (or any portion thereof) or field activity are strictly prohibited. Tripods and any other equipment that might interfere with other guests' enjoyment are prohibited at Polar Park. If you have a question about whether particular equipment is permitted, please call the WooSox at 508-500-8888 before you come to the ballpark.
7. AUTOGRAPHS: Temporarily, due to the pandemic, players must refrain from providing autographs in person until it is safe once again to do so.
B
8. BIRTHDAY PARTIES: We are eager to have you celebrate your Birthday Parties presented by Table Talk Pies at Polar Park, and we have options to make them special occasions. Think about it: why have a birthday cake when you could start the new Worcester tradition of Table Talk Birthday Pies! Please email [email protected] or call 508-500-8888 for more information.
C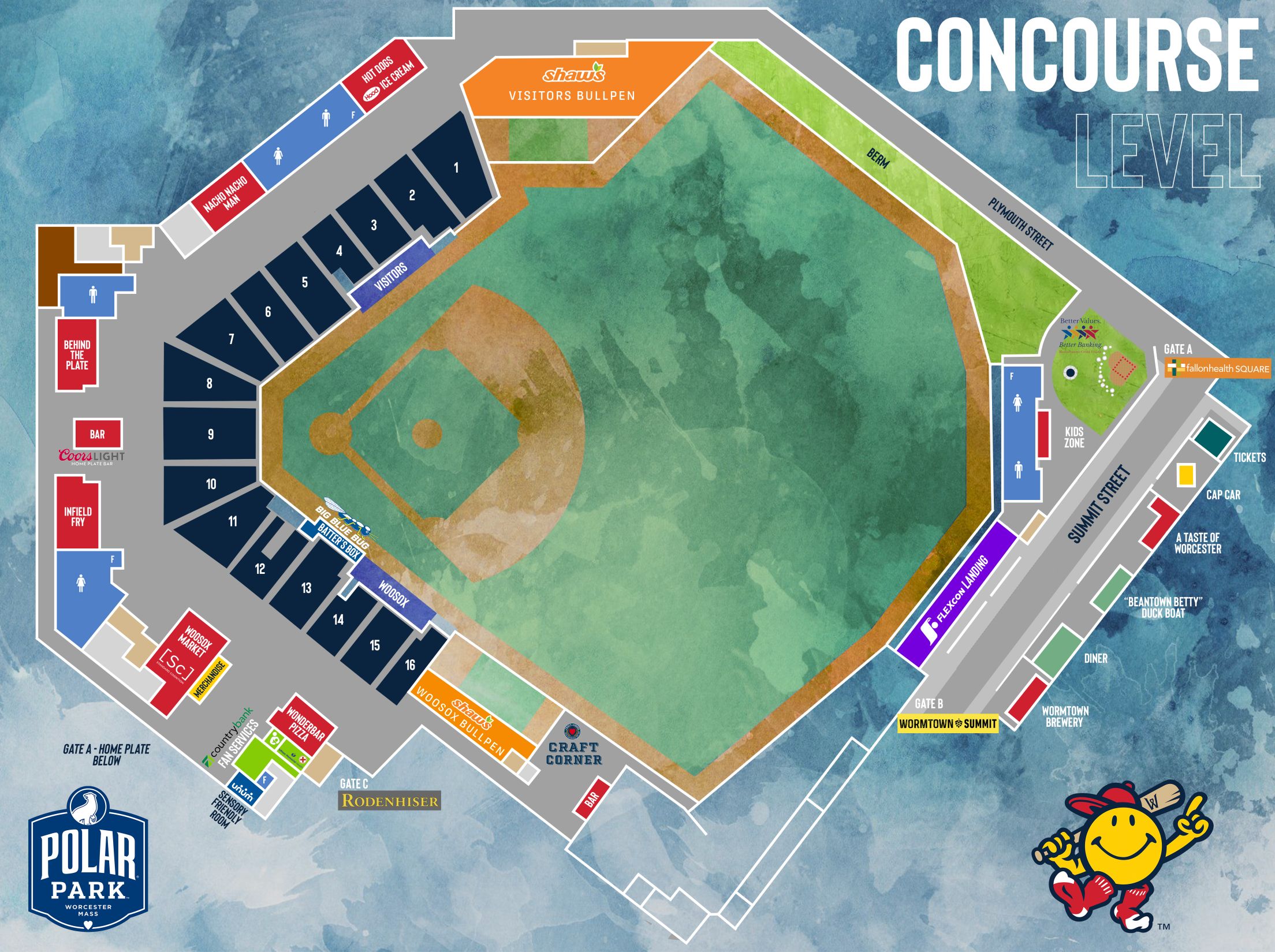 9. CAPACITY: Polar Park's official seating capacity for 2021 when the ballpark is complete will be 9,508. It is increasing incrementally throughout the season until it reaches that level. Seating Chart
10. CARRY-IN POLICY: Polar Park has a wide variety of food and beverage options, and we invite all fans to partake in our diverse menu. Outside food and beverages may not be brought into Polar Park. Exceptions will be made where necessary for fans with food allergies or dietary restrictions.
Bags 5"x9" in size or smaller, parental bags, and bags containing medically necessary supplies are permitted in Polar Park.
In addition, the following items are among those not permitted to be brought into Polar Park
a) Aerosol cans (e.g., mace, pepper spray, hairspray, etc.)
b) Air horns
c) Animals (except Service Animals or pets on special pet promotional days)
d) Backpacks
e) Bags that are large (Beach bags, large purses, duffle bags, suitcases, etc.)
f) Binocular Cases
g) Bottles made of glass
h) Cameras with detachable lenses, lenses 6" or longer, and camera cases
i) Cans
j) Carts
k) Coolers
l) Cycles
m) Fireworks
n) Food or Drink (with exceptions noted above in this Carry-In policy)
o) Glass
p) GoPros or similar recording devices
q) Hard containers
r) Illegal drugs
s) Laptop computers
t) Large bags (Beach bags, large purses, duffle bags, suitcases, etc.)
u) Laser pointers
v) Megaphones/Noise Amplifiers
w) Noisemakers/Horns
x) Poles longer than 6"
y) Recreational equipment (Skates, Skateboards, etc.)
z) Seats with metal backs and/or zippered compartments
aa) Selfie Sticks
bb) Signs larger than 24" x 24"
cc) Signs that impair the view of others;
dd) Signs that are not in good taste in the judgment of the WooSox;
ee) Signs that use profanity, offensive words, or that promote political partisanship.
ff) Signs are not permitted to be hung by fans on banners on structures.
gg) Smoke Bombs
hh) Strollers
ii) Tripods
jj) Unauthorized solicitation, handbills, giveaways, or sampling (without permission)
kk) Umbrellas that block others' views
ll) Video or audio recording equipment for unauthorized commercial purposes
mm) Weapons of any kind (in the judgment of Polar Park security personnel)
All bags, clutches, and purses are subject to inspection upon entering the venue.
11. CONCESSIONS: Concessions stands, and portable concessions carts, are located throughout Polar Park and offer a variety of food and beverage options. In particular, terrific vegetarian, vegan, gluten-free, and strictly kosher options are available at the WooSox Market on the main concourse. Credit cards are accepted at all fixed concession stands. Cash is accepted at specific cash registers located at the following stands:
a. Stand 1 – Hot Dogs and Ice Cream – Section 1
b. Stand 2 – Nacho Nacho Man – Section 5
c. Stand 3 – Behind The Plate – Section 8
d. Stand 4 – Infield Fry – Section 10
e. Stand 5 – Wonder Bar Pizza – Section 15
f. Stand 6 – BT's BBQ – Right Field Corner
"A Taste of Worcester presented by Masis Staffing Solutions" will operate on Summit Street, and provide a venue for local restauranteurs to sell their culinary delights.
12. COVID POLICIES: The Worcester Red Sox seek a safe and healthy environment and therefore require fans and staff to follow any remaining COVID-19 protocols. Please maintain cleanliness and conscientiousness as we navigate these times together. Fully vaccinated* fans and staff are no longer required to wear masks/face coverings while at Polar Park. Fans and staff who are not fully vaccinated* are strongly encouraged to continue wearing a mask or face covering while at Polar Park.
*An individual is "fully vaccinated" 2 weeks after their second dose in a 2-dose series, such as the Pfizer or Moderna vaccines, or 2 weeks after a single-dose vaccine, such as Johnson & Johnson's Janssen vaccine.
Fans are no longer required to fill out a COVID-19 self-screening survey prior to entry.
The WooSox adhere to all Major League Baseball (MLB) health protocols.
D
13. DIMENSIONS: LF: 330' | LCF: 399' | CF: 403' | RCF: 370' | RF: 320'
14. DIRECTIONS: Polar Park is located at 100 Madison Street and is accessible from a variety of directions. It has four entrances: three off of Green Street and one on Madison Street. However, directions are best applied directly to your parking lot of choice. To get to the lots and garages that surround the park, please follow these directions:
From the north: Take Interstate 290 to Exit 14 (Route 122).
From the east: Take the Mass Pike (Interstate 90) to Exit 94 (State Route 146) and stay on 146 North (which becomes Quinsigamond Avenue) until it ends at Southbridge Street. Turn right, and find parking near Madison Street, just a couple blocks west of Polar Park.
From the west: Take the Mass Pike (Interstate 90) to Exit 90 (Interstate 290) and exit at either Exit 13 (which will soon be renumbered Exit 17) and turn left to enter Kelley Square or use Exit 14 (soon to be renumbered Exit 18) and turn left at Grafton Street (122) onto Winter Street. It's easier than it sounds.
From the south: Take State Route 146 North all the way until Quinsamond Avenue ends at Southbridge Street. Turn right, and find parking near Madison Street, just a couple blocks west of Polar Park.
Regardless of where you park, we invite you to visit and patronize the many restaurants and shops in the Canal District just a short block away from Polar Park. Check out the many spots on Green Street, Harding Street, and Water Street, as well as the ones right on Kelley Square. We welcome you to come early, stay late, and enjoy a full day in Downtown Worcester.
15. DRONES: Guests are prohibited from using or possessing unmanned aircraft or radio-controlled model aircraft in Polar Park or anywhere on or within the airspace of Polar Park property.
16. DCU CLUB: The DCU Club is a premium venue inside Polar Park that features an elegant atmosphere, quality menu options, and excellent service. Beyond ballgames, the DCU Club is available year-round for private group outings and events such as business meetings, wedding receptions, and Christmas parties. For additional information please email [email protected] or call 508-500-8888.
E
17. EXIT/RE-ENTRY: Guests may not exit and re-enter Polar Park using the same ticket. However, in the case of an emergency, please ask WooSox staff for assistance.
F
18. FAMILY RESTROOMS: Family restrooms are designed for fans with small children, fans with disabilities, and fans seeking a gender-neutral facility. All family restrooms are accessible and equipped with baby changing tables. In addition to those located throughout the ballpark on each level, there is also a Family Restroom located at the Country Bank Fan Services Center.
19. FAN SERVICES CENTER: The Country Bank Fan Services Center is located on the first base concourse and operates from the time Polar Park's gates open until after the game ends. Fans can visit to ask questions, provide feedback, seek help, enjoy translation from their native languages, receive First Aid, use the Nursing Station, use the Unum Sensory Friendly Room, use the private restroom, or receive information
20. FANS CODE OF CONDUCT: The Worcester Red Sox are committed to providing an enjoyable, safe, family-oriented experience at Polar Park. To protect our fans and this environment, fans are asked to observe Baseball Etiquette. Those who do not observe our Code of Conduct, as determined by the WooSox, will be asked to leave, and where applicable, may incur criminal or civil penalties.
a) Alcohol/Drugs
· The WooSox reserve the right to deny entrance or escort from Polar Park any guest who:
· Appears intoxicated or impaired by alcohol, drugs, or other controlled substances.
· Is under the age of 21 and possessing alcoholic beverages.
· Facilitates underage drinking.
· Possesses illegal drugs.
b) Clothing/Body Art
· Fans may not wear obscene, profane, or indecent (in the judgment of the WooSox) clothing.
· Fans must wear a shirt and shoes inside the ballpark.
c) Emergencies
· The WooSox reserve the right to remove anyone who fails to comply with any request from the WooSox staff or law enforcement personnel regarding ballpark operations or emergency response procedures.
d) Interference with the Game
· Fans may not interfere with the progress of the game in any way, or go on to the field, or interfere with a ball in play, or throw objects on the field. Violators are subject to ejection and additional penalties.
e) Language/Violence/Conduct
· Fans may not use foul, profane, or abusive language or make obscene gestures. Fans who use or exhibit such behavior are subject to ejection, and WooSox personnel shall determine when or whether they may return to Polar Park.
· Fans may not conduct themselves in a disorderly, unruly, or disruptive manner, in the judgment of the WooSox, to other fans, staff, employees, players, or other uniformed personnel, including umpires.
· Fans may not threaten the safety of other fans, Polar Park or WooSox staff, workers, uniformed staff, or other on-field participants.
· Fans may not fight or engage in threatening behavior (physical or verbal).
· The WooSox reserve the right to remove any fan whose failure to adhere to acceptable levels of hygiene impedes the ability of others to enjoy the game.
· Fans may not interfere with the ability of others to enjoy the game.
· Fans may not vandalize, damage, paint, draw on, or otherwise deface any part of Polar Park property.
· Fans may not possess firearms or other weapons, fireworks, or other materials or items deemed hazardous or dangerous by the WooSox.
· Fans may not use laser pointers, sirens, whistles, or other items that may distract or interfere with the play on the field or interfere with the enjoyment of other fans.
· Fans must comply with all rules and policies of the WooSox, including those on the WooSox website and those posted at Polar Park, or on tickets or parking passes. For more information, please visit woosox.com.
· Fans may root for players, and may root against teams; however, good sportsmanship is encouraged, and no abusive taunts, cruel words, or foul language are permitted.
· Fans may not participate in displays of affection that, in the judgment of the WooSox, are not appropriate in a public, family setting.
· Smoking/vaping is not permitted in Polar Park. Fans who smoke may go to Gate C (the Rodenhiser Gate), identify themselves to Security, receive a stamp, exit the park, and return after smoking/vaping.
· Tickets: Game tickets are revocable licenses subject to their stated terms. The WooSox reserve the right to remove anyone who fails to produce a ticket upon request, or who occupies a seat for which they do not hold a ticket, or who accesses (or attempts to access) non-public areas of Polar Park without an accredited pass or credential, or misuses or fails to comply with the terms or restrictions of a ticket. For more information, please contact [email protected] or call (508) 500-8888.
21. FIRST AID: For immediate treatment, please see a WooSox staff member, or a UMASS Memorial personnel team member, or visit the UMass Memorial First Aid Room located in the Country Bank Fan Services Center. EMT personnel from UMass Memorial are available at all WooSox games at Polar Park.
22. FIREARMS: Weapons of any kind, including knives and firearms, are not permitted on Polar Park property. They are, however, allowed in your locked motor vehicle.
23. FOUL BALLS AND FLYING OBJECTS: For your safety, please beware of flying objects, such as batted or thrown baseballs, and try to avoid them. These may also include thrown bats, broken bats, or promotional items and materials which can enter seating areas and other ballpark areas. Fans must pay attention at all times, be mindful of the game situation, and use caution when walking up and down the aisles or moving around the seating areas. Fans assume all risk of injury from bats, balls, and other flying objects, and the WooSox cannot be held responsible for such injuries. Fans may keep any baseball that enters the seating area as a souvenir; however, bats that fly into the stands must be returned to the batter and exchanged for another. Fans are not allowed to enter the playing area to retrieve balls or otherwise interfere with baseballs in play. Violators are subject to prosecution and ejection from Polar Park.
G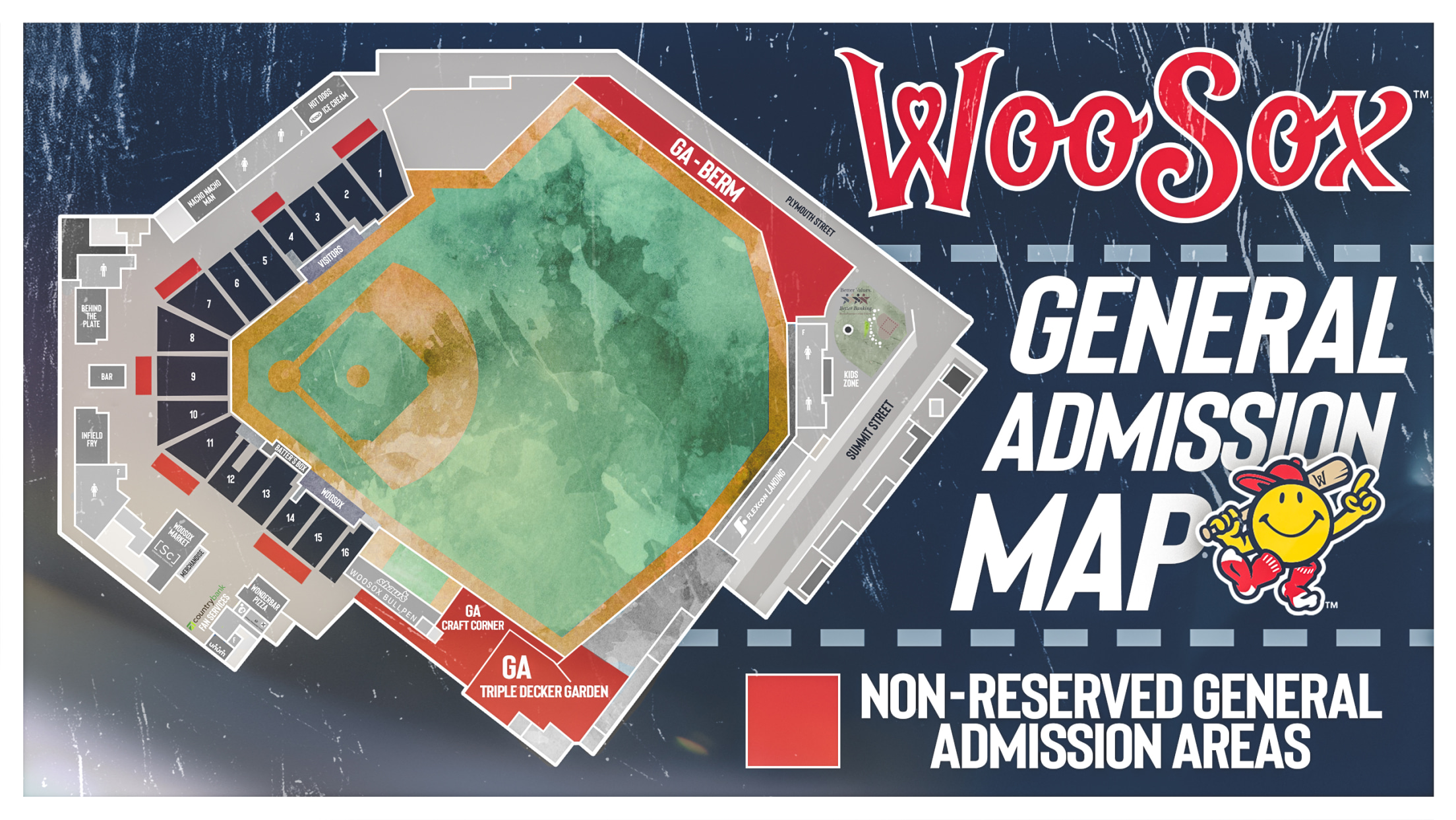 24. GATES OPEN: Polar Park gates typically open 65 minutes before game time during weeknight games (5:30 p.m. for a 6:35 p.m. game) and 95 minutes before games on Saturdays (2:30 p.m. for a 4:05 p.m. game) and Sundays (11:30 a.m. before a 1:05 p.m. game) unless otherwise noted.
25. GENERAL ADMISSION SEATING: General Admission (GA) tickets grantaccess to any of our red seats at Polar Park. They also allow you to siton the WooSox Berm, at Craft Corner, and on the Triple Decker Garden. Red stools on the main concourse are at the top of sections 1, 4, 7, 9, 11, 14, 15, & to the right of section 16.
26. GENDER NEUTRAL RESTROOMS: Polar Park has restrooms designed for fans with small children, fans with disabilities, and fans seeking a gender-neutral facility. In addition to those located throughout the ballpark, a private restroom is located at the Country Bank Fan Services Center.
27. GROUP OUTINGS: Polar Park offers a variety of locations for group outings. Group tickets start at $8 and $9, are offered to parties of 15 and more, and include an array of venues and menu options. Please call (508) 500-8888 or email [email protected].
L
28. LOST AND FOUND: Lost and found items should be taken to (and can be retrieved from) the Country Bank Fan Services Center. If you have lost an item at Polar Park, please call (508) 500-1000, Monday-Friday, 9 a.m-5 p.m. ET (weekend game days after 11 a.m. ET). You may also send an email to [email protected] any time of day or night—our staff monitors it after the game and overnight.
M
29. MESSAGES ON THE VIDEOBOARD: The WooSox post messages, such as good wishes for birthdays, anniversaries, and other special occasions. In lieu of a fee to the WooSox, fans can make a donation in any amount to the WooSox Foundation. Please request scoreboard messages through the WooSox Foundation at woosoxfoundation.org 24 hours in advance of the game or visit the WooSox Foundation table on the third-base side of the main concourse, next to the Nacho Nacho Man stand.
N
30. NURSING ROOMS: Nursing mothers are welcome at our Nursing Room located at the Country Bank Fan Services Center. The Nursing Room can be locked from the inside and is equipped with an electrical outlet, a lounge chair, a side table, and a television.
P
31. PARKING: Downtown Worcester has more than 7,300 spaces within a 5-10 minute walk of Polar Park. Lots and garages owned by the City of Worcester have spaces priced at $5, $10, or $15, depending on proximity to the ballpark. Some of the largest include the McGrath Blvd. lot behind the Worcester Public Library, the Union Station Garage, and the Worcester Common Garage. Fans can also purchase these spaces via the app when they buy their tickets. Season Ticket holders can purchase season-long parking packages. For a detailed map of parking areas and more information regarding parking and transportation, please visit woosox.com/parking or milb.com/Worcester/ballpark/parking
32. PRIVATE GROUP SPACES WITH FOOD: Polar Park has a variety of venues for group outings and many options for groups of 15 or more. For more information on private group spaces, tickets, outings, and food options, please call 508-500-8888, or email [email protected].
· Shaw's WooSox Bullpen Terrace: The most interactive group space at Polar Park offers a front-row view of that day's starting pitcher and potential relievers, plus a great view of the game.
· FLEXcon Landing: Perched on a romantic vista looking in towards home, this venue provides the sights and smells of Summit Street and the Worcester Wall to your left. The Kids Area is to your right, and the ballgame is right in front of you. And home runs are coming your way.
· Shaw's Visiting Bullpen Terrace: Just past third base is this special space to entertain friends, family, and co-workers, and to scout the visiting pitchers as you peer into the bullpen. Another great view of the field.
· The Hanover Deck: Perhaps the most exciting venue at Polar Park, the Hanover Deck offers exquisite, inspiring views of Worcester – from the City Skyline to Union Station to Vernon Hill. Summertime sunsets add more beauty, and the proximity to the train tracks adds to this extraordinary experience.
· Big Blue Bug Batter's Box: How close can we get you to the field? Closer than the players in the dugout! That's right, you need to experience the Big Blue Bug Batter's Box to believe it. You will see and hear the players like never before. It truly is the "Fan Dugout."
R
33. RAIN OUTS AND OTHER POSTPONEMENTS: If a game is postponed either in advance or before the trailing team has completed 5 innings of batting, the game does not count as an official game and therefore fans may exchange their tickets to a future regular season home game, subject to availability and blackout dates. If the trailing team has completed at least 5 innings of batting when inclement weather stops a game for good, it counts as an official game. There are no cash refunds for tickets or for parking. For more information, visit the WooSox Rainout Policy page.
34. RESTROOMS: Polar Park has ample restrooms on each level, and it also has family restrooms that are gender-neutral on each level. Diaper changing areas are available in men's, women's, and family restrooms. Polar Park also has a private restroom at the Country Bank Fan Services Center on the main concourse near first base.
S
35. SECURITY: Polar Park seeks to provide a safe, family-friendly environment. WooSox ushers, ambassadors, and security staff, along with Worcester Police Department officers, are present to assist fans. If security is needed, please send a text to our Polar Park Security Hot Line, 508-300-9001, or notify the nearest WooSox staff member, Worcester Police Department officer, or visit the Country Bank Fan Services Center.
36. SENSORY FRIENDLY ROOM PRESENTED BY Unum: Polar Park strives to foster a culture of inclusion for WooSox fans. The innovative Unum Sensory Friendly Room offers a warm, welcoming, and nurturing environment for autistic fans and others seeking a respite or sensory reduction. The room is located in the Country Bank Fan Services Center and is equipped with flexible seating, sensory gadgets and technology, dim lighting, and other amenities. We encourage and invite guests to visit the Country Bank Fan Services Center to see the sensory features available.
37. SMILEY BALL (THE TEAM MASCOT): Friendly "Smiley Ball" is the official team mascot. The Smiley Face was created in Worcester by Harvey Ball in December 1963 and became ubiquitous during the 1960s. The mascot version of the Smiley Face debuted on World Smile Day, October 2, 2020. Smiley Ball visits fans during the game and is available for bookings at parties and events. Email [email protected] or call (508) 500-1111 and press 5.
38. SMOKING/VAPING POLICY: For the health and comfort of all fans, smoking/vaping is prohibited in Polar Park, including concourses, seating sections, restrooms, suites, and group areas. Fans who smoke may request a stamp from Security at Gate C (the Rodenhiser Gate) and exit the park to smoke and then return.
39. SUITES: Polar Park features twenty-two (22) private suites. Each has its own TV with a closed-circuit broadcast of the game, as well as couches, a refrigerator, seating areas, and an outdoor balcony with seating. Several suites can be rented on a single game basis to entertain clients, reward employees, or enjoy a game as a group. Please email [email protected] or call (508) 500-8888.
T
40. TEAM STORE: The WooSox Shop, the official Team Store, is open during game events, as well as Monday through Friday, 9 a.m.-5 p.m. Accessible to all and located on Madison Street, it is supplemented by a kiosk on the concourse, a new "CAP Car" on Summit Street, and a satellite store on Green Street at the Worcester Public Market. Check woosox.com for hours in the off-season. The stores feature WooSox merchandise, authentic game-used items, and gifts for everyone in the family. Call (508) 500-1000 option 3 and shop online anytime at woosox.milbstore.com or visit woosox.com.
41. TICKET INFORMATION:
· By Phone: Tickets are available over the phone through the Polar Park Ticket Office. Visa, MasterCard, American Express, and Discover are accepted. To order by phone, call (508) 500-8888.
· Online: Tickets are available online through the WooSox website, woosox.com.
· Season Tickets / Ticket Packages: Ticket packages are available through the WooSox Sales Department. From Full-Season plans (for which there is a Waiting List) to half-season plans, the WooSox sales team provides personal service. Please email [email protected] or call (508) 500-8888.
· DUST: This acronym summarizes the many options ticket holders have to make use of their tickets if they can't personally attend a game. Call (508) 500-8888, and a sales staff member will outline your convenient options.
42. TICKET OFFICE: The Polar Park Ticket Office is located at 100 Madison Street and is open from 9:30 a.m. to 4 p.m. Monday through Saturday (Closed on Sundays). On the days of a Polar Park event, the Ticket Office is open from 10 a.m. through the time of the event. For ticket information or reservations, please call 508-500-8888. Tickets to future home games are available during games at the ticket windows.
43. TOURS OF POLAR PARK: Personal tours of Polar Park for as many as 25 at a time are conducted daily throughout the season. Fans experience the features of the concourse, the seating bowl, the DCU Club Level, special suites, and sometimes even a walk on the warning track. The tour is full of insights, special sites, Instagram Moments, and Selfie Stops. Fans can purchase tickets at the Polar Park Ticket Office, and can call (508) 500-1000 or email [email protected] for more information.
W
44. WIFI: Polar Park offers free WiFi to all fans. Click on the "Polar Park" option, join, and accept terms and conditions. No password is needed!
45. WILL CALL: The Will Call window is located on Madison Street in the DCU Plaza, next to the WooSox Shop (the Team Store). Will Call opens shortly before the gates open. You can pick up tickets ordered by phone, tickets ordered online, suite tickets, and tickets left for guests of WooSox staff and players. Please have a valid photo ID ready.