WooSox Win Fourth Straight, Beat SWB 6-2 in Front of 8,911
Sellout Crowd Sees Fitzgerald RBI Triple, Scoreless Bullpen Effort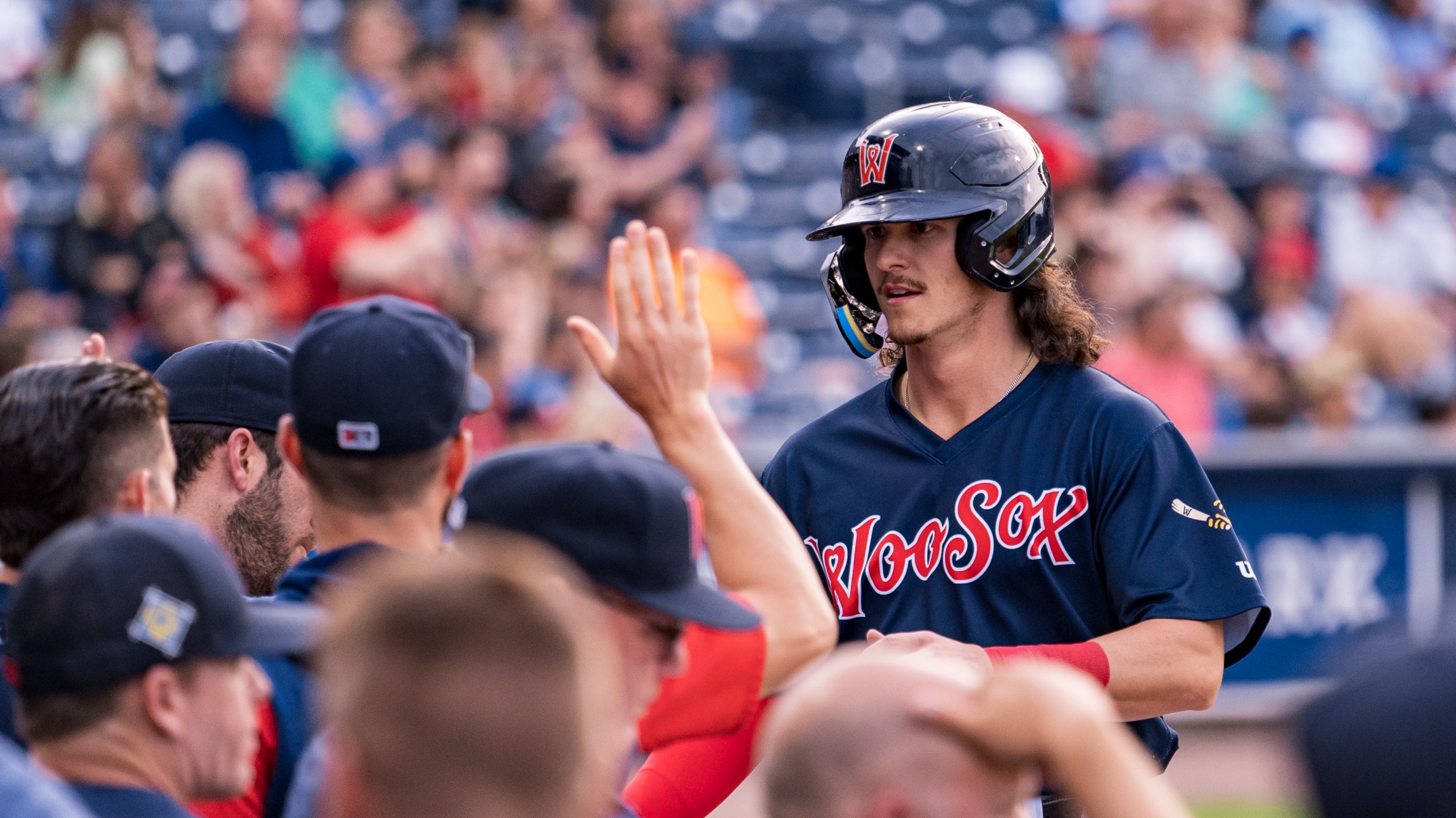 WORCESTER, M.A. — The Worcester Red Sox (19-21) ripped off their fourth straight win to seal a Friday night series victory against Scranton/Wilkes-Barre RailRiders (13-26), a 6-2 victory in front of 8,911 at Polar Park. The WooSox offense jumped on SWB starter Deivi Garcia early, who hit Jarren Duran to
WORCESTER, M.A. — The Worcester Red Sox (19-21) ripped off their fourth straight win to seal a Friday night series victory against Scranton/Wilkes-Barre RailRiders (13-26), a 6-2 victory in front of 8,911 at Polar Park.
The WooSox offense jumped on SWB starter Deivi Garcia early, who hit Jarren Duran to lead off the game. After a strikeout, Ryan Fitzgerald came to the plate and skipped a ball down the left field line that rolled to the corner, scoring Duran for an RBI triple. Rob Resnyder was next, and he blasted an RBI double to the gap to put the home team up 2-0 after one.
An inning later, Duran came to the plate with two on and hit a grounder that slipped through the shift—it came to rest in shallow left center, allowing Duran to scamper to second with an RBI double. Two batters later, Fizgerald delivered a sac-fly, plating Yolmer Sanchez to extend the lead to 4-0.
Worcester starter Thomas Pannone delivered his third straight start with five innings of two-run ball—Friday's lone blemish was a third-inning two-run home run from Oswald Peraza. Pannone struck out five and did not allow a walk; the left-hander has now not allowed a walk in three consecutive starts.
The Worcester bullpen was perfect following Pannone, as Taylor Cole, AJ Politi and Kaleb Ort combined for the following line: 4 IP, 0 R, 0 H, 3 K, 1 BB to seal the team's fourth straight win.
In the eighth, the WooSox added a pair of key insurance runs on a bloop single to left from Sanchez that scored Jaylin Davis and Connor Wong.
The WooSox continue the series at Polar Park on Saturday at 4:05 p.m. against the Scranton-Wilkes Barre RailRiders, affiliate of the New York Yankees. On the mound, Brian Keller faces Manny Banuelos. Television coverage is on NESN+, while radio coverage is live at 3:45 p.m. on 98.9 Nash Icon and the WooSox Radio Network.